"A group of strongly built young men gathers early in the morning in the suburbs of Yangon to work on their fighting skills. Some of them jump on cast-off tires to warm up. Others stretch or punch the air. All of them pause and make way when a rickshaw comes by, because their gym is the street. The men are members of Yangon's White New Blood lethwei fighters club. Most come from rural areas of Myanmar, get fed by their coach and sleep in a nearby Buddhist monastery during their stay in Yangon preparing for fights. Lethwei fighter-turned-coach Myint Zaw started the traditional fighter's club 15 years ago, after he retired from the sport.
The club is situated on the road in front of his house in a Yangon neighborhood of improvised tin and wooden structures. Most of the equipment is improvised as well, including weights strapped to a wooden bar. A tree wrapped with old tires serves as a punching bag, though now the gym has a real one as well. A local businessman helped put a roof above the section of the road they use as a gym so they can practice even during Myanmar's unforgiving monsoon season. Neighbors share the shelter for community events such as alms offering to Buddhist monks.
Myanmar has a rich heritage of martial arts that is believed to go back more than 2,000 years. Today, matches are held at festivals around the country and are popular with every strata of society. Lethwei is a particularly rough form of kickboxing: There are no gloves, head-butts are allowed and until relatively recently, fights simply continued until one competitor was knocked out. Now there are time limits. Three of Zaw's fighters competed this summer on a stage a world away from the street gym: a mixed-martial-arts "One Championship" event broadcast globally on cable television networks. It was held in Thuwanna National Indoor Stadium in Yangon, which is the country's pre-eminent indoor sports facility, though it still lacks air conditioning.
According to Zaw, fighters received $1,000 for each fight, with 20 percent going to the coach for providing training and food. Ordinarily, fighters win much less money, but still make more than Zaw did in the days when Myanmar's junta-led government was isolated from the world and international broadcasts were impossible. Back then, a fight would earn him just 25 U.S. cents. Dawna Aung, a lightweight-class fighter and 34-year-old father of two, hopes competing will help him change his family's life. The ethnic Karen lives in a rural village in Myanmar's Irrawaddy Delta region, and his family runs a small dried fish business. "The reason, I join this MMA tournament is mainly for the money. My family will be OK if I can make a lot of money from that. And secondly, I really would like to show to the world what Leithwei is", Aung said". – Gemunu Amarasinghe via The Associated Press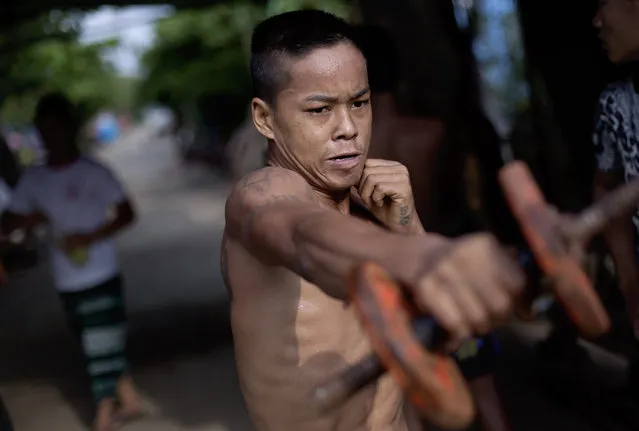 In this Wednesday, July 15, 2015, photo, a member of the White New Blood lethwei fighters club, a Myanmar traditional martial-arts club which practices a rough form of kickboxing, practices strengthening exercises during a practice session at their gym on a street in Oakalarpa, north of Yangon, Myanmar. Three of the club's members competed this summer on a stage a world away from the street gym: a mixed-martial-arts "One Championship" event broadcast globally on cable television networks, where fighters could receive $1,000 for each fight, according to coach Myint Zaw who started the traditional fighters' club 15 years ago. (Photo by Gemunu Amarasinghe/AP Photo)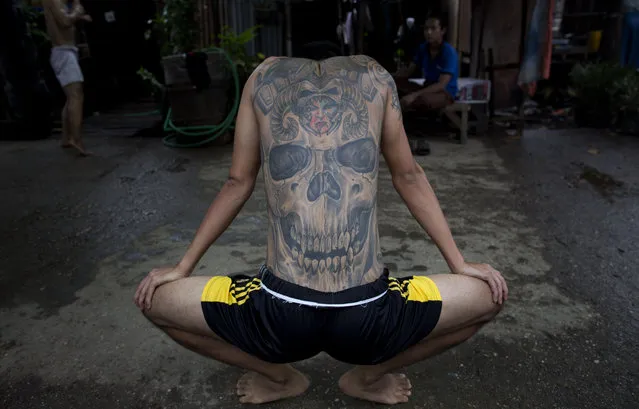 In this Tuesday, July 14, 2015, photo, Phoe Thaw, center, a member of the White New Blood lethwei fighters club, a Myanmar traditional martial-arts club which practices a rough form of kickboxing, stretches during a practice session in their gym on a street in Oakalarpa, north of Yangon, Myanmar. (Photo by Gemunu Amarasinghe/AP Photo)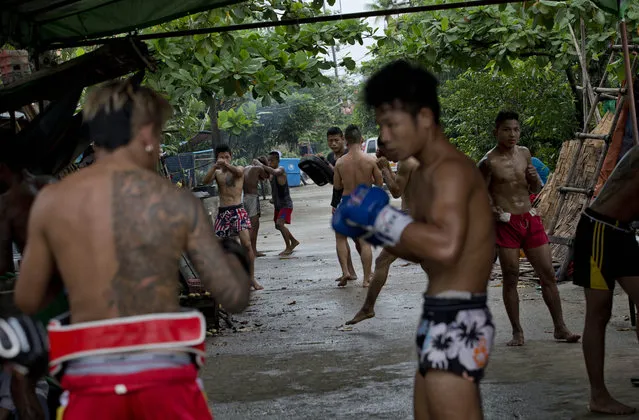 In this Tuesday, July 14, 2015, photo, members of the White New Blood lethwei fighters club, a Myanmar traditional martial-arts club which practices a rough form of kickboxing, practice in their gym on a street in Oakalarpa, north of Yangon, Myanmar. (Photo by Gemunu Amarasinghe/AP Photo)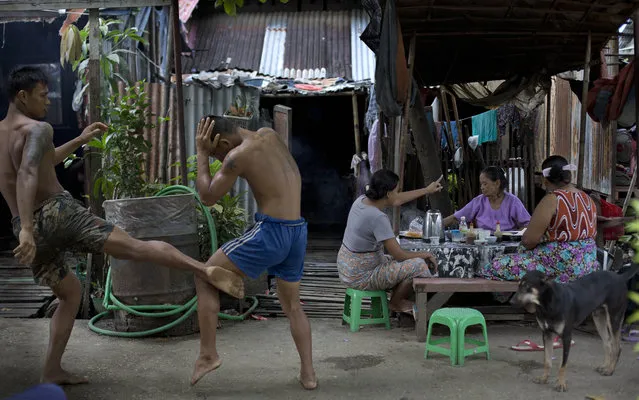 In this Wednesday, July 15, 2015, photo, a member of the White New Blood lethwei fighters club, a Myanmar traditional martial-arts club which practices a rough form of kickboxing, practice in their gym on a street as customers eat a meal at a roadside noodles shop in Oakalarpa, north of Yangon, Myanmar. (Photo by Gemunu Amarasinghe/AP Photo)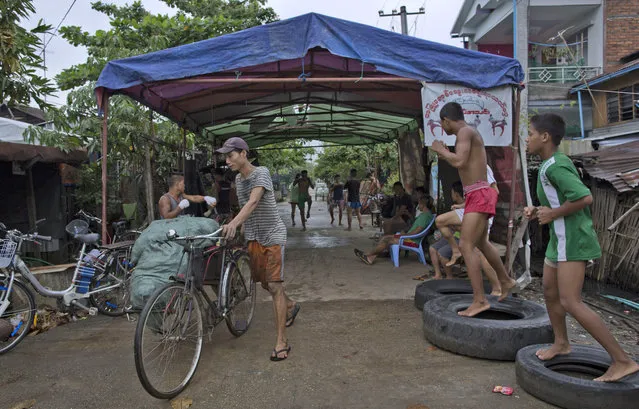 In this Tuesday, July 14, 2015, photo, members of the White New Blood lethwei fighters club, a Myanmar traditional martial-arts club which practices a rough form of kickboxing, warm up in their gym on a street as a man pushes his rickshaw with a load of charcoal in Oakalarpa, north of Yangon, Myanmar. (Photo by Gemunu Amarasinghe/AP Photo)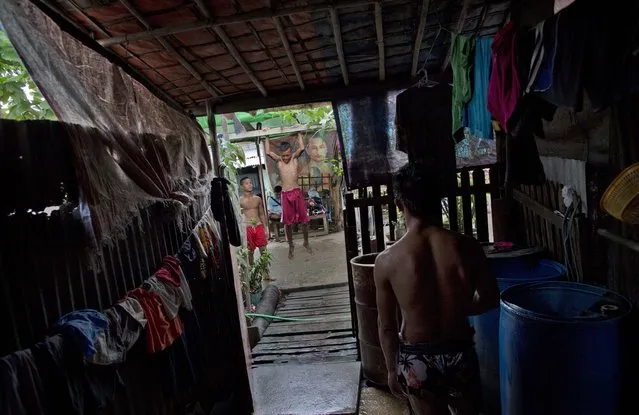 In this Tuesday, July 14, 2015, photo, members of the White New Blood lethwei fighters club, a Myanmar traditional martial-arts club which practices a rough form of kickboxing, do strengthening exercises as another watches from the verandah of their coach's house at their gym on a street in Oakalarpa, north of Yangon, Myanmar. (Photo by Gemunu Amarasinghe/AP Photo)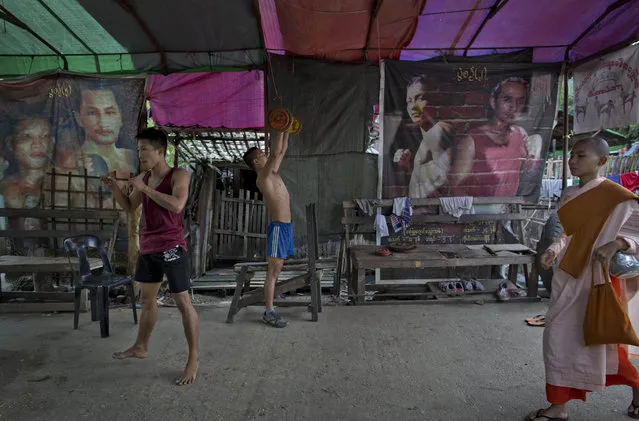 In this Wednesday, July 15, 2015, photo, a Buddhist nun walks to collect alms as a member of the White New Blood lethwei fighters club, a Myanmar traditional martial-arts club which practices a rough form of kickboxing, lifts-weights as another punches the air in their gym on a street in Oakalarpa, north of Yangon, Myanmar. (Photo by Gemunu Amarasinghe/AP Photo)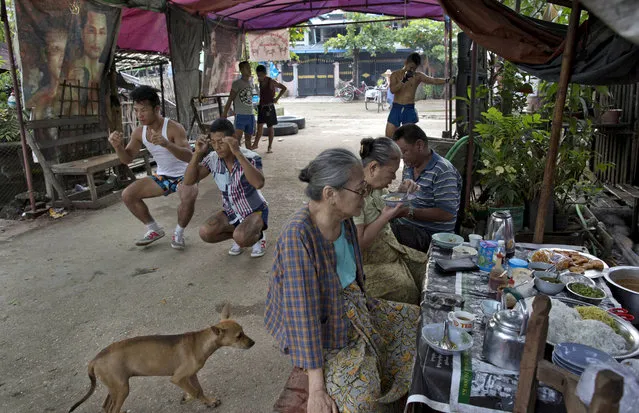 In this Wednesday, July 15, 2015, photo, members of the White New Blood lethwei fighters club, a Myanmar traditional martial-arts club which practices a rough form of kickboxing, warm up in their gym on a street as customers eat a meal at a roadside noodles shop in Oakalarpa, north of Yangon, Myanmar. (Photo by Gemunu Amarasinghe/AP Photo)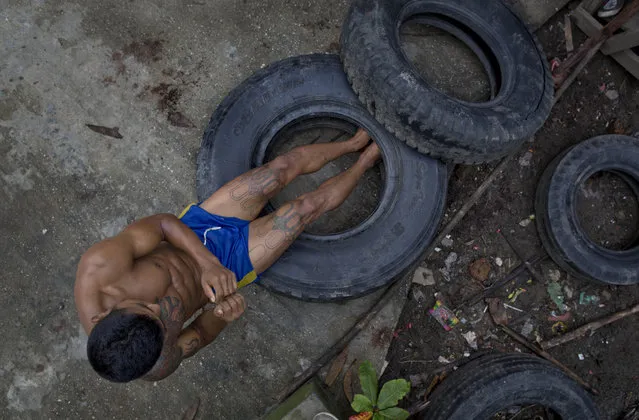 In this Wednesday, July 15, 2015, photo, a member of the White New Blood lethwei fighters club, a Myanmar traditional martial-arts club which practices a rough form of kickboxing, does crunches with the help of discarded tires in their gym on a street in Oakalarpa, north of Yangon, Myanmar. (Photo by Gemunu Amarasinghe/AP Photo)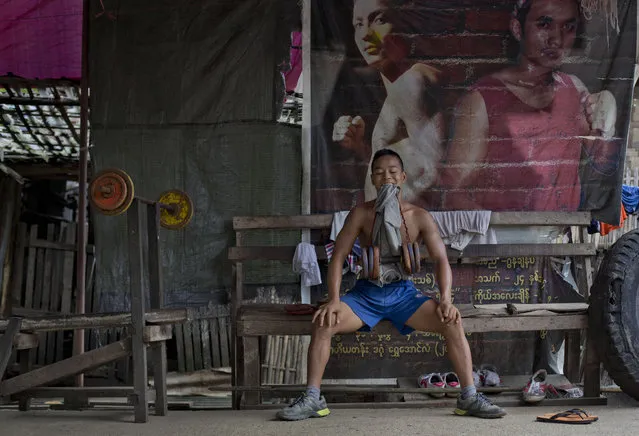 In this Wednesday, July 15, 2015, photo, a member of the White New Blood lethwei fighters club, a Myanmar traditional martial-arts club which practices a rough form of kickboxing, practices strengthening exercises during a practice session at their gym on a street in Oakalarpa, north of Yangon, Myanmar. (Photo by Gemunu Amarasinghe/AP Photo)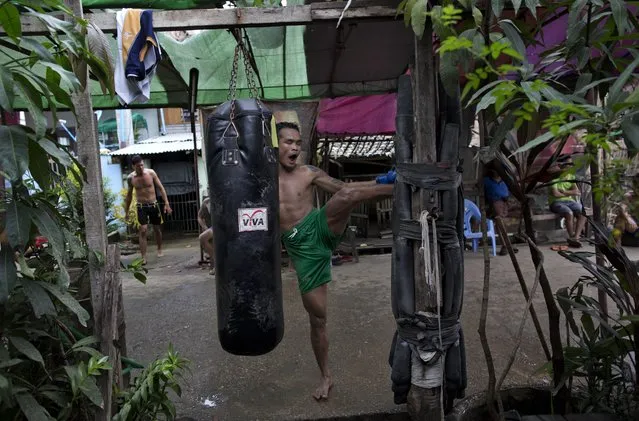 In this Tuesday, July 14, 2015, photo, Dawna Aung, a member of the White New Blood lethwei fighters club, a Myanmar traditional martial-arts club which practices a rough form of kickboxing, kicks a pole covered in used tires during a practice session in their gym on a street in Oakalarpa, north of Yangon, Myanmar. Dawna Aung, a 34-year-old father of two, hopes competing will help him change his family's life. The ethnic Karen lives in a rural village in Myanmar's Irrawaddy Delta region, and his family runs a small dried fish business. (Photo by Gemunu Amarasinghe/AP Photo)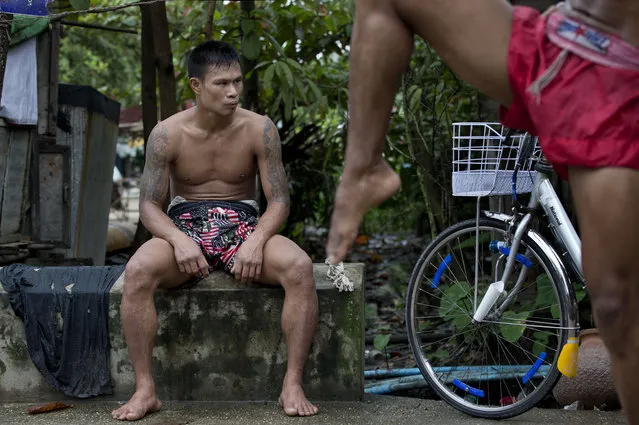 In this Tuesday, July 14, 2015, photo, a member of the White New Blood lethwei fighters club, a Myanmar traditional martial-arts club which practices a rough form of kickboxing, sits during a practice session in their gym on a street in Oakalarpa, north of Yangon, Myanmar. (Photo by Gemunu Amarasinghe/AP Photo)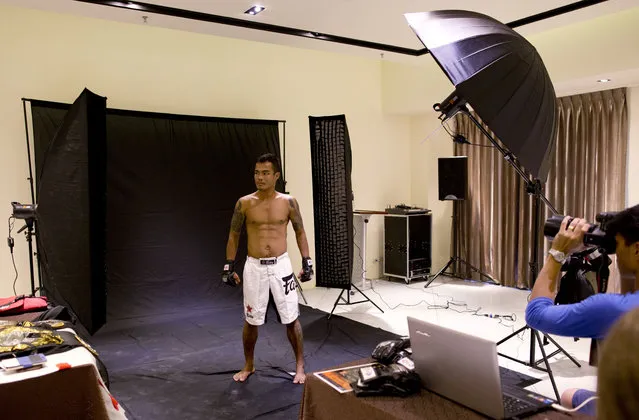 In this Thursday, July 16, 2015, photo, Dawna Aung, a member of the White New Blood lethwei fighters club, a Myanmar traditional martial-arts club which practices a rough form of kickboxing, poses for a photograph ahead of his lightweight-class fight for a mixed-martial-arts "One Championship" event broadcast globally on cable television networks, in Yangon, Myanmar. (Photo by Gemunu Amarasinghe/AP Photo)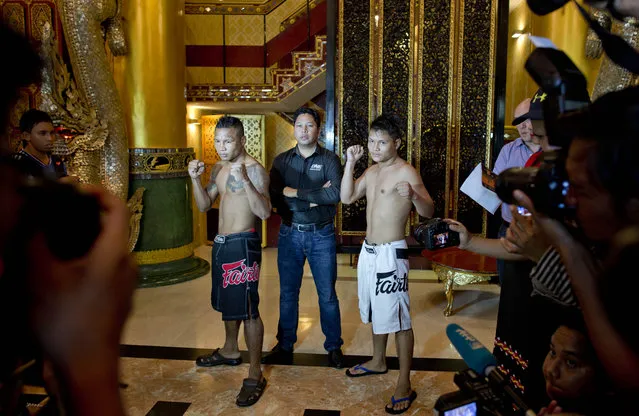 In this Friday, July 17, 2015, photo, Hlit Hlit Lay, right, a member of the White New Blood lethwei fighters club, a Myanmar traditional martial-arts club which practices a rough form of kickboxing, poses with opponent Tha Pyay Nyo, left and "One Championship" President Victor Cui, center, ahead of their featherweight fight at a mixed-martial-arts "One Championship" event broadcast globally on cable television networks, in Yangon, Myanmar. (Photo by Gemunu Amarasinghe/AP Photo)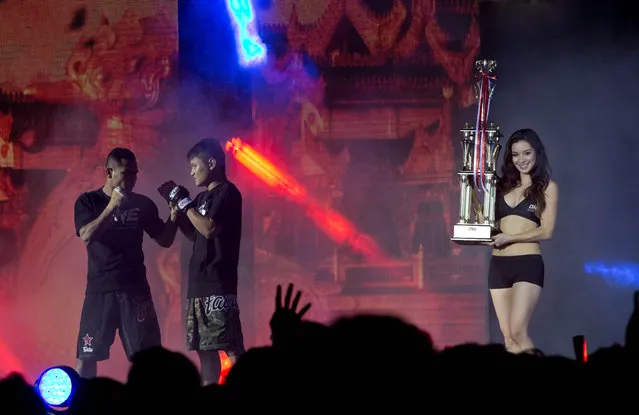 In this Saturday, July 18, 2015, photo, Hlit Hlit Lay, center, a member of the White New Blood lethwei fighters club, a Myanmar traditional martial-arts club which practices a rough form of kickboxing, stands with his opponent Tha Pyay Nyo, left, ahead of their featherweight fight at a mixed-martial-arts "One Championship" event broadcast globally on cable television networks, in Yangon, Myanmar. (Photo by Gemunu Amarasinghe/AP Photo)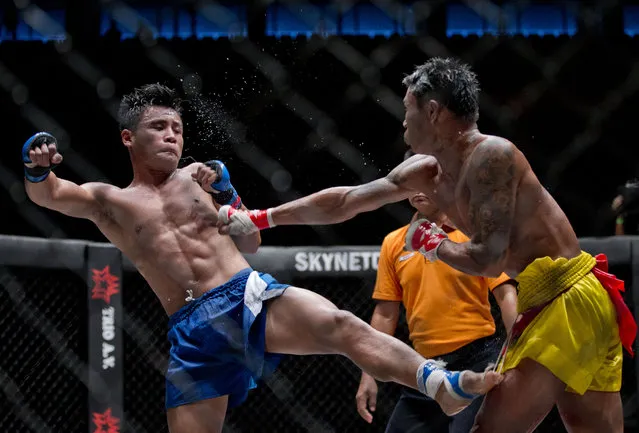 In this Saturday, July 18, 2015, photo, fighters exhibit lethwei –a Myanmar traditional martial art which practices a rough form of kickboxing – at a mixed-martial-arts "One Championship" event broadcast globally on cable television networks, in Yangon, Myanmar. Fighters could receive $1,000 for each fight, according to coach Myint Zaw who runs a street side traditional fighters' club he started 15 years ago. (Photo by Gemunu Amarasinghe/AP Photo)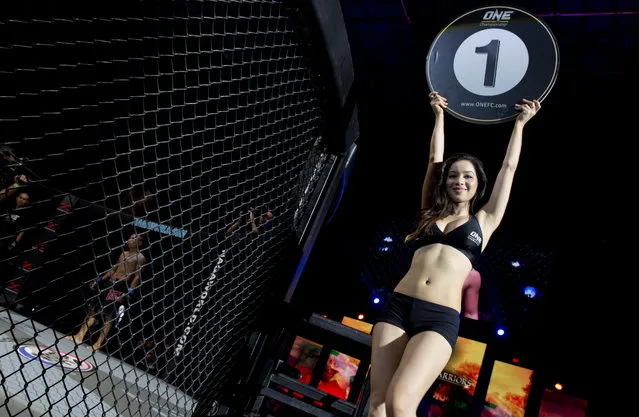 In this Saturday, July 18, 2015, photo, a ring girl walks at the beginning of the lethwei featherweight match - a Myanmar traditional martial art which practices a rough form of kickboxing – between Tha Pyay Nyo, left, and Hlit Hlit Lay, at a mixed-martial-arts "One Championship" event broadcast globally on cable television networks, in Yangon, Myanmar. (Photo by Gemunu Amarasinghe/AP Photo)