"The missile shot skyward from war-ravaged eastern Ukraine. With deadly accuracy more than six miles up, it detonated just in front of the Malaysia Airlines jetliner, sending hundreds of jagged steel shards ripping through its aluminum skin at up to 5,600 mph and shearing the cockpit from the rest of the plane. The two pilots and purser in the cockpit died instantly, and the Boeing 777 disintegrated and fell to earth, killing the rest of the 298 men, women and children aboard Flight 17 on July 17, 2014, Dutch investigators said Tuesday in a long-awaited report. Some of the victims may have been conscious for 60 to 90 seconds, the Dutch Safety Board said, but they probably were not fully aware of what was happening in the oxygen-starved, freezing chaos. The tornado-like airflow surging through the doomed jet as it came apart was powerful enough to tear off people's clothes and leave naked corpses amid the fields of sunflowers.
The 15-month Dutch investigation blamed a Soviet-made surface-to-air Buk missile for downing the Amsterdam to Kuala Lumpur flight, but it did not explicitly say who had fired it. It identified an area of 320 square kilometers (120 square miles) where it said the launch must have taken place, and all of the land was in the hands of pro-Russian separatists fighting Ukrainian forces at the time of the disaster, according to daily maps of fighting released by the Ukrainian National Security Council. The Dutch Safety Board also found that the tragedy wouldn't have happened if the airspace of eastern Ukraine had been totally closed to passenger planes as fighting raged below.
He spoke in front of the partially reassembled red, white and blue Malaysian jetliner, much of the left side of its mangled fuselage front riddled with shrapnel holes.
Russian officials were prompt to dismiss the Dutch report, with Deputy Foreign Minister Sergei Ryabkov calling it an obvious "attempt to make a biased conclusion, in essence to carry out a political order". Earlier Tuesday, the Buk's manufacturer presented its own report trying to clear the separatists, and Russia itself, of any involvement. The Russian state-controlled consortium Almaz-Antey said it conducted experiments, including one in which a Buk missile was detonated near the nose of an airplane similar to a 777, and it contended they contradicted the conclusion that a Buk missile of the kind used by the Russians destroyed Flight 17. Almaz-Antey had earlier suggested that it could have been a model of Buk that is no longer in service with the Russian military but is part of Ukraine's arsenal. It said the experiments also rebutted claims the missile was fired from Snizhne, a village that was under rebel control. An Associated Press reporter saw a Buk missile system in that vicinity on the same day. Despite the moves by Moscow, Prime Minister Mark Rutte of the Netherlands called on Russia to fully cooperate with a separate criminal investigation that Dutch prosecutors are conducting into the downing of the plane, in which 196 Dutch nationals died". – John-Thor Dahlburg and Mike Corder via The Associated Press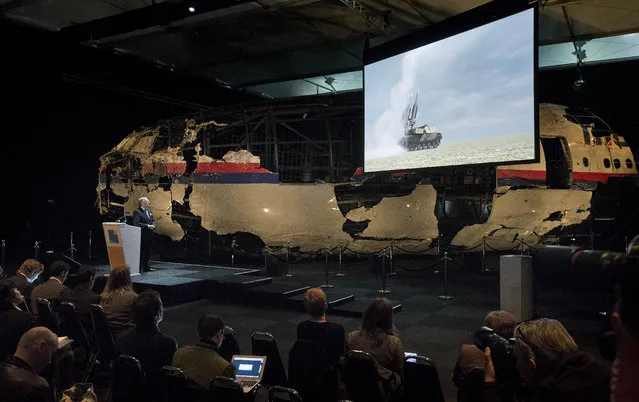 A video show the launch of a BUK missile, while a part of the reconstructed forward section of the fuselage is displayed behind, as Tjibbe Joustra, left, head of the Dutch Safety Board presents the board's final report into what caused Malaysia Airlines Flight 17 to break up high over Eastern Ukraine last year, killing all 298 people on board, during a press conference in Gilze-Rijen, central Netherlands, Tuesday, October 13, 2015. (Photo by Peter Dejong/AP Photo)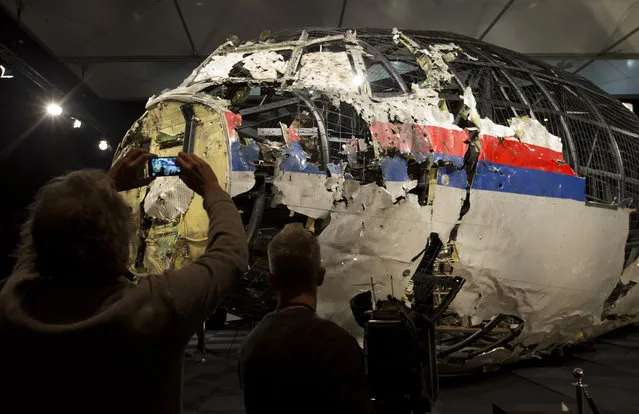 Journalists take images of part of the reconstructed forward section of the fuselage after the presentation of the Dutch Safety Board's final report into what caused Malaysia Airlines Flight 17 to break up high over Eastern Ukraine last year, killing all 298 people on board, during a press conference in Gilze-Rijen, central Netherlands, Tuesday, October 13, 2015. (Photo by Peter Dejong/AP Photo)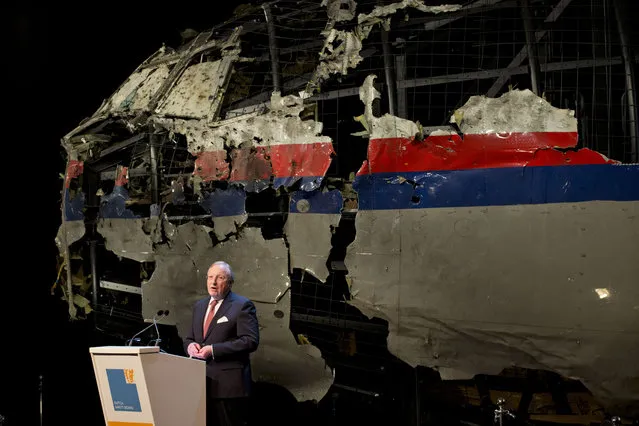 With the reconstructed cockpit displayed behind, Tjibbe Joustra, head of the Dutch Safety Board presents the board's final report into what caused Malaysia Airlines Flight 17 to break up high over Eastern Ukraine last year, killing all 298 people on board, during a press conference in Gilze-Rijen, central Netherlands, Tuesday, October 13, 2015. (Photo by Peter Dejong/AP Photo)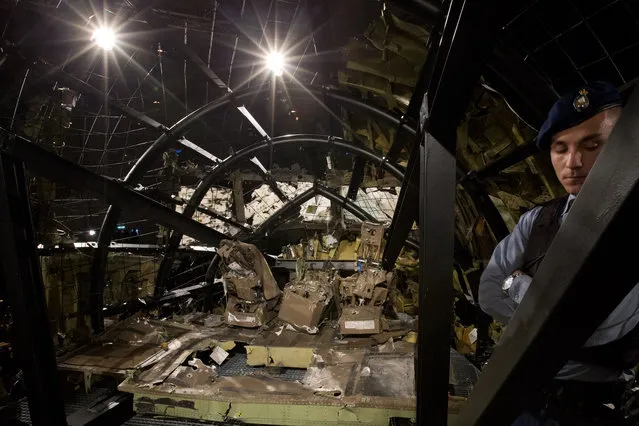 A Dutch Military Policeman guards part of the reconstructed cockpit, rear, and forward section of the fuselage after the Dutch Safety Board presented it's final report into what caused Malaysia Airlines Flight 17 to break up high over Eastern Ukraine last year, killing all 298 people on board, during a press conference in Gilze-Rijen, central Netherlands, Tuesday, October 13, 2015. (Photo by Peter Dejong/AP Photo)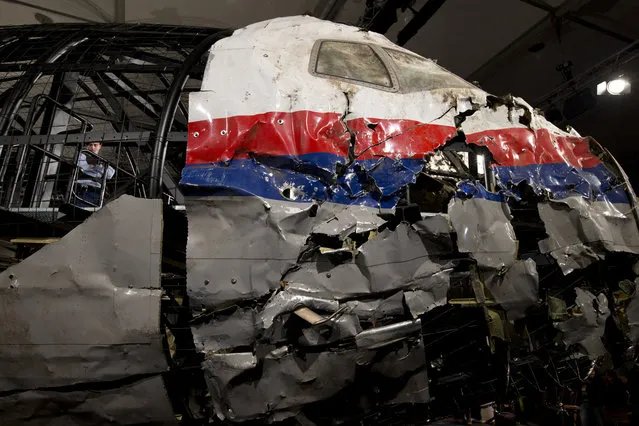 A Dutch Military Policeman, left inside, guards part of the reconstructed cockpit, right, and forward section of the fuselage after the Dutch Safety Board presented it's final report into what caused Malaysia Airlines Flight 17 to break up high over Eastern Ukraine last year, killing all 298 people on board, during a press conference in Gilze-Rijen, central Netherlands, Tuesday, October 13, 2015. (Photo by Peter Dejong/AP Photo)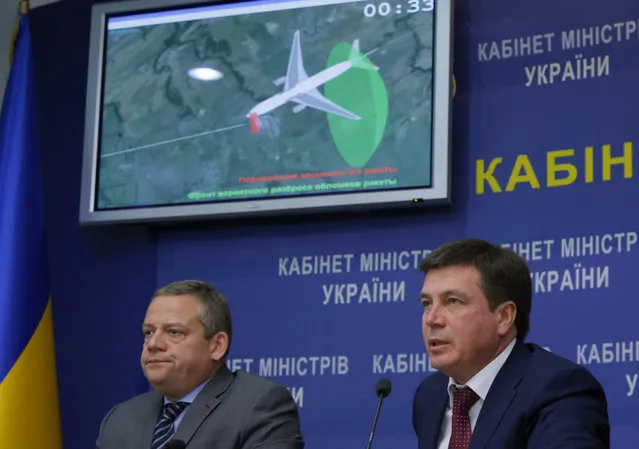 Vice Prime Minister and chairman of the government commission to investigate the causes of the MH17 crash Hennadiy Zubko, right, speaks at a briefing for journalists in Kiev, Ukraine, Tuesday, October 13, 2015. Investigators said the Buk missile that downed Malaysia Airlines Flight 17 exploded less than a meter from the cockpit, killing the two pilots and the purser inside in an instant and breaking off the front of the plane. The tragedy that killed all 298 people aboard the plane on July 17, 2014, wouldn't have happened if anyone had thought to close the airspace of eastern Ukraine to passenger planes as fighting raged below, the Dutch Safety Board said. (Photo by Sergei Chuzavkov/AP Photo)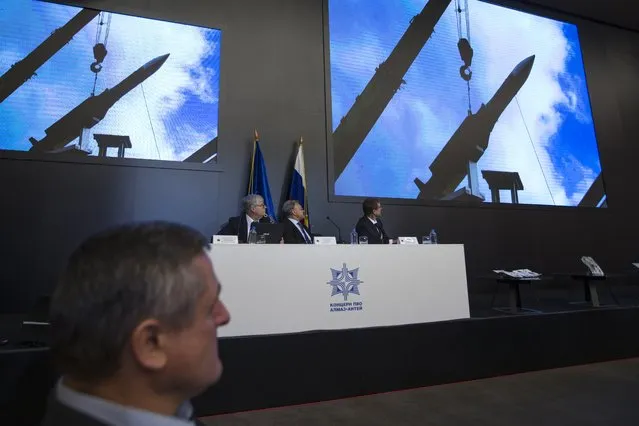 Almaz-Antei director Yan Novikov, center, looks at the screen during a news conference in Moscow, Russia, Tuesday, October 13, 2015. Almaz-Antei air defense consortium, the builder of Buk missiles, presented its vision of the MH-17 air crash based on a new modeling of the disaster they recently conducted. (Photo by Pavel Golovkin/AP Photo)
Projectiles with thecharacteristic "double tee" formation of components of the warhead of a Buk missile 9?38?1, are displayed during a news conference in Moscow, Russia, Tuesday, October 13, 2015. (Photo by Pavel Golovkin/AP Photo)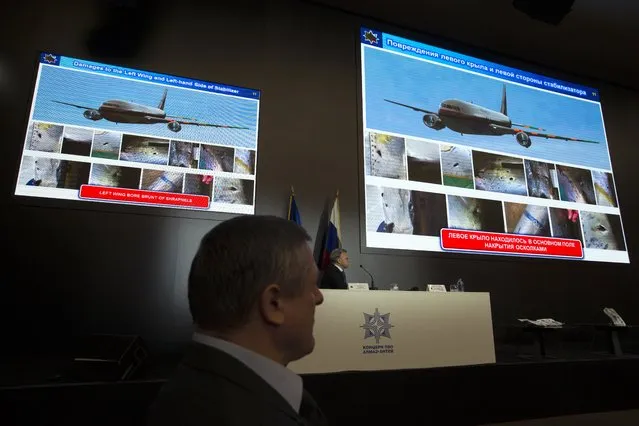 Almaz-Antei director Yan Novikov, seated center, attends a news conference in Moscow, Russia, Tuesday, October 13, 2015. (Photo by Pavel Golovkin/AP Photo)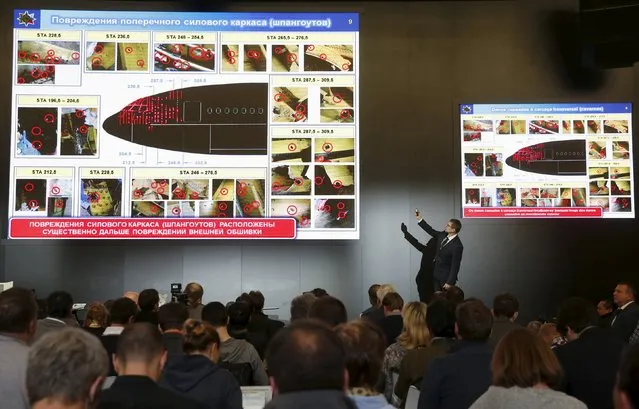 Journalists attend a news conference, organized by officials of Russian missile manufacturer Almaz-Antey and dedicated to the results of its investigation into Malaysia Airlines flight MH17 crash in eastern Ukraine, in Moscow, Russia, October 13, 2015. The Dutch Safety Board, issuing long-awaited findings on Tuesday of its investigation into the crash of a Malaysian passenger plane over eastern Ukraine, is expected to say it was downed by a Russian-made Buk missile but not say who was responsible for firing it. Buk manufacturer Almaz-Antey scheduled a separate press conference on Tuesday at which it may attempt to discredit the Safety Board findings. (Photo by Maxim Zmeyev/Reuters)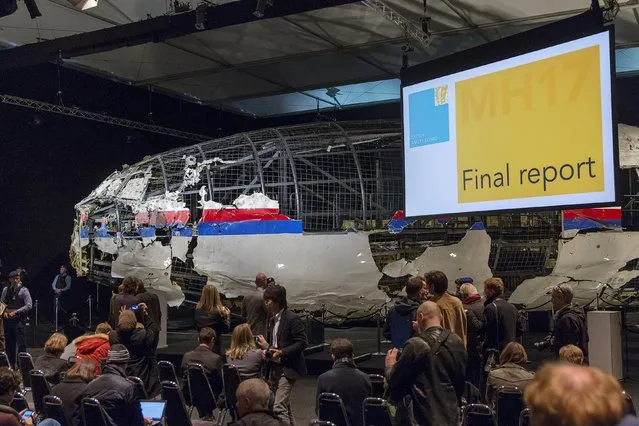 The reconstructed airplane serves as a backdrop during the presentation of the final report into the crash of July 2014 of Malaysia Airlines flight MH17 over Ukraine, in Gilze Rijen, the Netherlands, October 13, 2015. The Dutch Safety Board, issuing long-awaited findings on Tuesday of its investigation into the crash of a Malaysian passenger plane over eastern Ukraine, is expected to say it was downed by a Russian-made Buk missile but not say who was responsible for firing it. Buk manufacturer Almaz-Antey scheduled a separate press conference on Tuesday at which it may attempt to discredit the Safety Board findings. (Photo by Michael Kooren/Reuters)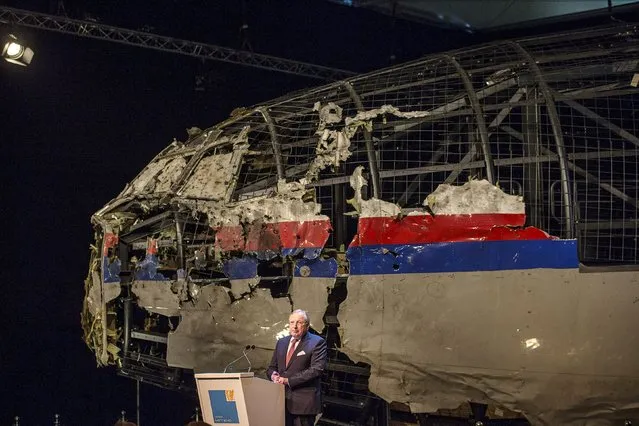 Tjibbe Joustra, chairman of the Dutch Safety Board, presents the final report into the crash of July 2014 of Malaysia Airlines flight MH17 over Ukraine in Gilze Rijen, the Netherlands, October 13, 2015. (Photo by Michael Kooren/Reuters)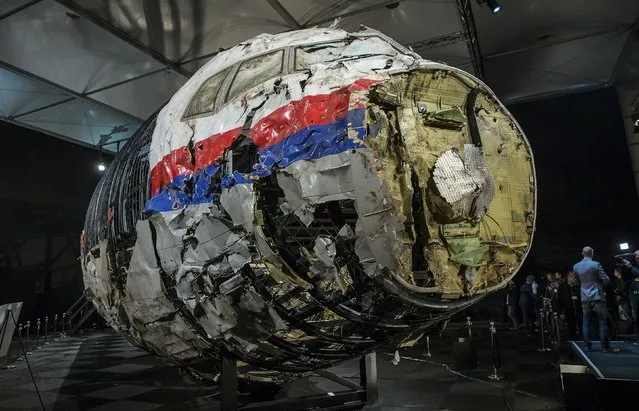 The reconstructed wreckage of the MH17 airplane is seen after the presentation of the final report into the crash of July 2014 of Malaysia Airlines flight MH17 over Ukraine, in Gilze Rijen, the Netherlands, October 13, 2015. Malaysian Airlines Flight 17 was shot down over eastern Ukraine by a Russian-made Buk missile, the Dutch Safety Board said on Tuesday in its final report on the July 2014 crash that killed all 298 aboard. The long-awaited findings of the board, which was not empowered to address questions of responsibility, did not specify who launched the missile. (Photo by Michael Kooren/Reuters)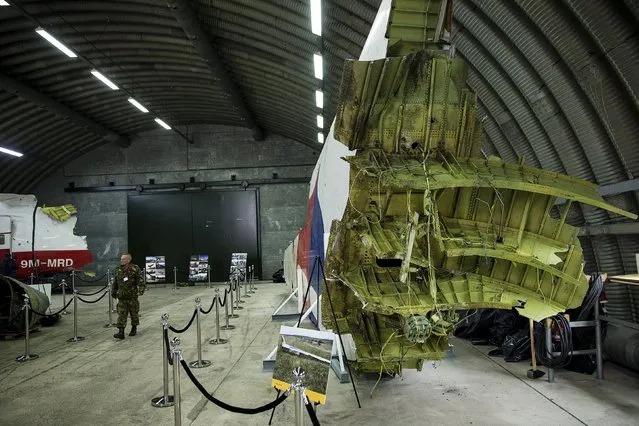 The wreckage of the MH17 airplane is seen after the presentation of the final report into the crash of July 2014 of Malaysia Airlines flight MH17 over Ukraine, in Gilze Rijen, the Netherlands, October 13, 2015. (Photo by Michael Kooren/Reuters)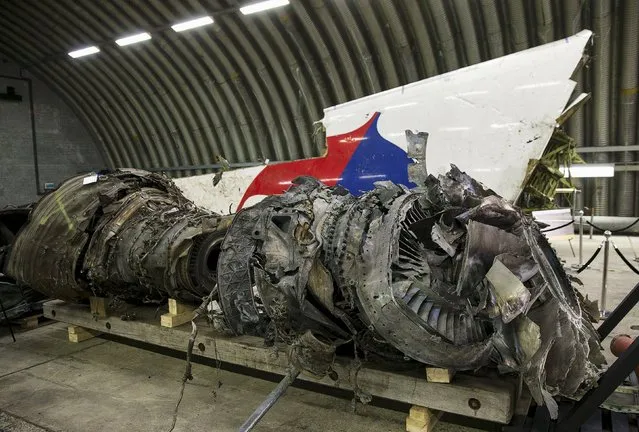 Wreckage of the MH17 airplane is seen after the presentation of the final report into the crash of July 2014 of Malaysia Airlines flight MH17 over Ukraine in Gilze Rijen, the Netherlands, October 13, 2015. (Photo by Michael Kooren/Reuters)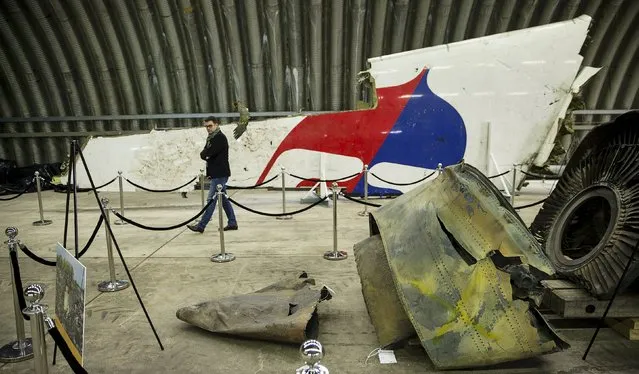 Wreckage of the MH17 airplane is seen after the presentation of the final report into the crash of July 2014 of Malaysia Airlines flight MH17 over Ukraine, in Gilze Rijen, the Netherlands, October 13, 2015. (Photo by Michael Kooren/Reuters)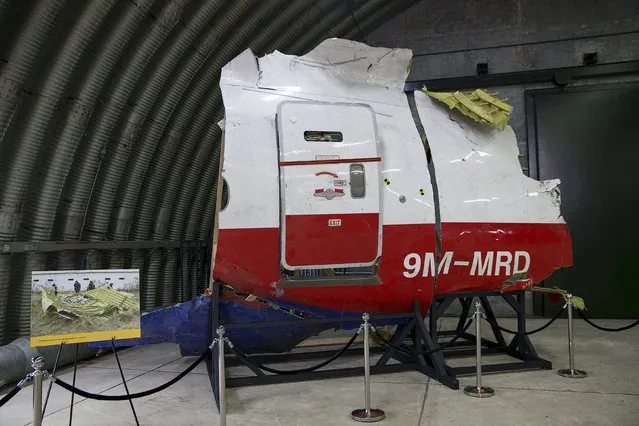 Wreckage of the MH17 airplane is seen after the presentation of the final report into the crash of July 2014 of Malaysia Airlines flight MH17 over Ukraine, in Gilze Rijen, the Netherlands, October 13, 2015. (Photo by Michael Kooren/Reuters)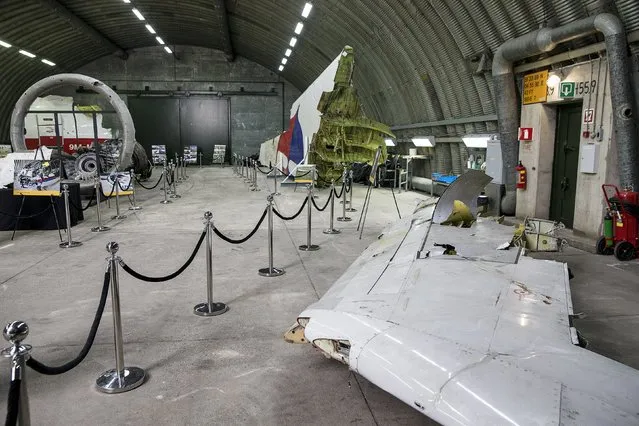 Wreckage of the MH17 airplane is seen after the presentation of the final report into the crash of July 2014 of Malaysia Airlines flight MH17 over Ukraine, in Gilze Rijen, the Netherlands, October 13, 2015. (Photo by Michael Kooren/Reuters)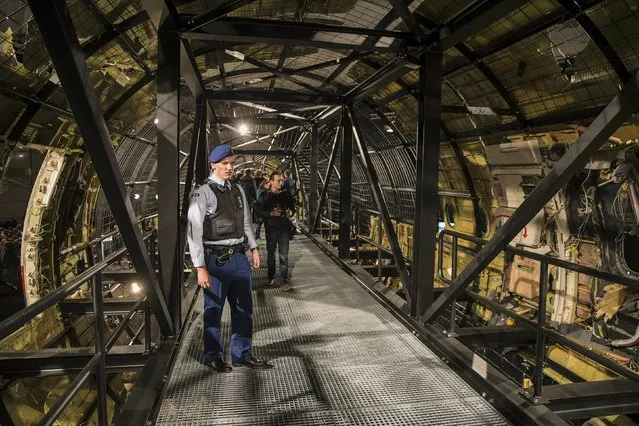 A military policeman stands guard in the reconstructed MH17 airplane after the presentation of the final report into the crash of July 2014 of Malaysia Airlines flight MH17 over Ukraine, in Gilze Rijen, the Netherlands, October 13, 2015. (Photo by Michael Kooren/Reuters)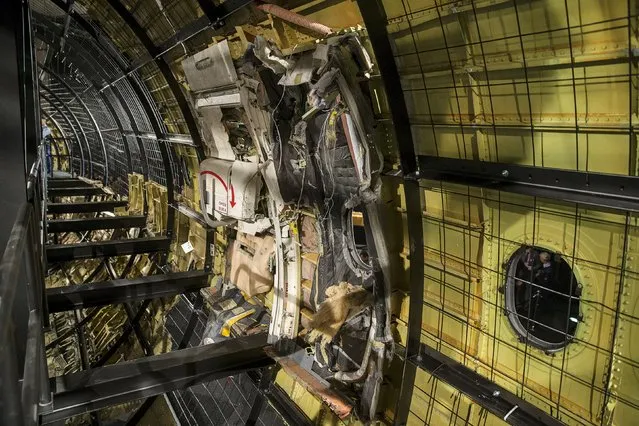 A damaged exit door of the MH17 airplane is seen after the presentation of the final report into the crash of July 2014 of Malaysia Airlines flight MH17 over Ukraine, in Gilze Rijen, the Netherlands, October 13, 2015. (Photo by Michael Kooren/Reuters)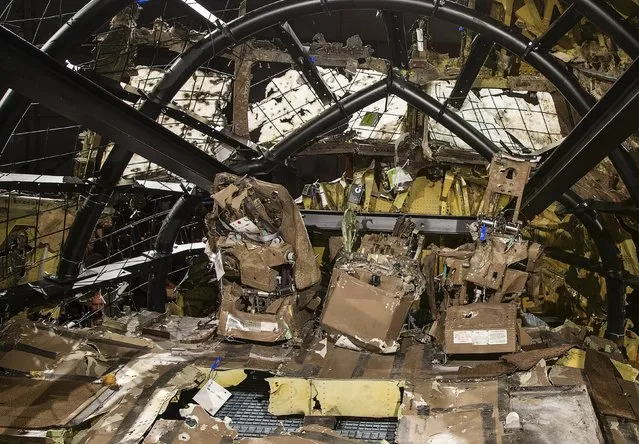 The reconstructed cockpit of the Malaysia Airlines Flight MH17 is seen after the presentation of the final report regarding its crash, in Gilze Rijen, the Netherlands, October 13, 2015. (Photo by Michael Kooren/Reuters)