"Hong Kong became the focus of the world's media after Edward Snowden, a former contractor at the National Security Agency (NSA) who leaked classified NSA information, gave The Guardian newspaper an exclusive interview and then went to ground somewhere in the financial hub – a town more used to a focus on money-making matters.
With more than 6,000 people living in every square kilometer, Hong Kong is one of the most crowded cities in the world. After checking out of the Mira Hotel where he first stayed, the public has no idea where Snowden's current "safe house" is. One magazine article even suggested Snowden head "offshore" and hide on one of the island's iconic "junks".
After The Guardian's world scoop, there were failed attempts to chase after Snowden or chase after the few journalists who had met him. As the media chased after images, still photos and TV footage of Snowden (The Guardian released a few of their own to the media) have bombarded citizens here: on the front pages of newspapers and magazines, on local websites supporting him, on banners displayed on the streets, in the hands of protesters, on transportation, in shopping malls, and outside the famous Chung King Mansion.
This clandestine story is likely to drag on for a while, as Snowden may continue to hide somewhere, communicating with the public via live chat through the internet. To me, the question "Where in Hong Kong is Mr. Snowden?" is easy to answer. According to my images, he's just around the corner". – Bobby Yip via
Reuters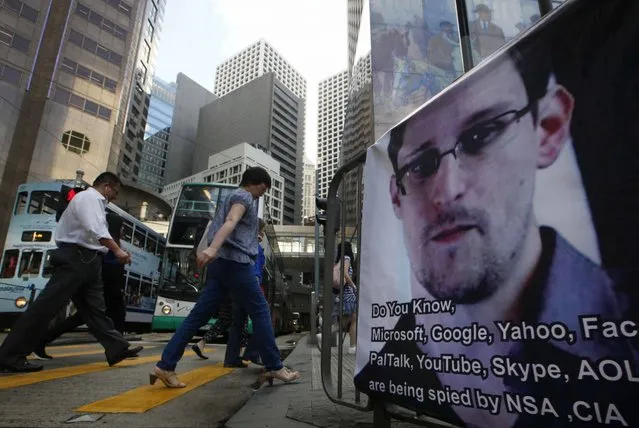 People walk past a banner supporting Edward Snowden, a former CIA employee who leaked top-secret documents about sweeping U.S. surveillance programs, at Central, Hong Kong's business district, Monday, June 17, 2013. Top officials from the Obama and Bush administrations say the government's newly exposed secret surveillance programs have been essential to disrupting terrorist plots and have not infringed on Americans' civil liberties. (Photo by AP Photo)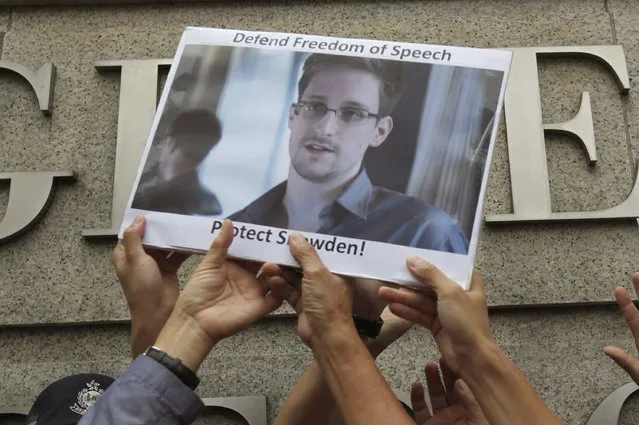 Protesters supporting Edward Snowden, a contractor at the National Security Agency (NSA), hold a photo of Snowden during a demonstration outside the U.S. Consulate in Hong Kong June 13, 2013. China's Foreign Ministry offered no details on Thursday on Snowden, the National Security Agency contractor who revealed the U.S. government's top-secret monitoring of phone and Internet data and who is in hiding in Hong Kong. (Photo by Bobby Yip/Reuters)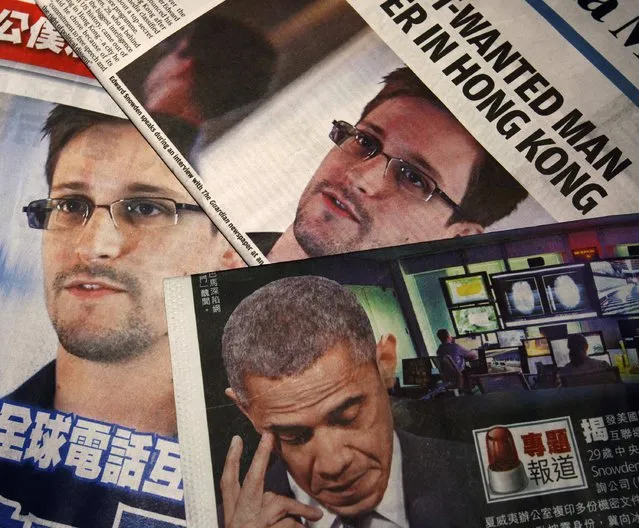 Photos of Edward Snowden, a contractor at the National Security Agency (NSA), and U.S. President Barack Obama are printed on the front pages of local English and Chinese newspapers in Hong Kong in this illustration photo June 11, 2013. Snowden, who leaked details of top-secret U.S. surveillance programs, dropped out of sight in Hong Kong on Monday ahead of a likely push by the U.S. government to have him sent back to the United States to face charges. (Photo by Bobby Yip/Reuters)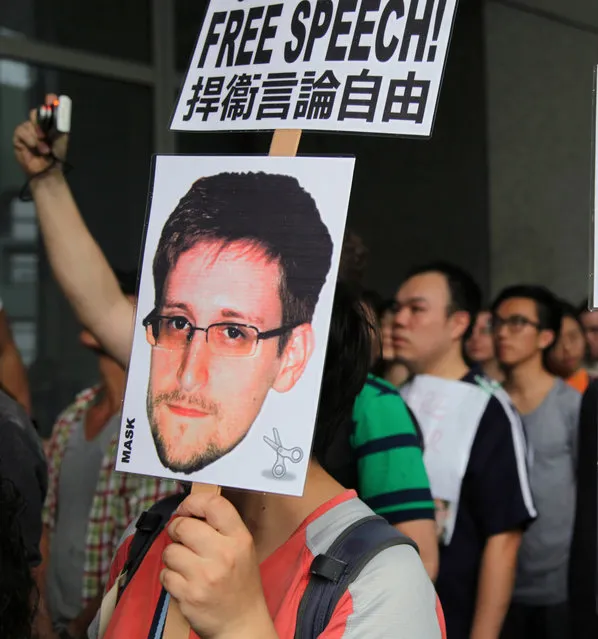 Hong Kong help: Supporters of Edward Snowden gather outside the Hong Kong government building Saturday. (Photo by Bloomberg)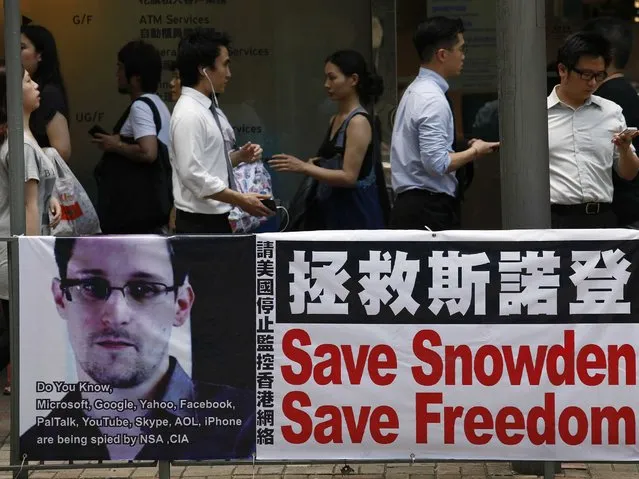 "The state-controlled Chinese media is lauding Edward Snowden's conduct as the definition of heroism". (Photo by Bobby Yip/Reuters)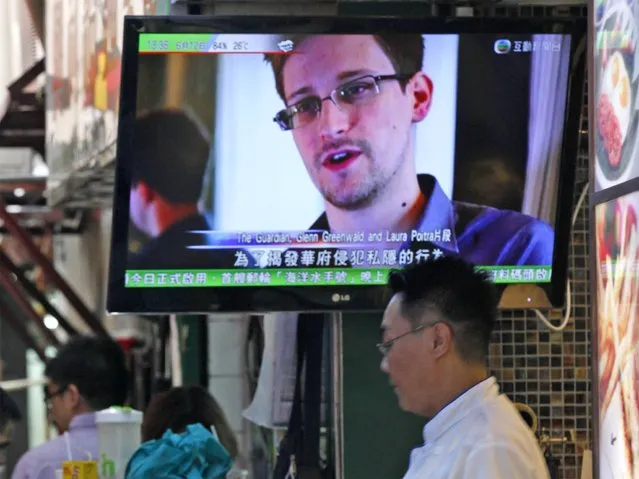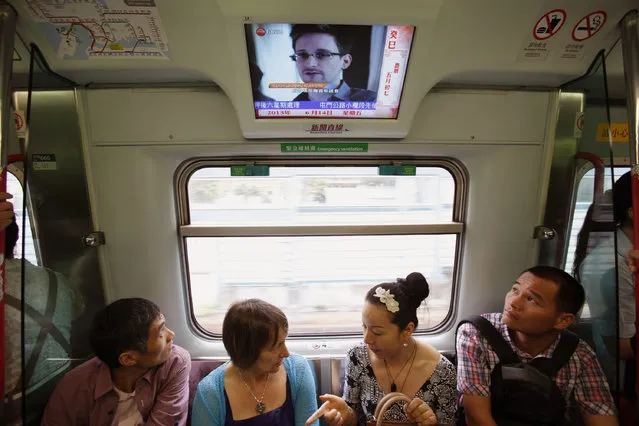 Passengers watch a television screen broadcasting news on Edward Snowden, a contractor at the National Security Agency (NSA), on a train in Hong Kong June 14, 2013. FBI Director Robert Mueller said on Thursday that the U.S. government is doing everything it can to hold confessed leaker Edward Snowden accountable for splashing surveillance secrets across the pages of newspapers worldwide. (Photo by Bobby Yip/Reuters)