Forty days after Easter, throughout Brazil, but particularly in the city of Pirenópolis, Goïás, the celebrations of the Festa do Divino Espírito Santo, or Ascension, include the commemoration of the medieval victory of Iberian Christian knights over the Moors.

An historic town, Pirenópolis preserves its colonial architecture in churches and civil buildings. During the three days of the Cavalhadas celebrations, Pirenópolis resembles a medieval Iberian city. Cavalcades, jousts, tournaments, festivals and dances, the Cavalhadas, congadas, mascardos, tapirios and pastorinhos take place in medieval costume, with the hightlight being the mock battle, performed in the city's bullring. The Moors, of course, are defeated and convert to Christianity.

The Festas de Cavalhadas feature a parade beginning with a bugle fanfare announcing the knight's pages, then the mounted knights displaying their colors. Wearing fantastic paper-maché helmets, the Crhistian knights wear blue, the Moors wear red.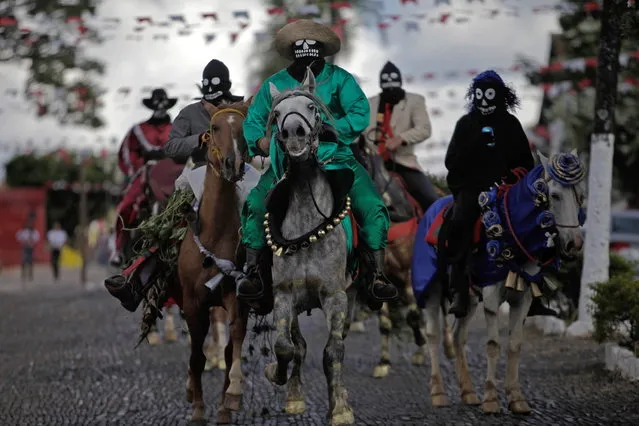 Masked men ride in a morning procession as part of the "Cavalhadas" festival in Pirenopolis, Brazil, Sunday, May 19, 2013. The popular festival is a tradition that was introduced in the 1800's by a Portuguese priest to mark the the ascension of Christ. The 3-day festival reenacts the Christian knights' medieval defeat of the Moors. (Photo by Eraldo Peres/AP Photo)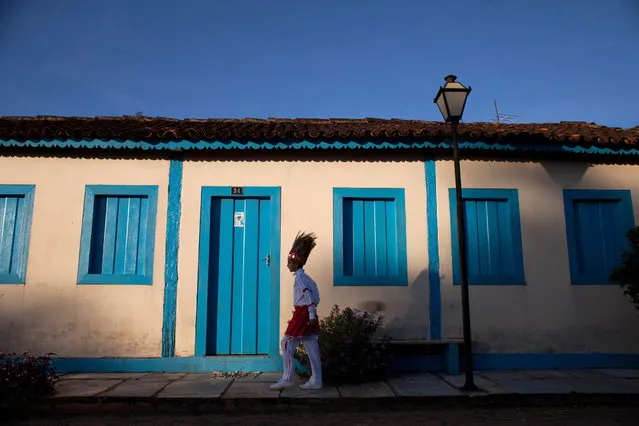 A boy dressed in a traditional costume walks to the "Cavalhadas" festival, in Pirenopolis, Brazil, Sunday, May 19, 2013. (Photo by Eraldo Peres/AP Photo)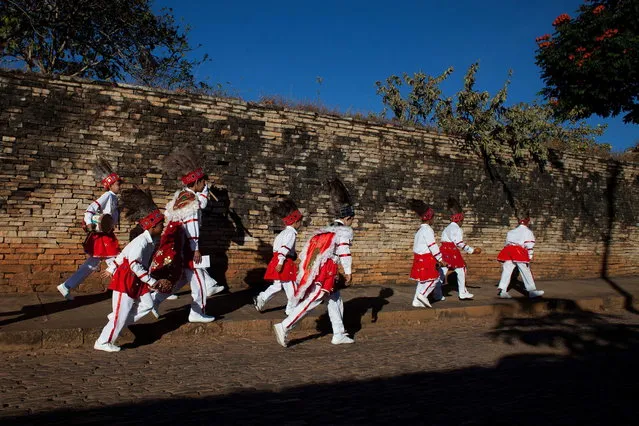 Boys dressed in traditional costume, walk to the "Cavalhadas" festival, in Pirenopolis, Brazil, Sunday, May 19, 2013. (Photo by Eraldo Peres/AP Photo)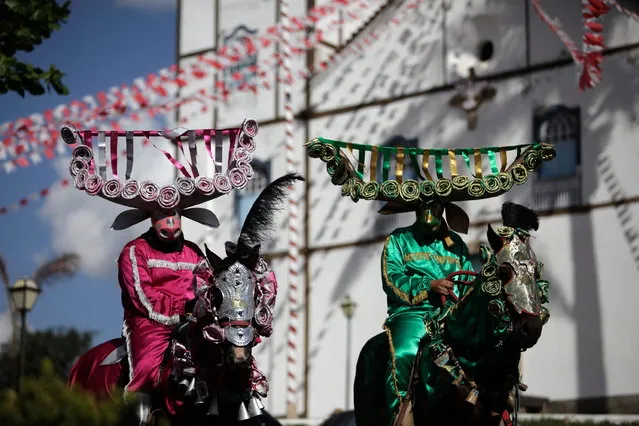 Horsemen wearing elaborate bull masks ride past Our Lady of the Rosary church during the "Cavalhadas" festival in Pirenopolis, Brazil, Sunday, May 19, 2013.(Photo by Eraldo Peres/AP Photo)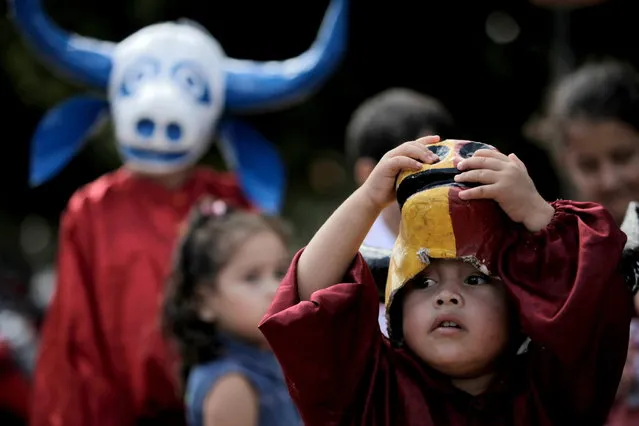 A child looks out from under his mask during the "Cavalhadas" festival in Pirenopolis, Brazil, Sunday, May 19, 2013. (Photo by Eraldo Peres/AP Photo)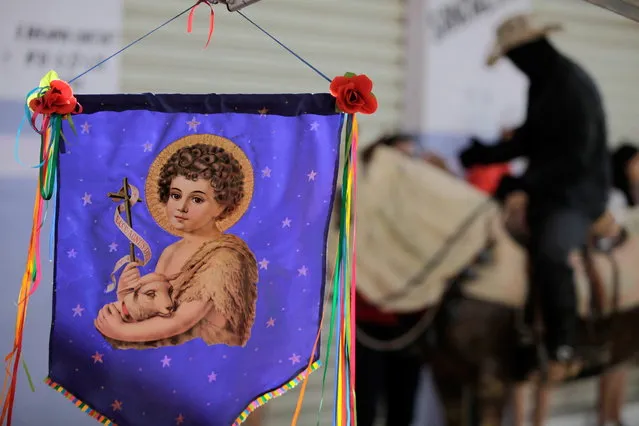 A banner of St John the Baptist hangs from the storefront of an artisan shop in Pirenopolis, Brazil, during the annual "Cavalhadas" festival, Sunday, May 19, 2013. (Photo by Eraldo Peres/AP Photo)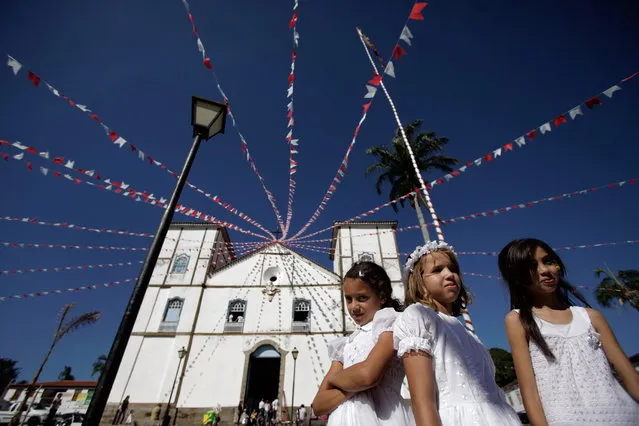 Girls representing angels stand in front of Our Lady of the Rosary church, during the "Cavalhadas" festival, in Pirenopolis, Brazil, Sunday, May 19, 2013. (Photo by Eraldo Peres/AP Photo)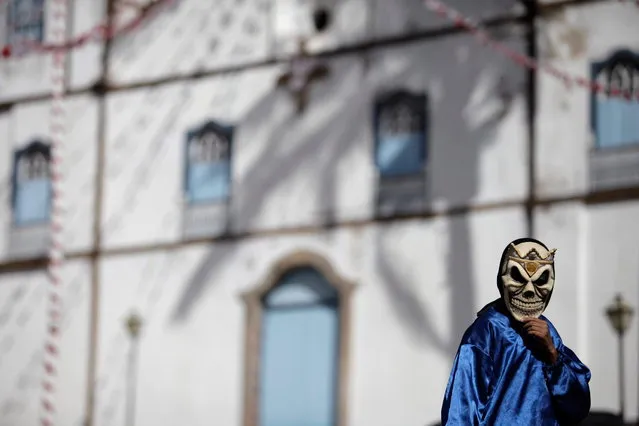 A masked boy walks past Our Lady of the Rosary church, during the "Cavalhadas" festival, in Pirenopolis, Brazil, Sunday, May 19, 2013. (Photo by Eraldo Peres/AP Photo)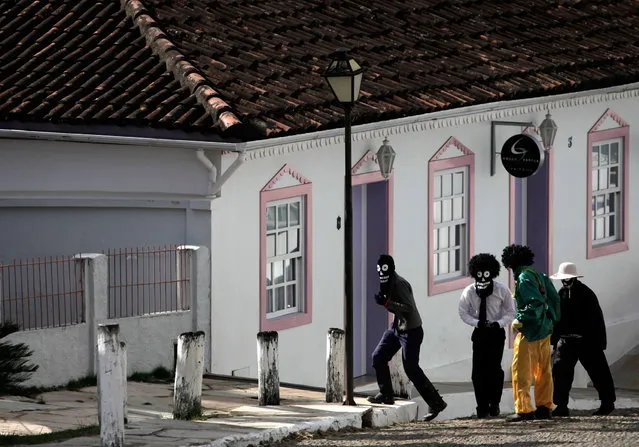 Masked boys walk to the "Cavalhadas" festival in Pirenopolis, Brazil, Sunday, May 19, 2013. (Photo by Eraldo Peres/AP Photo)