Starting on Monday, August 12, Perseid meteors will streak across the summer sky for a couple of nights, offering casual stargazers and serious nighttime photographers a chance to capture a glimpse of the annual meteor shower.

The Perseids appear when the Earth passes through debris left by the Swift-Tuttle comet. The comet's dust smashes into our planet's atmosphere at 132,000 mph, says NASA, flecking the sky with as many as 100 meteors an hour. The prime viewing time will occur between 10:30 p.m. to 4:30 a.m. local time.

The Perseids – named for the constellation Perseus, from which the meteors seem to emerge – also offer space geeks another bonus: a "fireball" meteor that NASA says can be as bright as Venus. Data collected and studied this year by the space agency says the Perseids produce more "fireball" meteors than any other shower.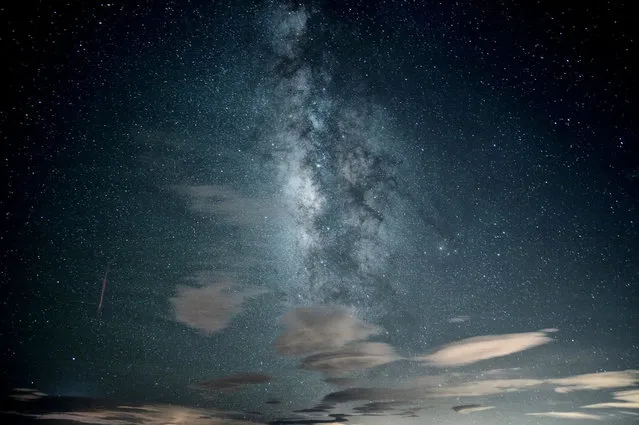 Photographer Thunderbolt_TW took this photo of a Perseid meteor (in purple on the left) and the Milky Way on August 14, 2012. (Photo by Thunderbolt_TW)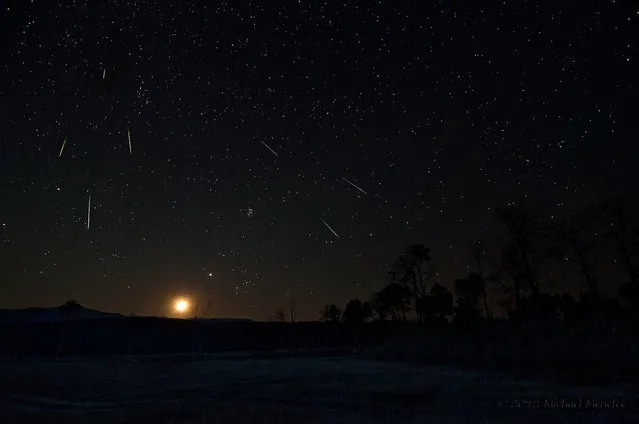 Photographer Michael Menfee created this composite image from 228 30-second exposures in southern Wyoming in August 2012. (Photo by Michael Menfee)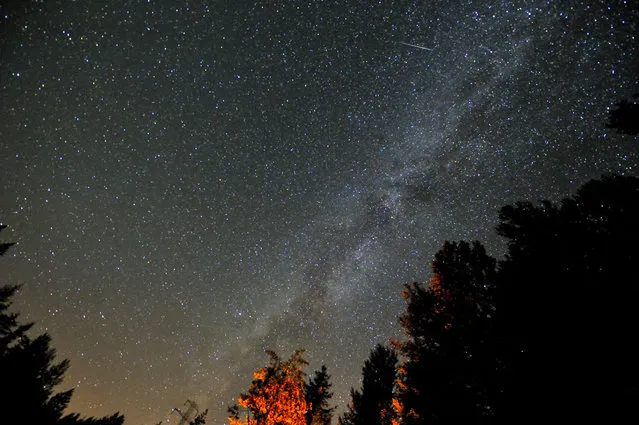 This photo was taken on August 14, 2010. (Photo by Greg Francke)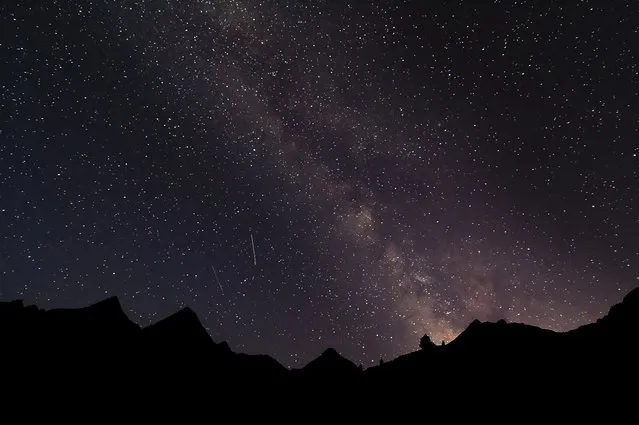 Photographer Isaac Baquero Pérez took this single shot near Aragon, Spain, on August 9, 2012. (Photo by Isaac Baquero Pérez)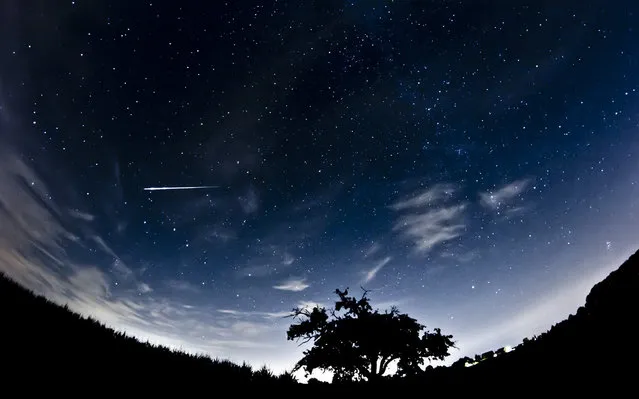 This photo was taken on August 12, 2012. (Photo by betwo23)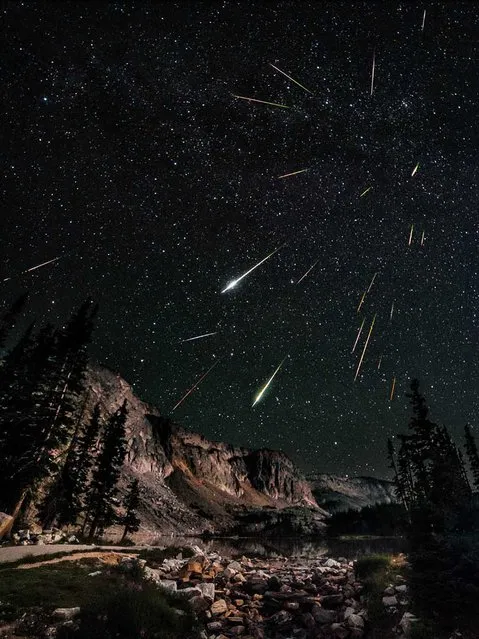 Photographer David Kingham created this composite image from 23 photos on August 12, 2012. He writes, "Last night I went out to Snowy Range in Wyoming in search of dark skies for the Perseid meteor shower. I wanted something special for the foreground and I knew the Snowies faced in the perfect direction to get this shot. I started shooting at 10pm and didn't stop until 5 am, I had to change my battery every 2 hours which made for a long night. The moon rose around 1am to light up the mountain range. This is a composite of 23 images, 22 for the meteors/stars and 1 taken at sunrise for the foreground which was lightly blended in. I also corrected the orientation of the meteors to account for the rotation of the earth (this took forever!)". (Photo by David Kingham)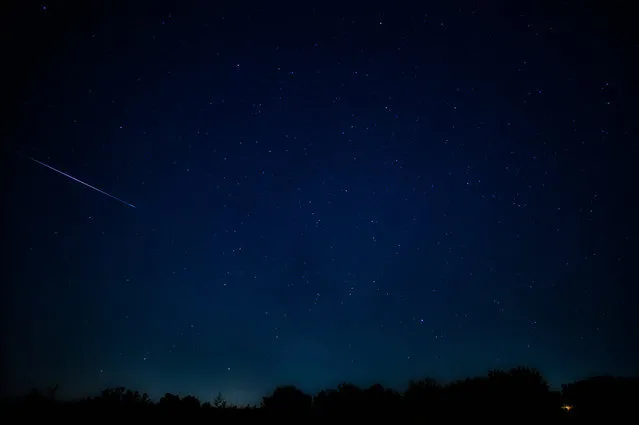 Photographer Tom Childers took this photo south of Olathe, Kan., on August 13, 2012. He writes, "We had a great, clear night, though pretty windy (as is normal for Kansas). (Photo by Tom Childers)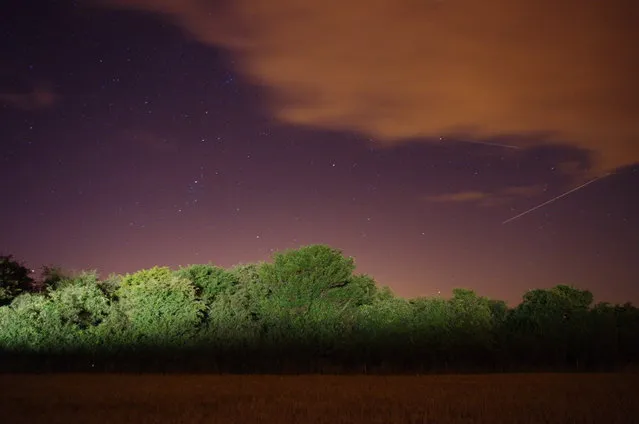 This photo was taken in August 2010 near Petersfield, England. Photographer pedrog78 said: "Love the colours in this one – the combo of the ever present light pollution and the trees painted by a passing car give the picture a surreal edge. I think I've got one meteor and one aircraft in this shot". (Photo by pedrog78)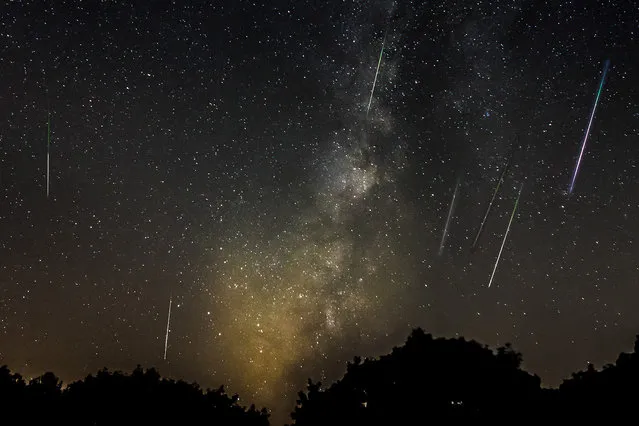 In this composite image taken on August 12, 2012, near Towns County, Ga., photographer Carl Fredrickson layered multiple shots taken of the southern end of the Milky Way. (Photo by Carl Fredrickson)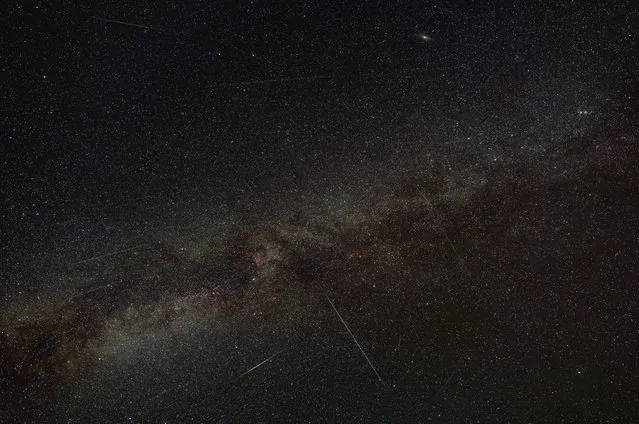 Photographer Hiro took this photo of the Perseids on August 12, 2010, near Kaohe Mauka Ahupua`a, in Holualoa, Hawaii. (Photo by Hiro)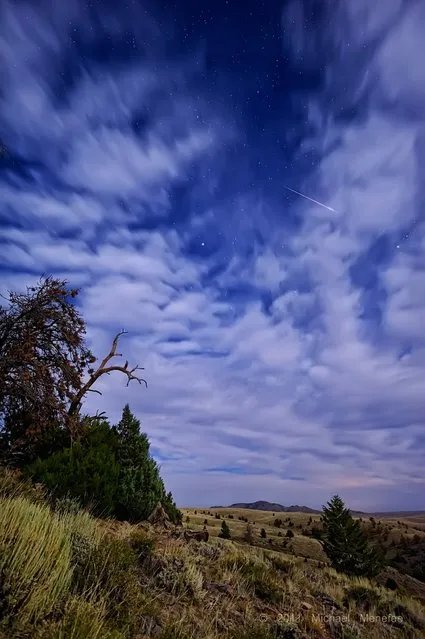 Called "The Little Persistent Perseid Meteor That Could," this photo by Michael Menfee was taken in August 2011. He writes, "So after making the extra effort to triple-check the weather forecast for our preferred Perseid location we still got clouded over, but I refused to give up on the shower. I pointed my camera at the shower radiant and hoped some meteors would be bright enough to shine past the nearly full moon and cloud cover... and I was rewarded with this nifty Perseid image that is quite a bit different than the usual fair. I guess it just goes to show the old lemons to lemonade adage applies to photography too!". (Photo by Michael Menfee)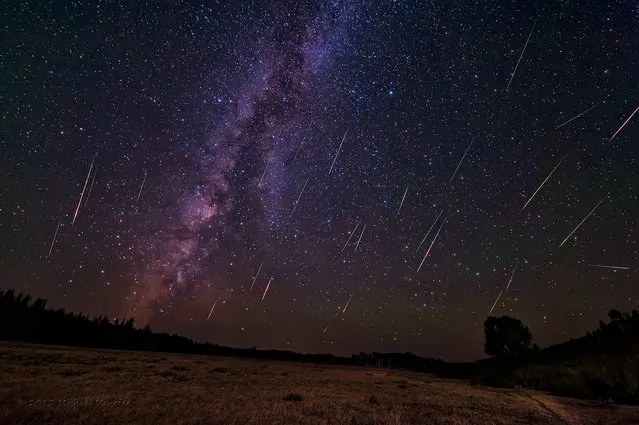 Photographer Michael Menfee created this composite image – made from 324 shots of 25 seconds each – in August 2012, near Copperton, Wyo. Another image was taken at a longer shutter speed, he writes, for foreground lighting from the moonlight. "When I saw how clearly the Milky Way was rendering to the west, I couldn't resist pointing one camera away from the meteor shower radiant to test my luck. With over 27 meteors, my luck was very good!" he writes. (Photo by Michael Menfee)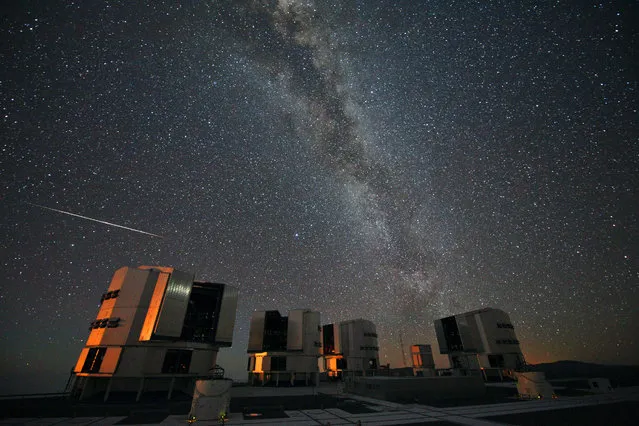 To get this photo, shot in August 2010, Stéphane Guisard of the European Southern Observatory set up three cameras to take continuous time-lapse images from the platform of the Very Large Telescope in northern Chile. This photo was one of 8,000 individual shots taken the nights of August 12-13 and 13-14. (Photo by Stéphane Guisard/European Southern Observatory)