"Gunfire erupted at a Denver pot celebration Saturday, injuring two people and scattering a crowd of thousands who had gathered for the first 4/20 counterculture holiday since the state legalized marijuana.

The man and woman who were shot were expected to survive, and police were looking for one or two suspects, said Denver Police spokesman Sonny Jackson. Police asked festival attendees for possible photo or video of the shootings, and had no immediate motive.

Witnesses described a scene in which a jovial atmosphere quickly turned to one of panic at the downtown Civic Center Park just before 5 p.m. Several thought firecrackers were being set off, then a man fell bleeding, his dog also shot".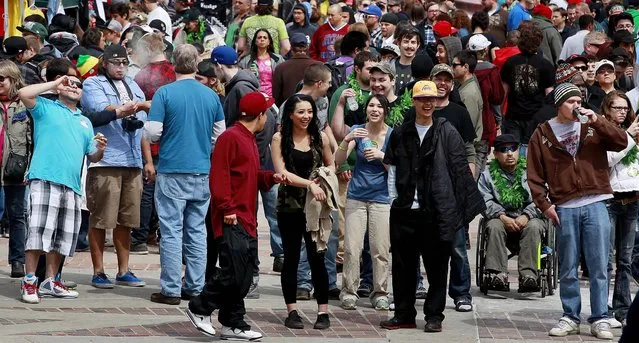 Crowds begin to gather at the Denver 4/20 pro-marijuana rally at Civic Center Park in Denver on Saturday, April 20, 2013. Authorities generally look the other way at public pot smoking here on April 20. Police said this week they're focused on crowd security in light of attacks that killed three at the finish line of the Boston Marathon. (Photo by Brennan Linsley/AP Photo)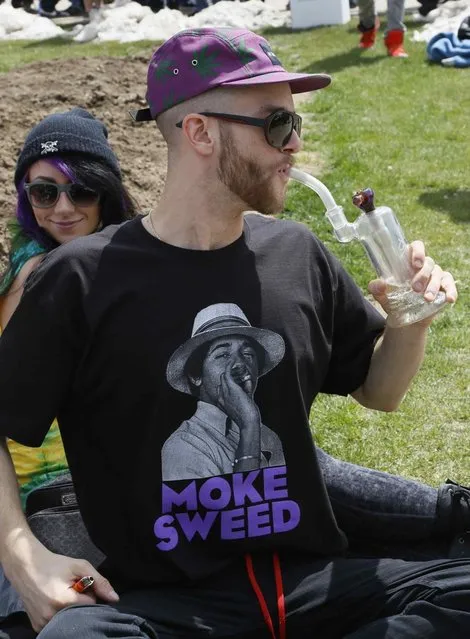 A participant at the 4/20 marijuana holiday smokes a pipe in Civic Center Park in downtown Denver April 20, 2013. (Photo by Rick Wilking/Reuters)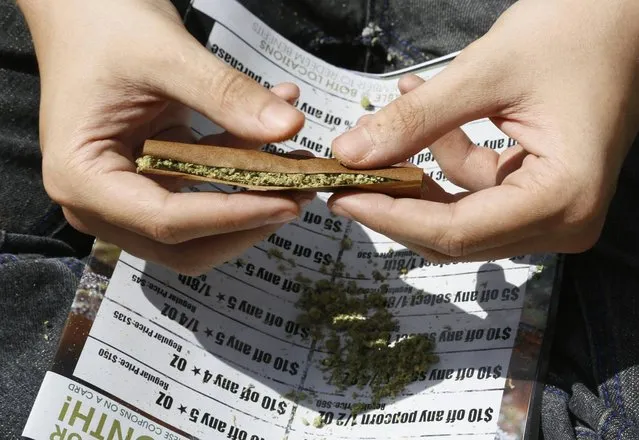 A participant rolls a marijuana filled blunt at the 4/20 marijuana holiday in Civic Center Park in downtown Denver April 20, 2013. (Photo by Rick Wilking/Reuters)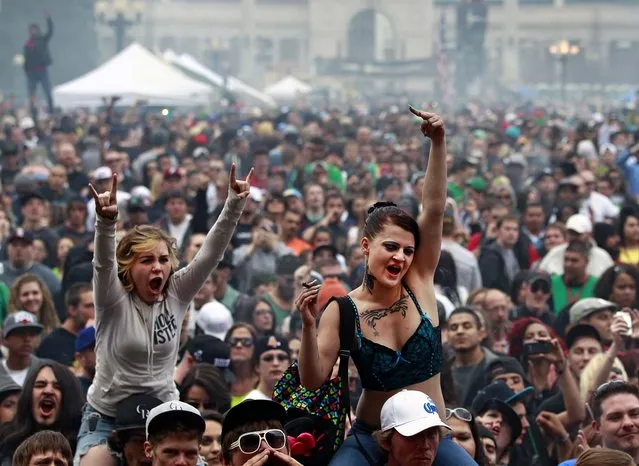 Members of a crowd numbering tens of thousands smoke marijuana and listen to live music, at the Denver 420 pro-marijuana rally at Civic Center Park in Denver on Saturday, April 20, 2013. Even before the passage in November 2012 of Colorado Amendment 64 promised the legalization of marijuana for recreational use, April 20th has for years been a celebration of marijuana counterculture, and the 2013 Denver rally draw larger crowds than previous years. (Photo by Brennan Linsley/AP Photo)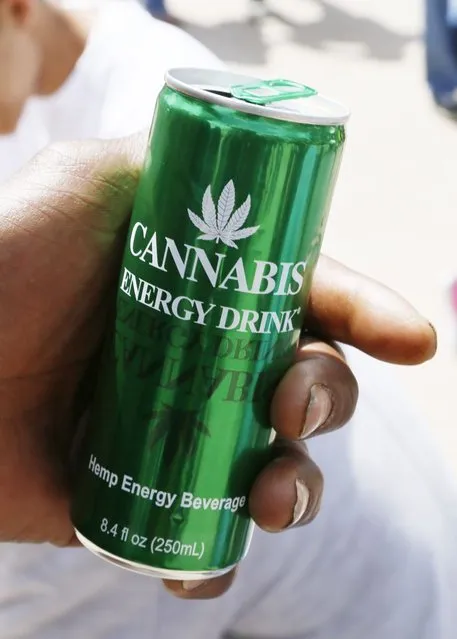 A participant at the 4/20 marijuana holiday holds a drink in Civic Center Park in downtown Denver April 20, 2013. (Photo by Rick Wilking/Reuters)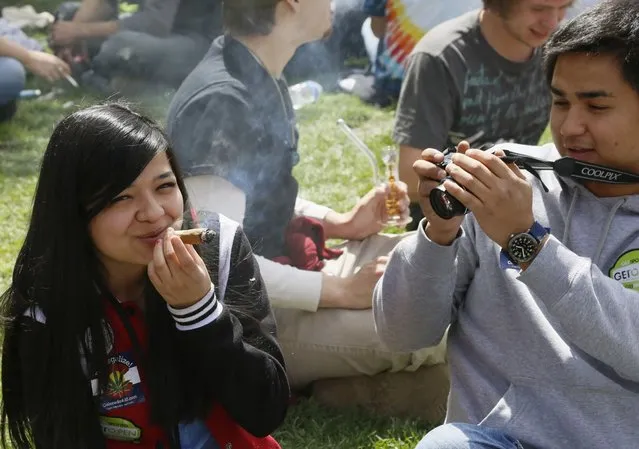 A woman smokes a blunt as a friend takes her picture at the 4/20 marijuana holiday in Civic Center Park in downtown Denver April 20, 2013. (Photo by Rick Wilking/Reuters)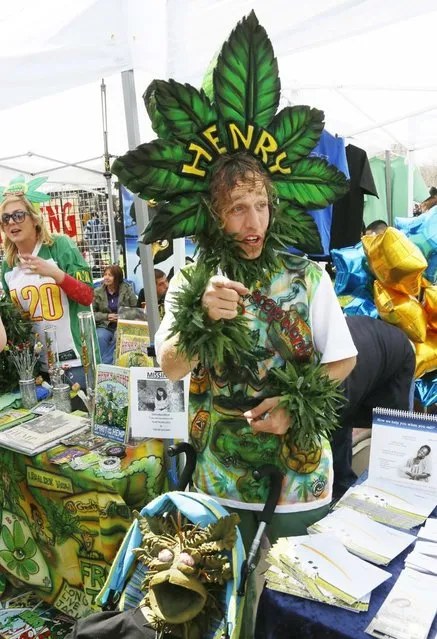 A man calling himself Henry Hemp works a vendor booth at the 4/20 marijuana holiday in Civic Center Park in downtown Denver April 20, 2013. (Photo by Rick Wilking/Reuters)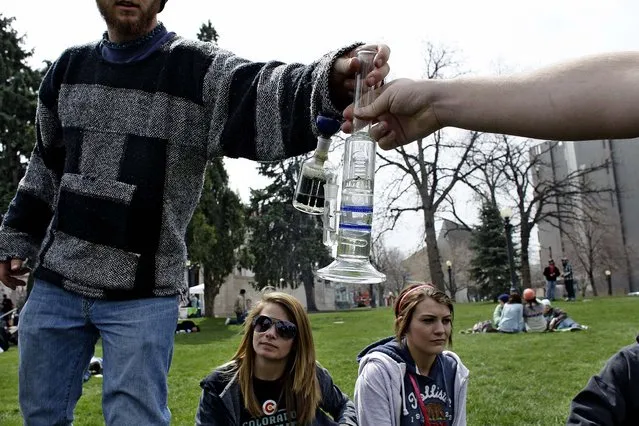 Marijuana smokers pass a bong at the Denver 4/20 pro-marijuana rally at Civic Center Park in Denver on Saturday, April 20, 2013. Authorities generally look the other way at public pot smoking here on April 20. Police said this week they're focused on crowd security in light of attacks that killed three at the finish line of the Boston Marathon. (Photo by Brennan Linsley/AP Photo)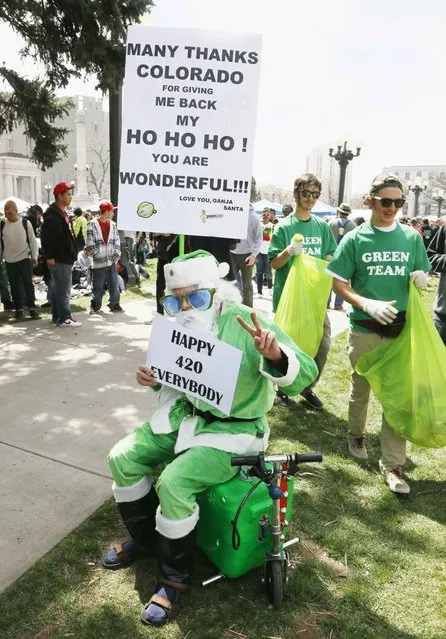 A man dressed in a green Santa suit holds a sign referring to Colorado legalizing marijuana at the 4/20 marijuana holiday in Civic Center Park in downtown Denver April 20, 2013. (Photo by Rick Wilking/Reuters)
Members of a crowd numbering tens of thousands smoke marijuana simultaneously at 4:20 PM, at the Denver 420 pro-marijuana rally at Civic Center Park in Denver on Saturday, April 20, 2013. (Photo by Brennan Linsley/AP Photo)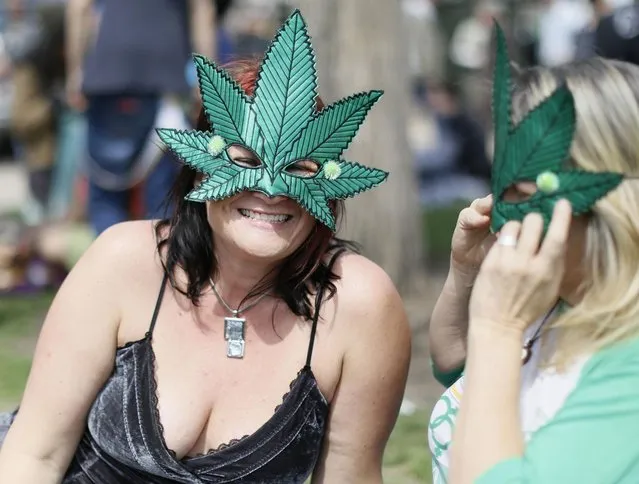 Women wearing marijuana leaf masks smile at the 4/20 marijuana holiday in Civic Center Park in downtown Denver April 20, 2013. Thousands of marijuana enthusiasts gathered in Denver on Saturday for an annual weekend celebration of cannabis, the first such assemblage since Colorado voters legalized the recreational use of pot last fall. (Photo by Rick Wilking/Reuters)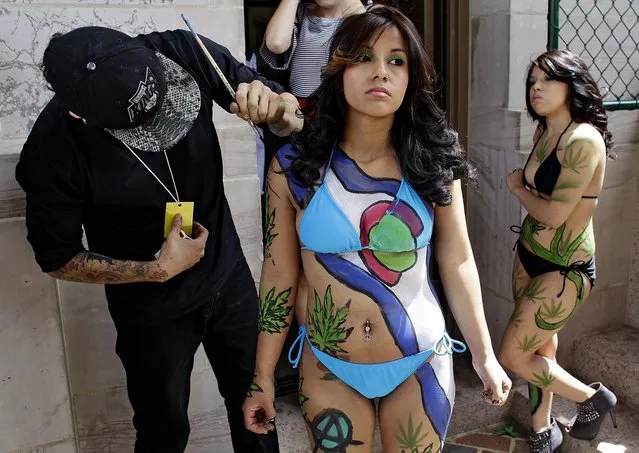 Tattoo artist Robert Duran touches up performer Ashley Lucero with a marijuana-themed body paint design, as Vanessa Pacheco looks on at right, at the Denver 4/20 pro-marijuana rally at Civic Center Park in Denver on Saturday, April 20, 2013. Even before the passage in November 2012 of Colorado Amendment 64 promised the legalization of marijuana for recreational use, April 20th has for years been a celebration of marijuana counterculture, with the 2013 Denver rally expected to draw larger crowds than previous years. (Photo by Brennan Linsley/AP Photo)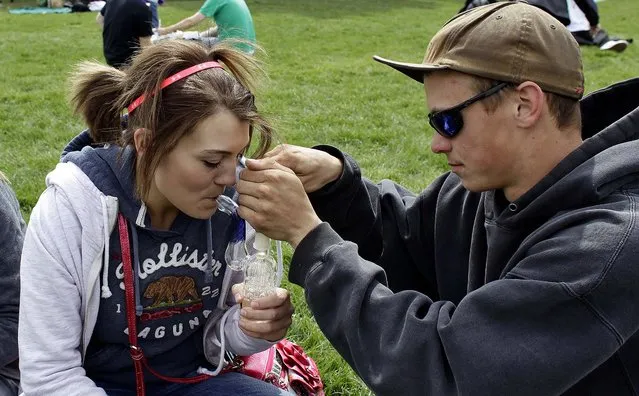 Carly, center, smokes marijuana with the help of Hunter, right, at the Denver 4/20 pro-marijuana rally at Civic Center Park in Denver on Saturday, April 20, 2013. (Photo by Brennan Linsley/AP Photo)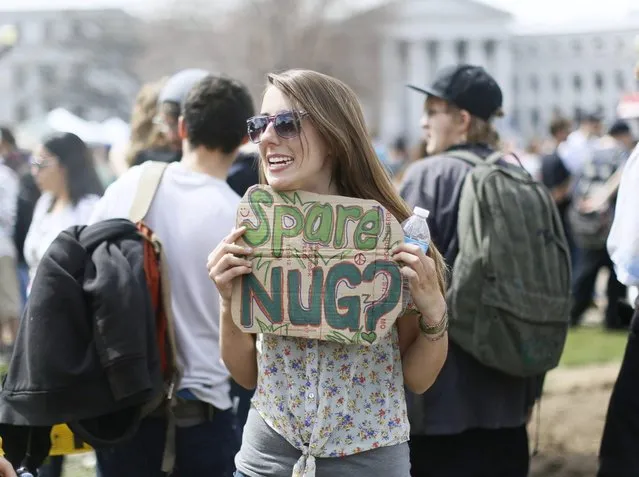 A woman holds a sign looking for donations at the 4/20 marijuana holiday in Civic Center Park in downtown Denver April 20, 2013. (Photo by Rick Wilking/Reuters)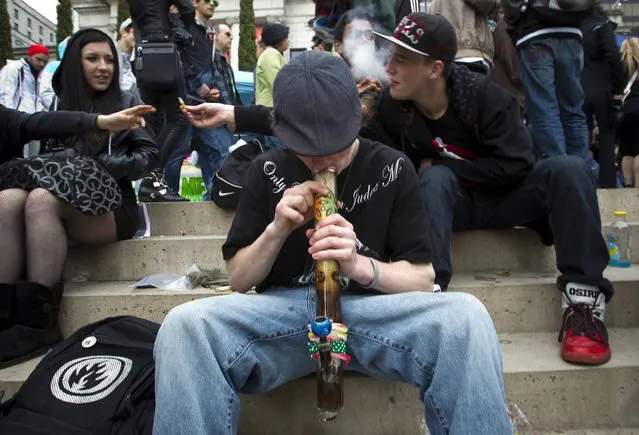 A teenager smokes marijuana out of a bong while with friends at the Vancouver Art Gallery during the annual 4/20 day, which promotes the use of marijuana, in Vancouver, British Columbia April 20, 2013. (Photo by Ben Nelms/Reuters)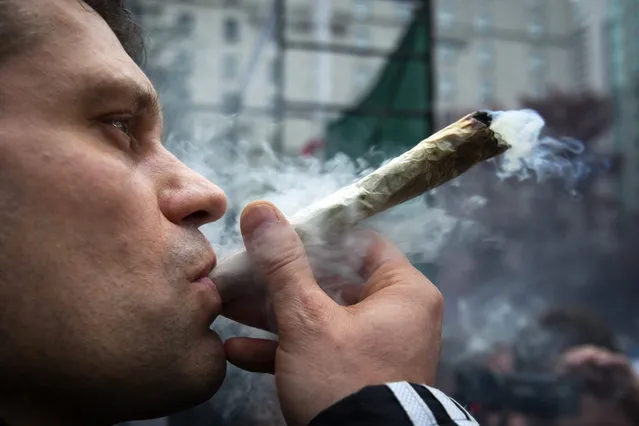 A man smokes marijuana at the Vancouver Art Gallery during the annual 4/20 day, which promotes the use of marijuana, in Vancouver, British Columbia April 20, 2013. (Photo by Ben Nelms/Reuters)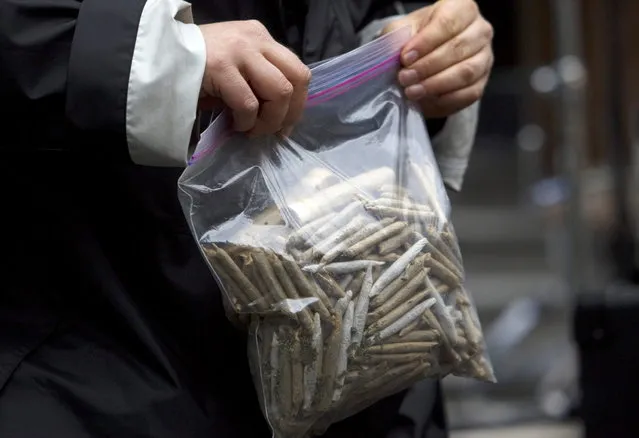 Marijuana joints are pictured for sale during the annual 4/20 day, which promotes the use of marijuana, in Vancouver, British Columbia April 20, 2013. (Photo by Ben Nelms/Reuters)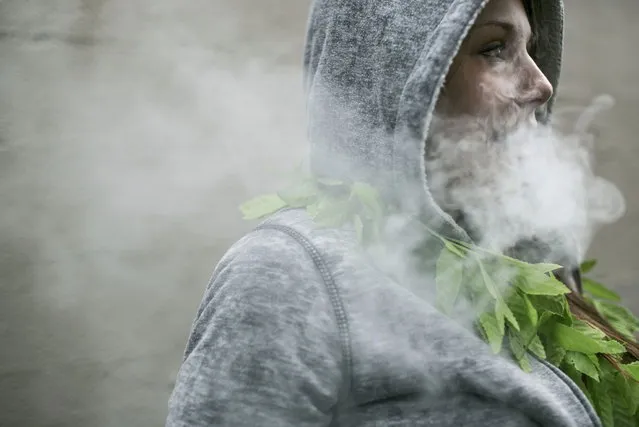 Mary Becker, 21, of Boise, Idaho exhales after taking a hit of hash oil at during 420Fest at the Luxe Nightclub in Seattle, Washington April 20, 2013. (Photo by Nick Adams/Reuters)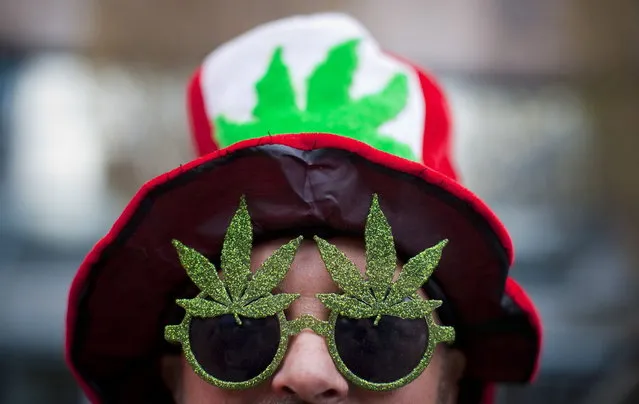 A man, wearing a marijuana-themed hat and sunglasses, is pictured at the Vancouver Art Gallery during the annual 4/20 day, which promotes the use of marijuana, in Vancouver, British Columbia April 20, 2013. (Photo by Ben Nelms/Reuters)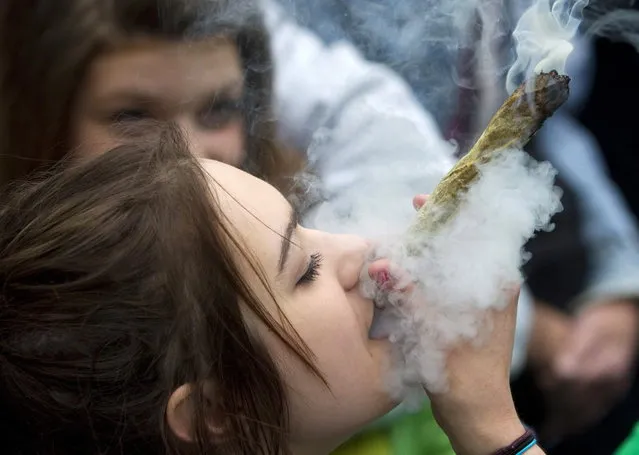 A woman smokes a large marijuana joint at the Vancouver Art Gallery during the annual 4/20 day, which promotes the use of marijuana, in Vancouver, British Columbia April 20, 2013. (Photo by Ben Nelms/Reuters)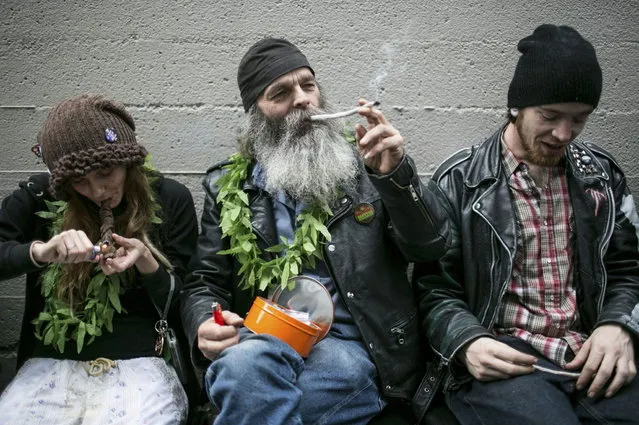 Hu Barney (C), smokes a joint during 420Fest at the Luxe Nightclub in Seattle, Washington April 20, 2013. In November 2012, voters approved legalizing the recreational use of marijuana in the state of Washington for adults over 21. (Photo by Nick Adams/Reuters)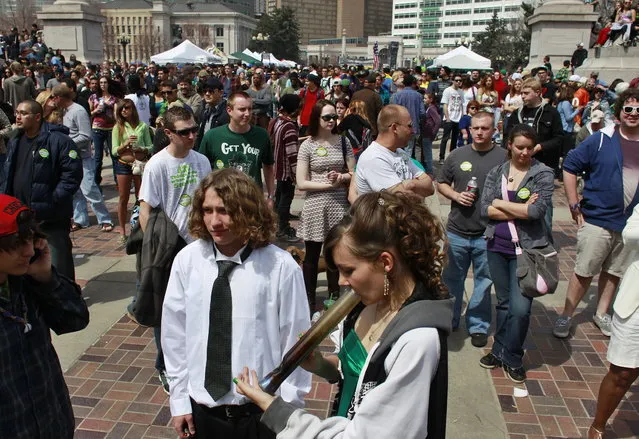 Youths smoke marijuana at the Denver 4/20 pro-marijuana rally at Civic Center Park in Denver, Saturday, April 20, 2013. Even before the passage in November 2012 of Colorado Amendment 64, which promised the legalization of marijuana for recreational use, April 20th has for years been a celebration of marijuana counterculture, and the 2013 rally was expected to draw larger crowds than previous years. (Photo by Brennan Linsley/AP Photo)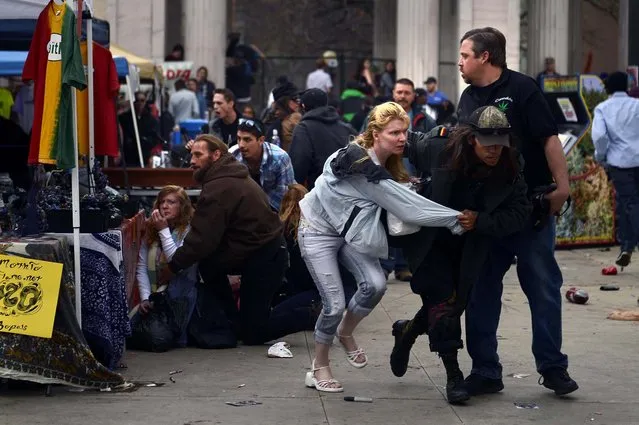 People hide and run away from the gun shots at Civic Center Park after the 4/20 pot rally, Saturday, April 20, 2013 in Denver. (Photo by Joe Amon/AP Photo/The Denver Post)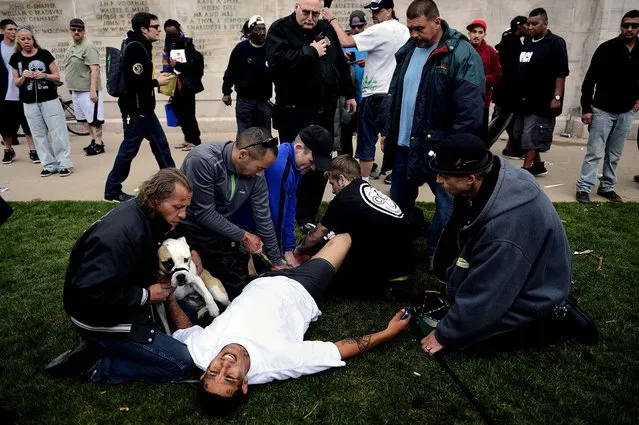 Denver Paramedics, Denver Police officers and good Samaritans tend to a shooting victim at Civic Center Park after the 4/20 pot rally, Saturday, April 20, 2013 in Denver. Gunfire erupted at a Denver pot celebration Saturday, injuring two people and scattering a crowd of thousands who had gathered for the first 4/20 counterculture holiday since the state legalized marijuana. (Photo by Joe Amon/AP Photo/The Denver Post)