Electronic Entertainment Expo, commonly known as E3, is an annual trade fair for the computer and video games industry presented by the Entertainment Software Association (ESA). It is used by many video game publishers and accessory manufacturers to show off their upcoming games and game-related merchandise.
Unlike Gamescom and other video game trade fairs that are open to the public, E3 is an exclusive, industry-only event. Persons who apply to attend are required by the event's governing body (Entertainment Software Association) to verify that they have some professional connection to the video game industry.
E3 is commonly held in late May or early June of each year at the Los Angeles Convention Center (LACC) in Los Angeles.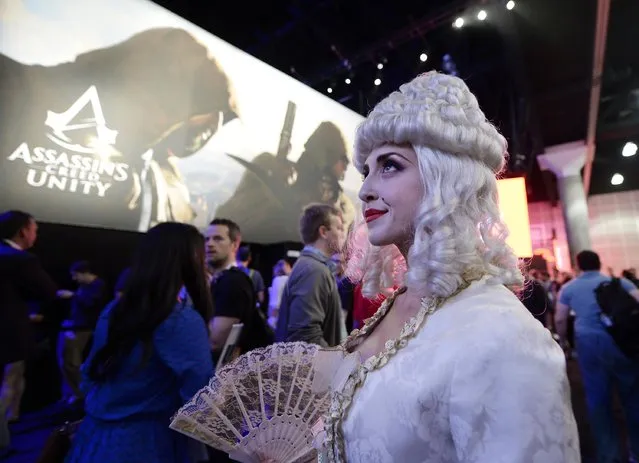 A woman dressed as Marie Antoinette from the video game "Assassin's Creed: Unity" promotes the game in the Ubisoft booth at the 2014 Electronic Entertainment Expo, known as E3, in Los Angeles, June 10, 2014. REUTERS/Kevork Djansezian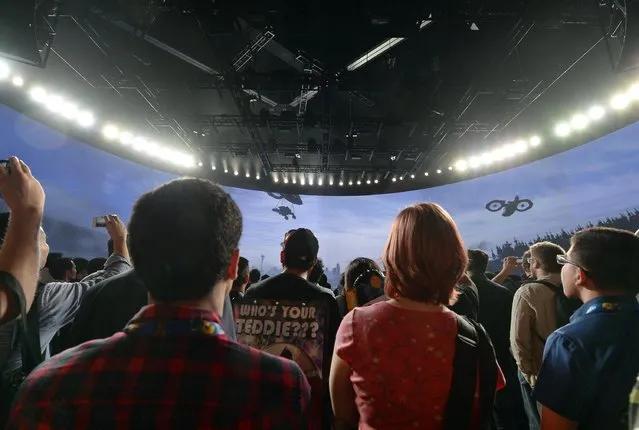 Attendees watch a trailer of the new multiplayer action game "Call of Duty: Advanced Warfare" in the Activision booth at the 2014 Electronic Entertainment Expo, known as E3, in Los Angeles, June 10, 2014. REUTERS/Kevork Djansezian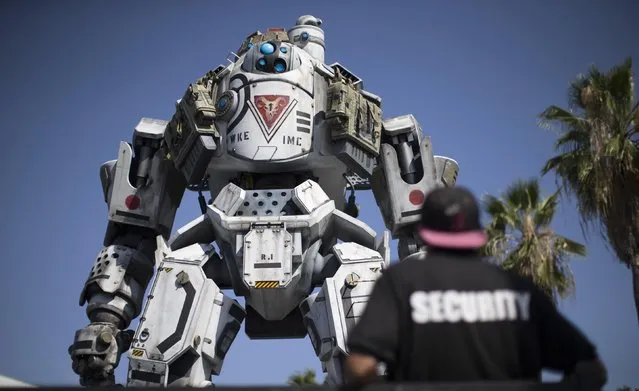 A prop depicting a character from the video game "Titanfall" is on display before the opening day of the Electronic Entertainment Expo, or E3, in Los Angeles, June 9, 2014. REUTERS/Mario Anzuoni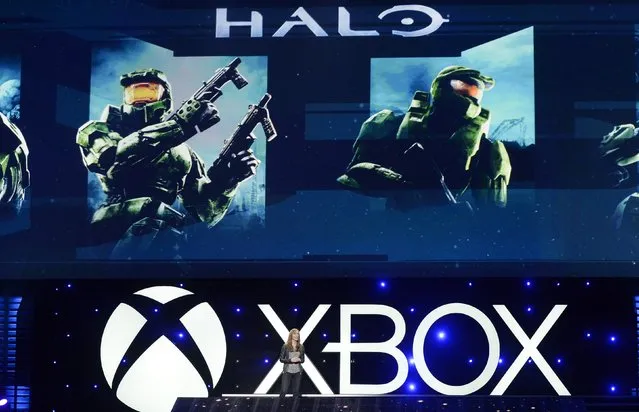 Bonnie Ross, head of 343 Industries, speaks during a presentation of the game "Halo" at the Xbox E3 Media Briefing at the University of Southern California's Galen Center in Los Angeles, June 9, 2014. REUTERS/Kevork Djansezian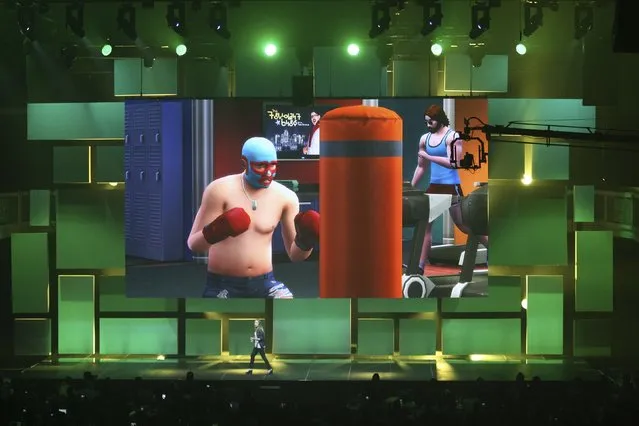 A presentation of "The Sims 4" is given at the Electronic Arts (EA) World Premiere: E3 2014 Preview press conference at the Shrine Auditorium in Los Angeles, June 9, 2014. REUTERS/David McNew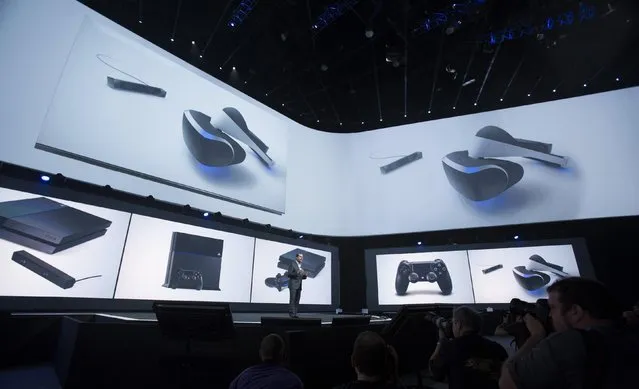 Andrew House, President and Group Chief Executive Officer of Sony Computer Entertainment, presents "Project Morpheus" - A Virtual Reality System, during a media briefing before the opening day of the Electronic Entertainment Expo, or E3, at the Memorial Sports Arena in Los Angeles, June 9, 2014. REUTERS/Mario Anzuoni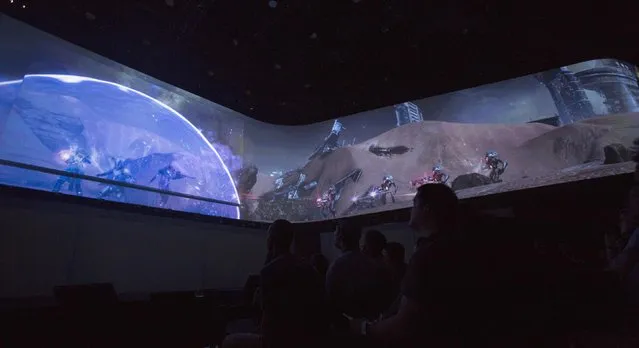 A preview of the video game "Destiny" is shown during a Sony Computer Entertainment America media briefing before the opening day of the Electronic Entertainment Expo, or E3, at the Memorial Sports Arena in Los Angeles, June 9, 2014. REUTERS/Mario Anzuoni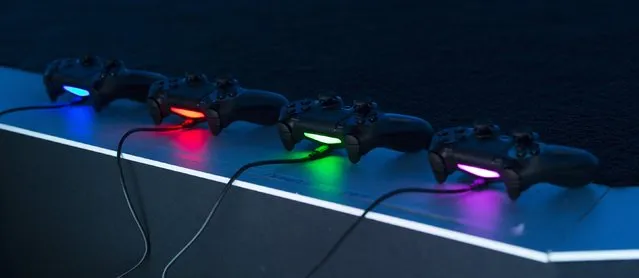 PlayStation controllers are pictured before a Sony Computer Entertainment America media briefing before the opening day of the Electronic Entertainment Expo, or E3, at the Memorial Sports Arena in Los Angeles, June 9, 2014. REUTERS/Mario Anzuoni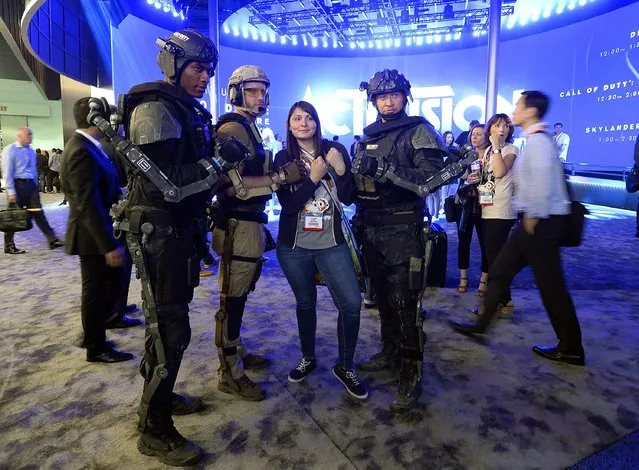 An attendee poses with men dressed as characters from the new multiplayer action game "Call of Duty: Advanced Warfare", in front of the Activision booth at the 2014 Electronic Entertainment Expo, known as E3, in Los Angeles, June 10, 2014. REUTERS/Kevork Djansezian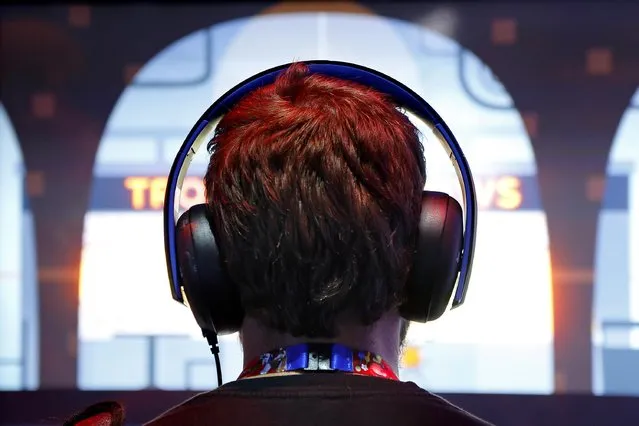 A gamer wears headphones while playing a game at the 2014 Electronic Entertainment Expo, known as E3, in Los Angeles, June 10, 2014. REUTERS/Jonathan Alcorn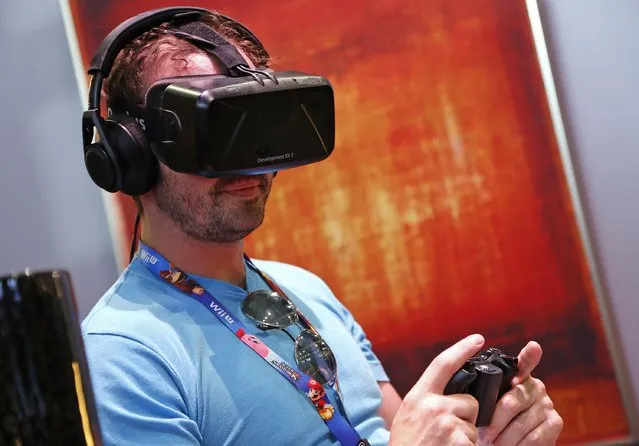 A man uses the Oculus Rift virtual reality headset at the 2014 Electronic Entertainment Expo, known as E3, in Los Angeles, June 10, 2014. REUTERS/Jonathan Alcorn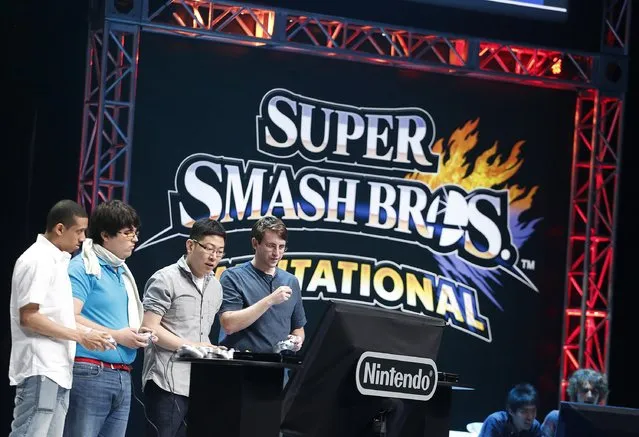 Players participate in a Nintendo Super Smash Bros. invitational tournament at the 2014 Electronic Entertainment Expo, known as E3, in Los Angeles, June 10, 2014. REUTERS/Jonathan Alcorn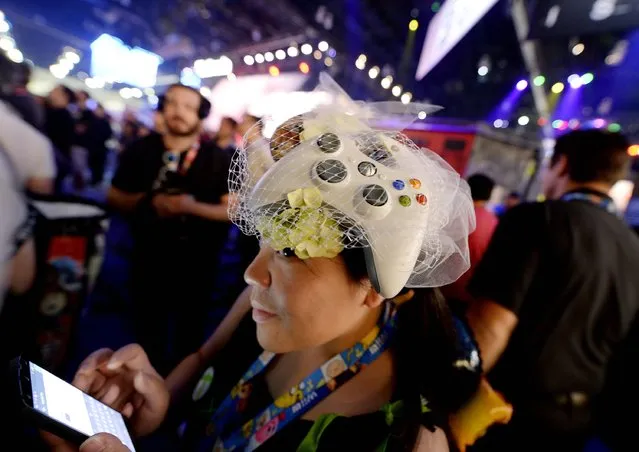 Microsoft employee Sammy Ng wears an Xbox game controller as a fascinator as she watches a trailer of the new multiplayer action game "Call of Duty: Advanced Warfare" in the Activision booth at the 2014 Electronic Entertainment Expo, known as E3, in Los Angeles, June 10, 2014. REUTERS/Kevork Djansezian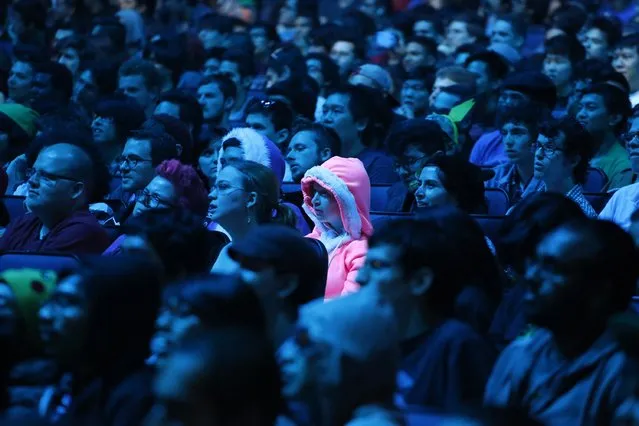 Gaming enthusiasts watch a Nintendo Super Smash Bros. invitational tournament at the 2014 Electronic Entertainment Expo, known as E3, in Los Angeles, June 10, 2014. REUTERS/Jonathan Alcorn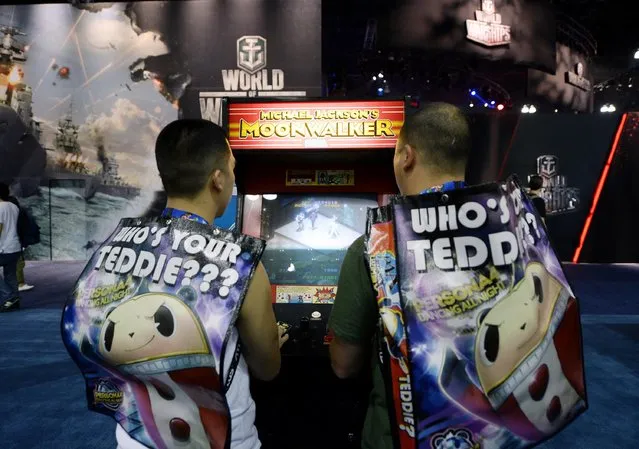 Attendees play a classic video game, "Michael Jackson's Moonwalker", based on the 1988 film about Michael Jackson, "Moonwalker", at the 2014 Electronic Entertainment Expo, known as E3, in Los Angeles, June 10, 2014. REUTERS/Kevork Djansezian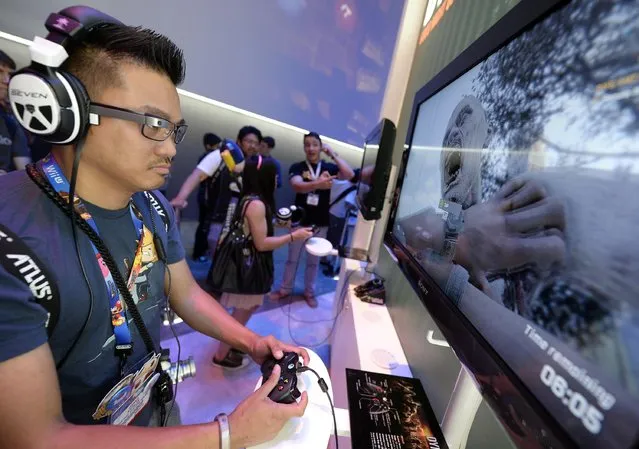 Danilo Napalan plays the new zombie survival game "Dying Light " in the Warner Bros. booth at the 2014 Electronic Entertainment Expo, known as E3, in Los Angeles, June 10, 2014. REUTERS/Kevork Djansezian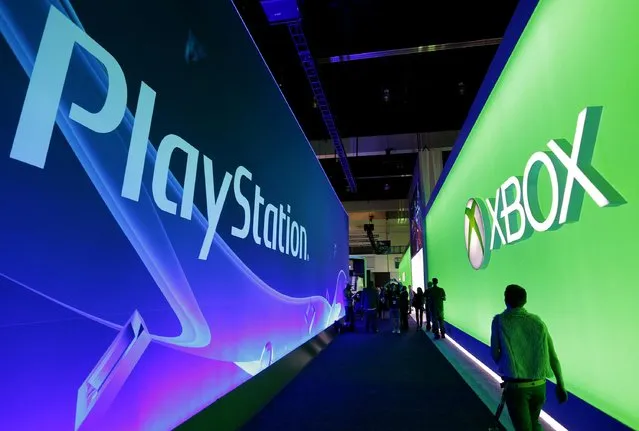 People walk past the Playstation and Xbox booths at the 2014 Electronic Entertainment Expo, known as E3, in Los Angeles, June 10, 2014. REUTERS/Jonathan Alcorn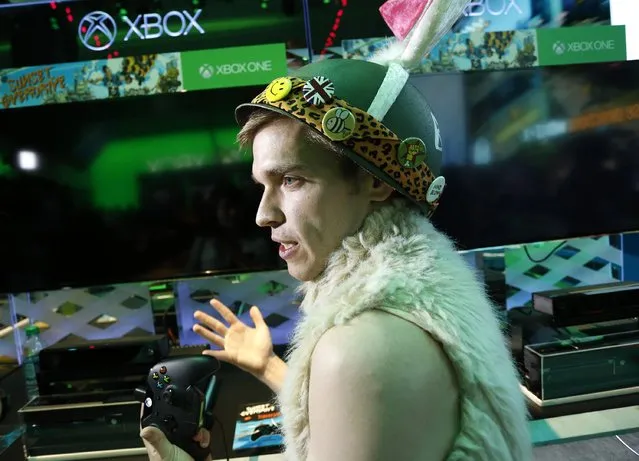 Brandon Winfrey, a developer with Insomniac Games, demonstrates the Sunset Overdrive game at the 2014 Electronic Entertainment Expo, known as E3, in Los Angeles, June 10, 2014. REUTERS/Jonathan Alcorn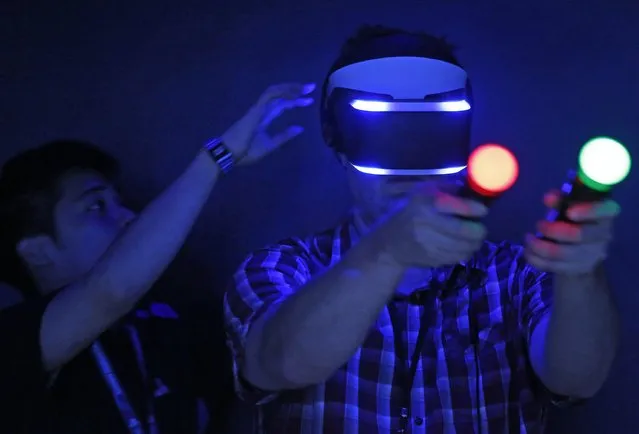 Paul Breakhow tries out the Sony "Project Morpheus" virtual reality system at the 2014 Electronic Entertainment Expo, known as E3, in Los Angeles, June 10, 2014. REUTERS/Jonathan Alcorn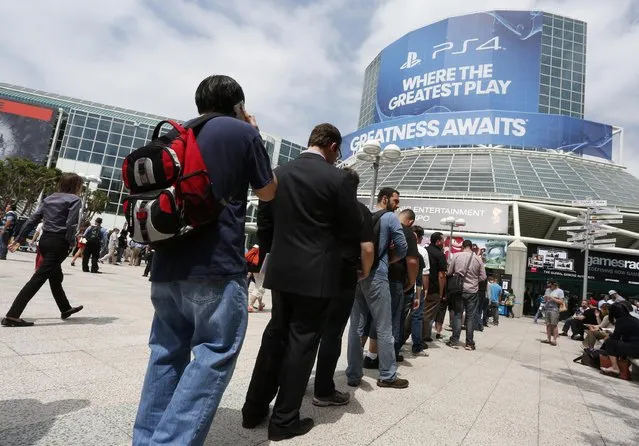 People stand in line to enter the 2014 Electronic Entertainment Expo, known as E3, in Los Angeles, June 10, 2014. REUTERS/Jonathan Alcorn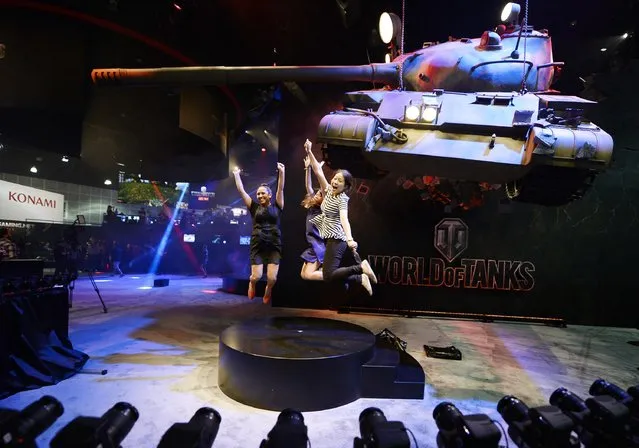 Attendees Priscilla Padilla (L-R), Sacha Tank and Stella Yeo get their picture taken in front of a mock battle tank, promoting the new multiplayer action game "World of Tanks", in the Ubisoft booth at the 2014 Electronic Entertainment Expo, known as E3, in Los Angeles, June 10, 2014. REUTERS/Kevork Djansezian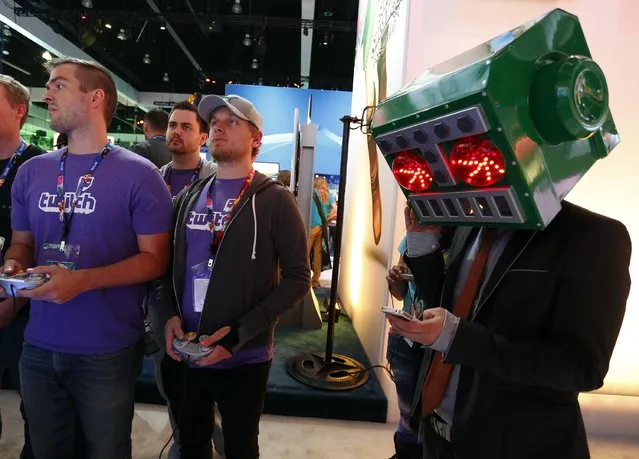 A man dressed as Mr. Destructoid checks his mobile phone while gamers play a game at the 2014 Electronic Entertainment Expo, known as E3, in Los Angeles, June 10, 2014. REUTERS/Jonathan Alcorn