"This year marks 400 years since the death of Cervantes, a perfect excuse for a road trip in the footsteps of Don Quixote and his loyal squire Sancho Panza across the high plains of today's La Mancha, the arid region south of Madrid. Unlike Don Quixote, who left home at dawn on a hot July day, I leave Madrid in the midst of a storm. The forecast says it will rain all day everywhere in Spain. Not the beginning I imagined. My idea is to capture the mood and energy of the region that he had described in so much detail. So in true Quixote spirit I think of the weather as an opportunity. The rain will force me to picture things in a different light, literally and metaphorically. "The two most international things about La Mancha are Don Quijote and our cheese", Angel Gutierrez Carrasco, a 55-year-old shepherd, says while tending his flock by the Penarroya dam, near the quiet town of Argamasilla de Alba. Carrasco has not read Cervantes but he is well aware of the episode when Don Quixote charges at two herds of sheep after taking them for armies. Every year he lends animals to a theatre group to reenact parts of the novel on the streets of Argamasilla.
Cervantes didn't give away the name of Don Quixote's birthplace, but some people identify it as Argamasilla. Other locations in La Mancha fight for that distinction, but Argamasilla showcases a rebuilt house with a cave underneath where, according to local legend, Cervantes was imprisoned. In the prologue to "El Quijote", Cervantes wrote that his work had been "engendered in a jail". These days visitors can see the Cave of Medrano and imagine that Cervantes wrote part of his masterpiece there.
Benjamin Montesinos, 92, is adamant about where Cervantes himself was born. "In Alcazar de San Juan, no matter what people from Alcala de Henares say", Montesinos says, in open disagreement with scholars who widely accept that Cervantes was a native of the latter, east of Madrid. Montesinos is the only person I met during my five days in la Mancha who had read "El Quijote" from beginning to end. "It is out of this orbit", he says. His astronomer son is partly responsible for getting a star named after Cervantes and four planets in its orbit named after Don Quixote, his beautiful lady Dulcinea, his squire Sancho and his horse Rocinante. Cervantes and Don Quixote have finally gone cosmic.
I search for Don Quixote's great love Dulcinea in the village of El Toboso, where she is supposed to have lived, but to no avail. There is only one woman named after the Princess of La Mancha there, but she now works in London and is tired of journalists misquoting her. However, Sister Isabel, 39, a cloistered nun of the Order of Saint Clare, makes sweets named after Dulcinea and invites me to her convent's bakery. She and other nuns have been making the best-selling "Caprichos de Dulcinea" (Dulcinea's cravings) since 2005, the fourth centenary of the publication of the first part of "El Quijote".
As I drive towards the town of Ossa de Montiel on my last day in La Mancha I take stock of all the interesting people and places I've come across. Nothing can prepare me for what I find inside the Cave of Montesinos, by the sapphire blue lagoons of Ruidera. While descending into the cave where some claim Don Quixote fell asleep to have the most fantastic of dreams, my guide, Liberto Chilleron, signals with his flashlight to what looks like powder on the ground. I take it for bat droppings. To my surprise, the grey dust lit in the cave's darkness are the ashes of "Bob, el Quijote Ingles". Bob, Chilleron tells me, was an Englishman who came to live in Ossa de Montiel out of love for his Spanish wife. He started impersonating Don Quixote outside the cave and along the lagoons, and gathered a following of locals and tourists. Alas, he died in a car accident in January and his family decided to scatter his ashes in the places he was so passionate about. After five days of seeking out Don Quixote in every corner of La Mancha, I find him in a bat cave – and he turns out to be English. Truth, stranger than fiction". – Susana Vera via Reuters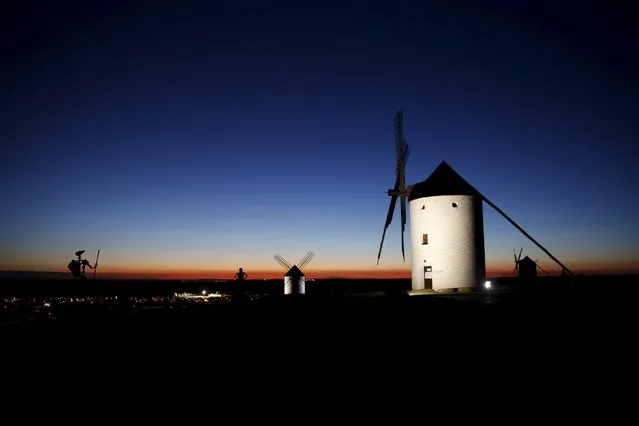 Sculptures of Don Quixote (L) and his ladyship Dulcinea (C) are seen at dusk by the windmills of Mota del Cuervo, Spain, April 6, 2016. The arid central Spanish region of La Mancha is the setting for "Don Quixote", the seventeenth-century novel by Miguel de Cervantes. Four hundred years after his death, references to the characters of Don Quixote, his loyal squire Sancho Panza and his beautiful lady Dulcinea abound in the surrounding villages from sweet treats to theatre productions involving livestock. Cervantes did not give away the name of the birthplace of Don Quixote, a middle-aged gentleman who becomes obsessed with chivalrous ideals. But many identify the village of Argamasilla de Alba as his hometown. The anniversary of Cervantes' death is marked on the 23 April. (Photo by Susana Vera/Reuters)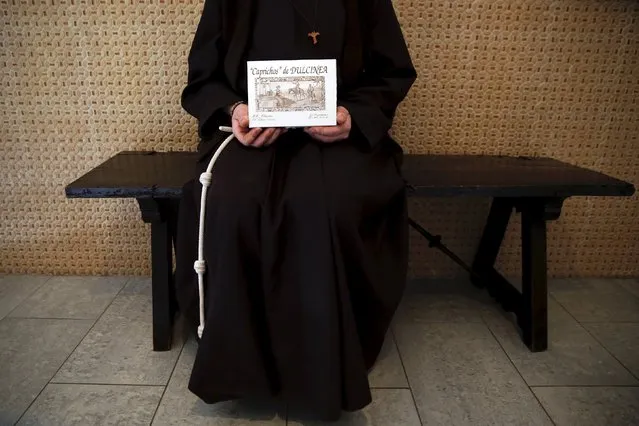 Sister Isabel, 39, a cloistered St. Clare nun, poses with a box of sweets "Caprichos de Dulcinea" (Dulcinea cravings) made at her convent in the hometown of Don Quixote's ladyship Dulcinea, in El Toboso, Spain, April 6, 2016. (Photo by Susana Vera/Reuters)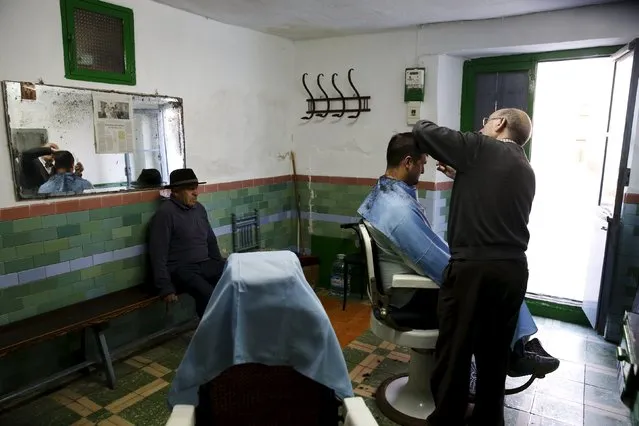 Manolo Carrasco, 75, cuts Juan Francisco Ortega's hair in his family barbershop in the hometown of Don Quixote's ladyship Dulcinea, in El Toboso, Spain, April 6, 2016. "My father had a basin like the one Don Quixote used as a helmet hanging outside the barbershop, but children used to throw rocks at it and he ended up taking it down", Carrasco says. Now that his father is gone (he worked at the barbershop until 84 and passed away at the age of 95) he keeps it at home. (Photo by Susana Vera/Reuters)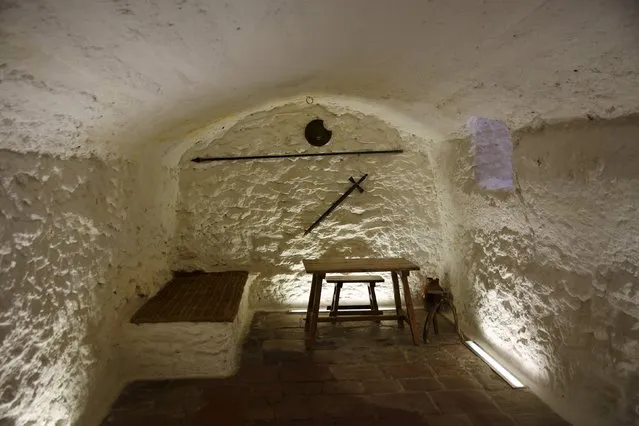 The cave where according to local legend Cervantes was incarcerated and wrote part of "The Ingenious Gentleman Don Quixote" in the town of Argamasilla de Alba, Spain, April 7, 2016. (Photo by Susana Vera/Reuters)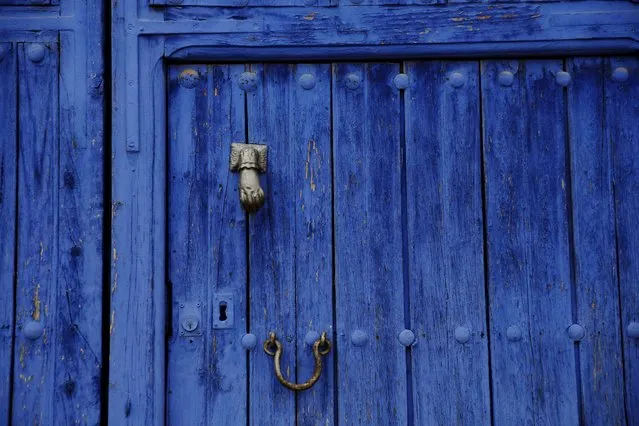 A door painted in the traditional indigo Manchegan style is seen in the hometown of Don Quixote's ladyship Dulcinea, in El Toboso, Spain, April 6, 2016. (Photo by Susana Vera/Reuters)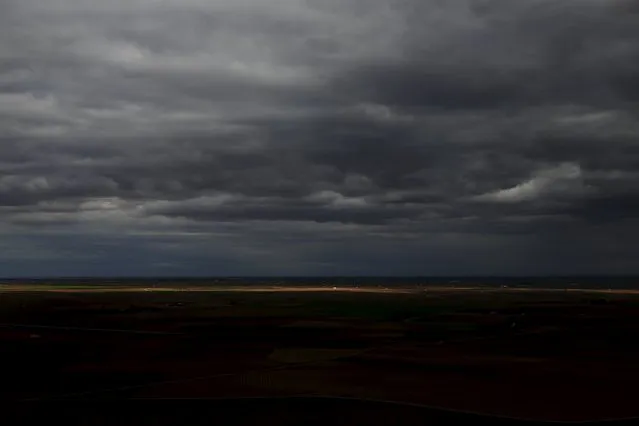 The vast plains of La Mancha are seen from El Cerro de San Anton (Saint Anthony's hill) outside Alcazar de San Juan, Spain, April 5, 2016. (Photo by Susana Vera/Reuters)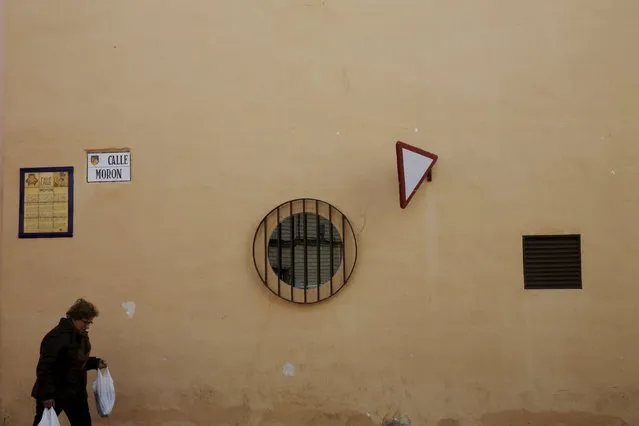 A woman carries groceries as she walks out of a market in Alcazar de San Juan, Spain, April 5, 2016. (Photo by Susana Vera/Reuters)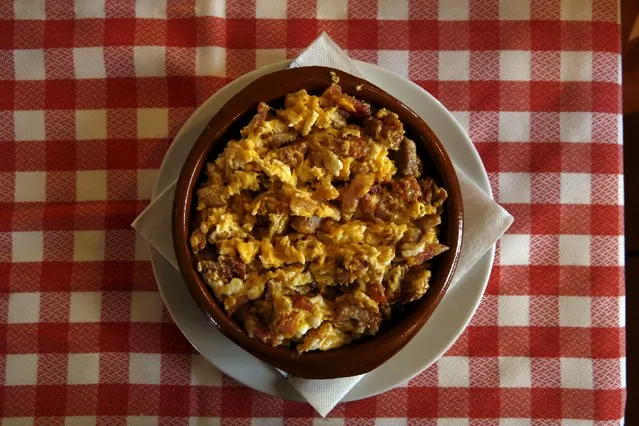 A dish of "Duelos y quebrantos" (griefs and breakings), which Cervantes wrote was Don Quixote's Saturday meal, is pictured at a restaurant in Puerto Lapice, Spain, April 8, 2016. The main ingredients are scrambled eggs, chorizo, ham, bacon and sometimes lamb brains. (Photo by Susana Vera/Reuters)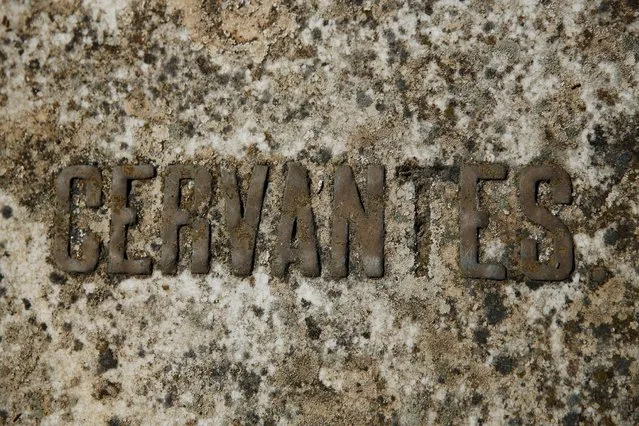 The surname Cervantes is seen on a tombstone at the cemetery in Alcazar de San Juan, Spain, April 6, 2016. (Photo by Susana Vera/Reuters)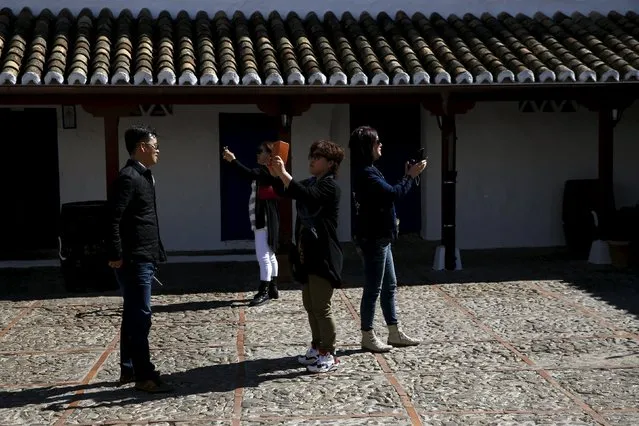 Tourists take pictures at the inn where locals believe Don Quixote might have been knighted in Puerto Lapice, Spain, April 8, 2016. (Photo by Susana Vera/Reuters)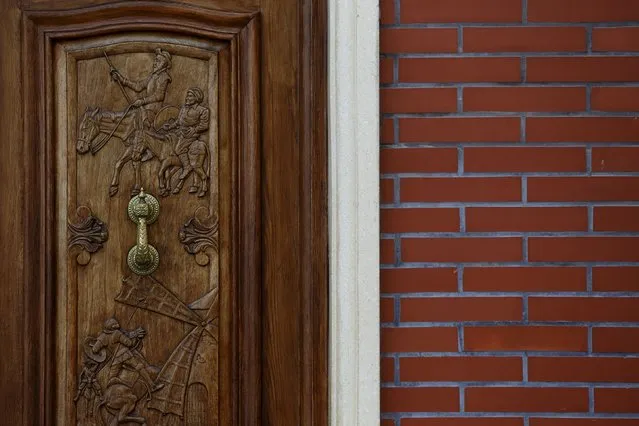 A wooden door carved with Don Quixote motives is seen at the entrance of a home in Alcazar de San Juan, Spain, April 5, 2016. (Photo by Susana Vera/Reuters)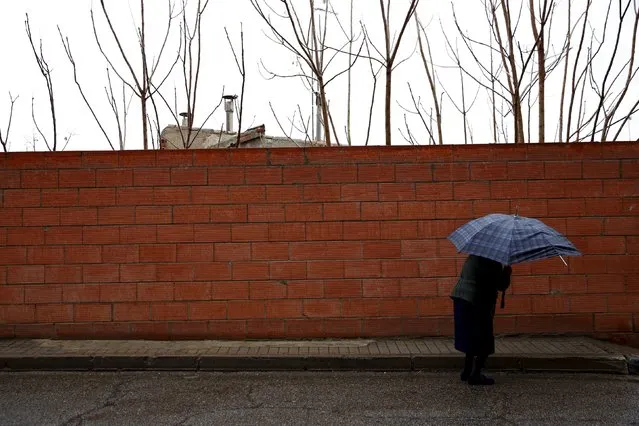 An elderly woman braves the rain in Consuegra, Spain, April 4, 2016. (Photo by Susana Vera/Reuters)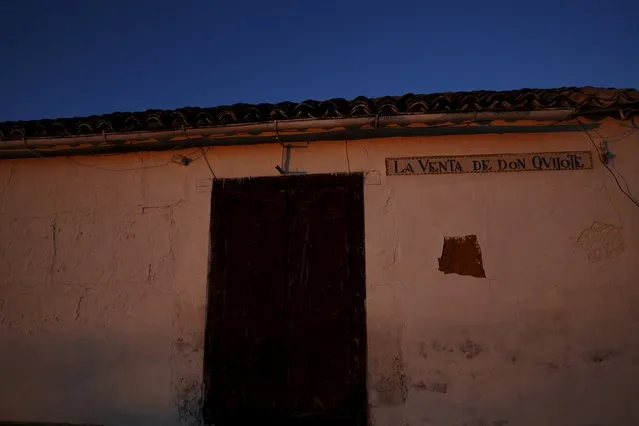 The morning sun illuminates an old inn named after Don Quixote in the outskirts of El Toboso, Spain, April 7, 2016. (Photo by Susana Vera/Reuters)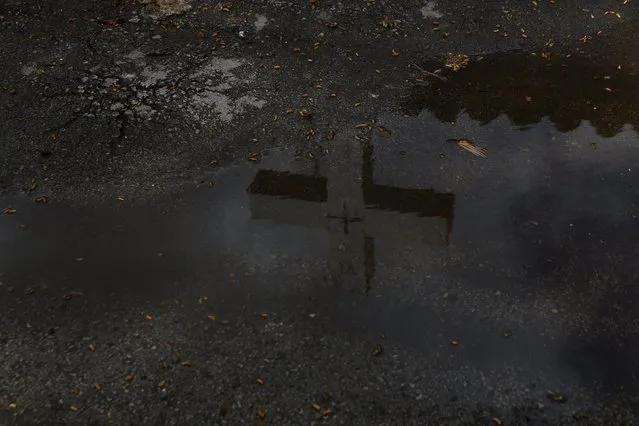 A cross is seen reflected in a puddle of water in Alcazar de San Juan, Spain, April 5, 2016. (Photo by Susana Vera/Reuters)
Fernando Ortega, 40, runs past the windmills in Alcazar de San Juan, Spain, April 5, 2016. (Photo by Susana Vera/Reuters)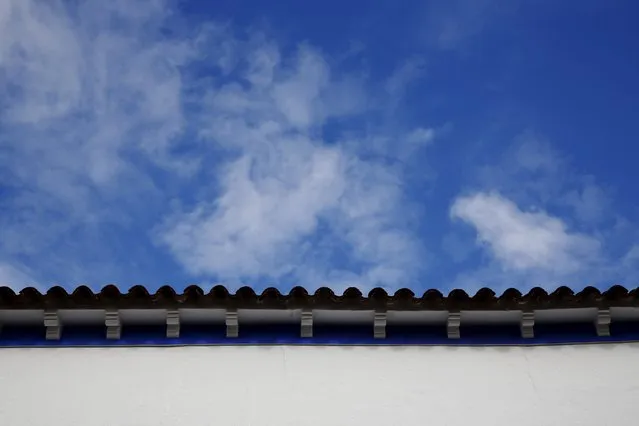 A house painted in the traditional indigo and white Manchegan style is partially seen in Alcazar de San Juan, Spain, April 5, 2016. (Photo by Susana Vera/Reuters)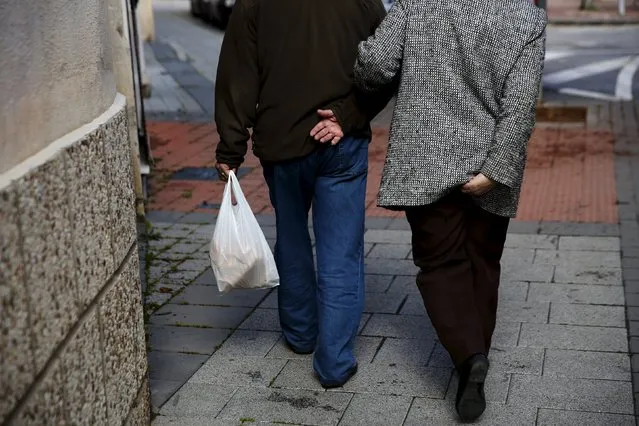 A couple walks together after buying bread in Alcazar de San Juan, Spain, April 5, 2016. (Photo by Susana Vera/Reuters)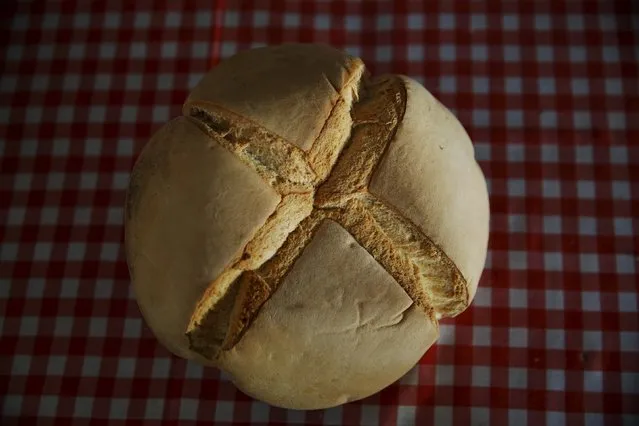 A traditional pan de cruz (bread with a cross) is pictured in Puerto Lapice, Spain, April 8, 2016. (Photo by Susana Vera/Reuters)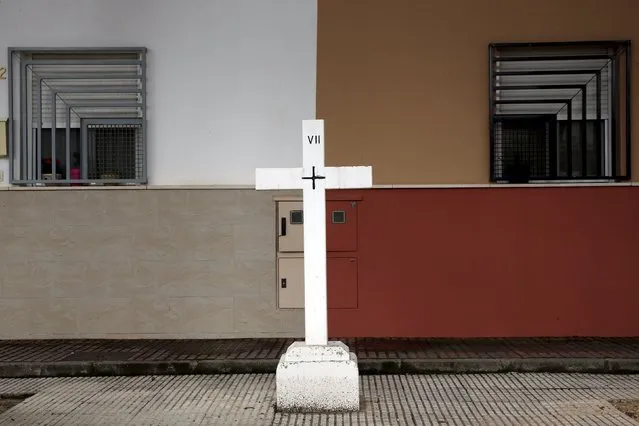 A white cross belonging to a Via Crucis is seen on a street in Alcazar de San Juan, Spain, April 5, 2016. (Photo by Susana Vera/Reuters)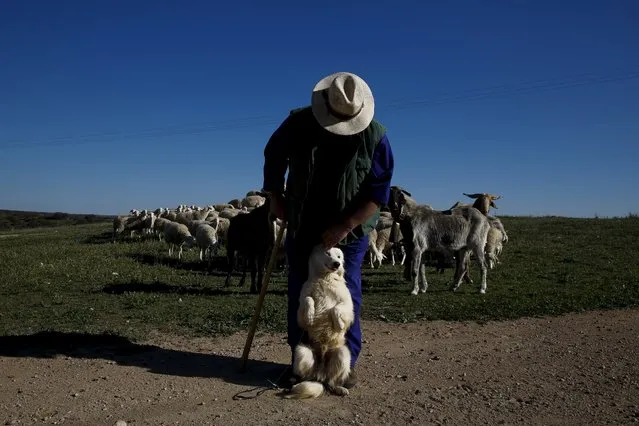 Angel Gutierrez Carrasco, 55, caresses his dog Paco as he tends to his flock of sheep by the dam of Penarroya, near Argamasilla de Alba, Spain, April 7, 2016. (Photo by Susana Vera/Reuters)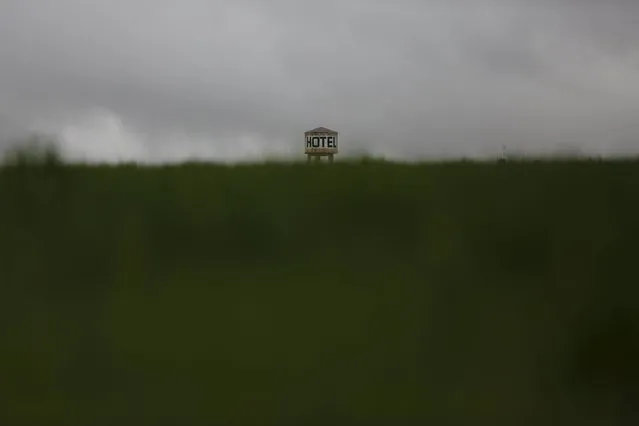 A sign for a hotel is seen in the outskirts of Dosbarrios, along the A4 highway that links Madrid with Andalusia in Spain, April 4, 2016. (Photo by Susana Vera/Reuters)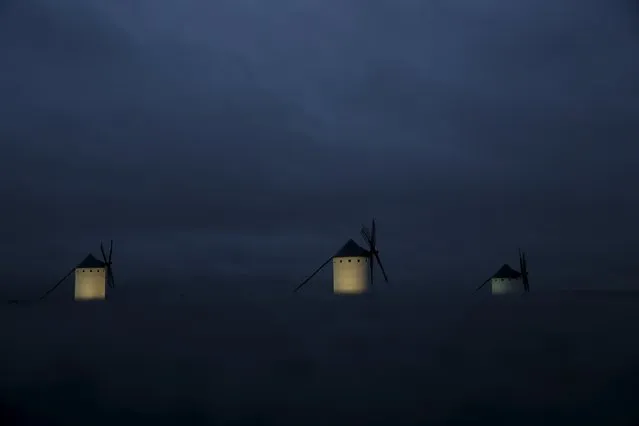 Windmills are seen at dusk in Campo de Criptana, Spain, April 4, 2016. Locals believe that Miguel de Cervantes drew inspiration from the windmills of Campo de Criptana to narrate the battle between Don Quixote and the windmills he mistook for giants. (Photo by Susana Vera/Reuters)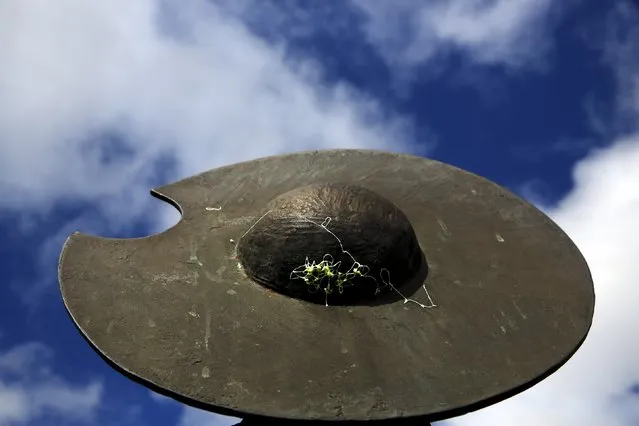 A sculpture of Don Quixote shows him wearing the basin he mistook for the enchanted helmet of the fictional Moorish king Mambrino in Alcazar de San Juan, Spain, April 5, 2016. (Photo by Susana Vera/Reuters)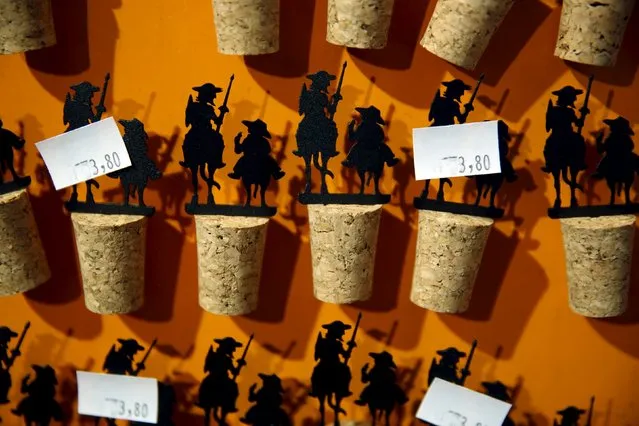 Don Quixote and Sancho Panza wine bottle corks are displayed for sale at the inn where locals believe Don Quixote might have been knighted in Puerto Lapice, Spain, April 8, 2016. (Photo by Susana Vera/Reuters)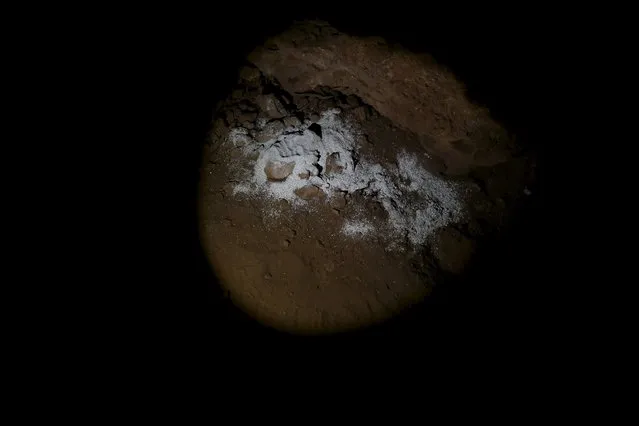 The ashes of the late Bob, "The English Quixote", are seen scattered inside Montesinos cave, where Don Quixote descends in the second part of the novel, by the Ruidera lagoons, Spain, April 8, 2016. (Photo by Susana Vera/Reuters)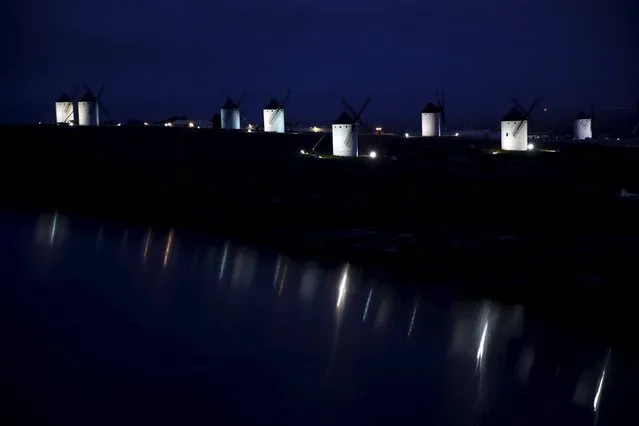 Windmills are seen at dusk in Campo de Criptana, Spain, April 4, 2016. (Photo by Susana Vera/Reuters)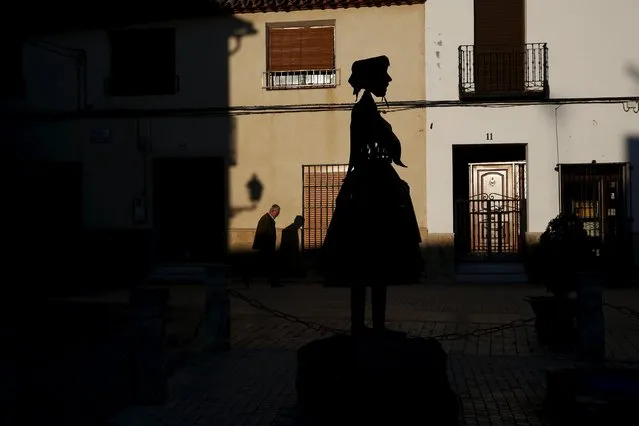 A man walks past a statue of Don Quixote's ladyship Dulcinea in her hometown of El Toboso, Spain, April 7, 2016. (Photo by Susana Vera/Reuters)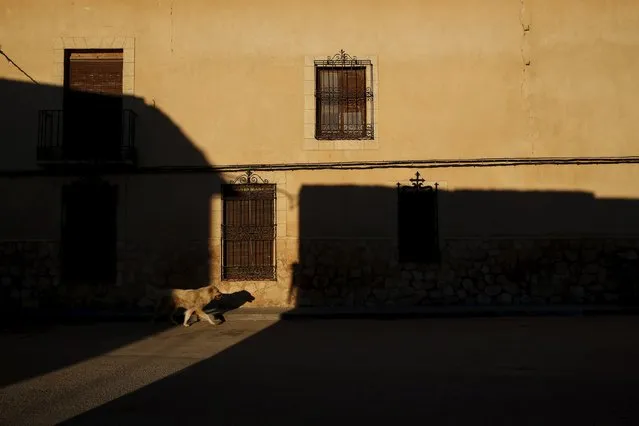 A lone dog wanders empty streets in the hometown of Don Quixote's ladyship Dulcinea, in El Toboso, Spain, April 7, 2016. (Photo by Susana Vera/Reuters)