National Geographic invites photographers from around the world to enter the 2013 National Geographic Photography Contest. The grand-prize winner will receive $10,000 (USD) and a trip to National Geographic headquarters in Washington, D.C., to participate in the annual National Geographic Photography Seminar in January 2014.
Eligible contestants can visit
www.ngphotocontest.com
to submit photographs in one or all of three categories: People, Places and Nature. Entry fee is $15 (USD) per photo, and there is no limit to the number of submissions per entrant. Entries must be in digital format and submitted electronically. The contest, which is now open, ends Saturday, November 30, at 11:59 p.m. ET (U.S.).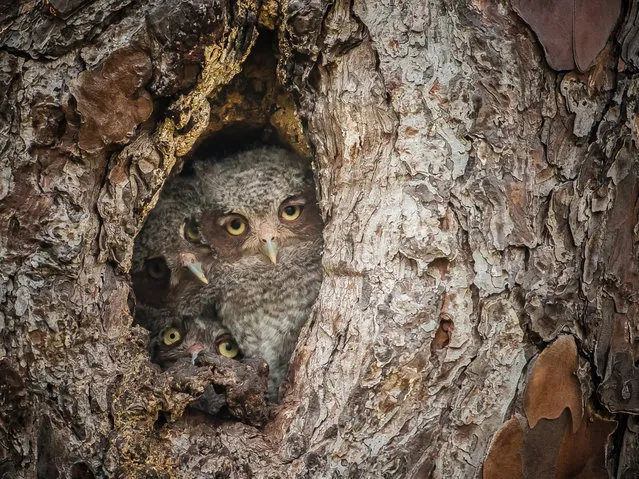 "Eastern Screech Owls like to take over woodpecker nests that have been dug out over the years in pine trees, which are the main species of tree at this swamp. Fish and wildlife also paint a white ring around the base of a tree that has active nests in order to avoid when conducting controlled burns. Screech owls can range in height anywhere from 8-10 inches, so you have to have a sharp eye to find these little birds of prey. I spent the first few weeks of April this year photographing the grey morph screech owl that was living in the nest, and had no idea there were three owlets inside". (Photo and caption by Graham McGeorge/National Geographic Photography Contest)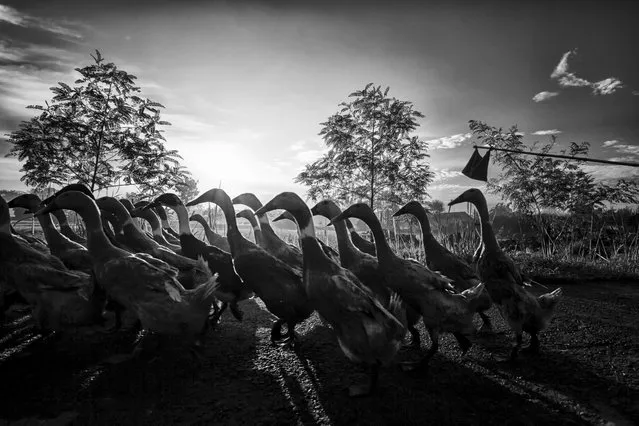 "Indonesian farmer herds an army of ducks into rice field at dawn. Ducks are free to roam into rice field to remove insect and plant pests as they fertilize the young rice plants with their droppings". (Photo and caption by Yew Kiat Soh/National Geographic Photography Contest)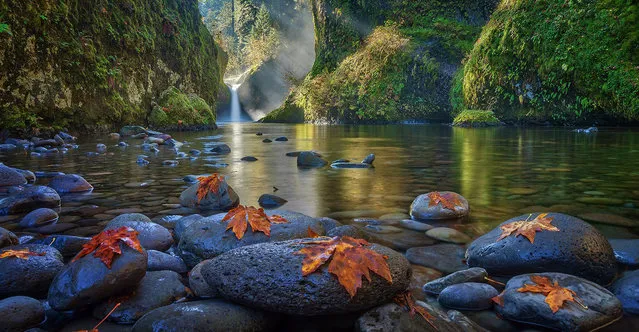 "Autumn sun pours into Punch Bowl Falls to create some stunning atmospherics. I didn't have long to capture the moving light beams so I frantically started shooting as soon as I arrived on the scene". (Photo and caption by Gavin Hardcastle/National Geographic Photography Contest)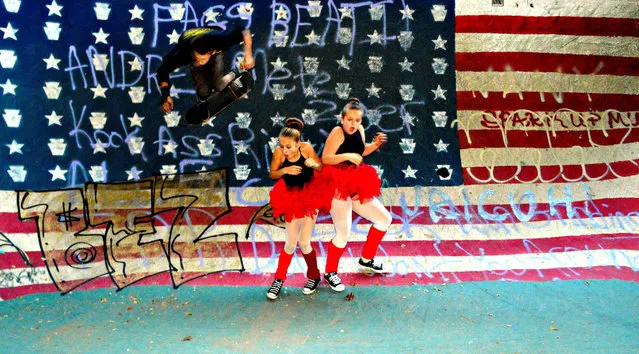 "While doing a photo shoot with my daughter and her friend in a skate park, one of the skateboarders, surprisingly, traveled to our side of the ramp with nothing other than a "Don't move", yelling across the way as a head's up! I heard him, the girls did not. Keeping their back-to-back cool ballerina pose,they didn't realize he was flying their way until he actually hit the ramp behind them.This picture is as real as they come. They were truly shocked and scared at that exact moment. Such a cool moment. Two pretty, pretty ballerina's, shocked and appalled at the actions of an urban skateboarder. Priceless!" (Photo and caption by Dana Theil/National Geographic Photography Contest)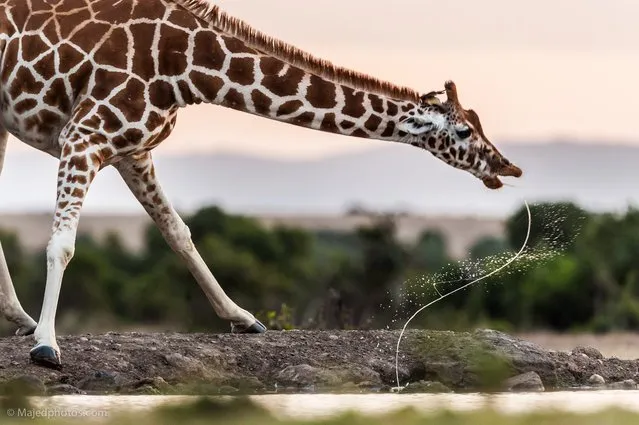 "We just want to move to search to the Leopard at that morning but we found a group of giraffes come toward a small lake and start drinking it was a nice moment when the Giraffe finish from drinking and leave a letters "S" with motion in the air". (Photo and caption by Majed Ali/National Geographic Photography Contest)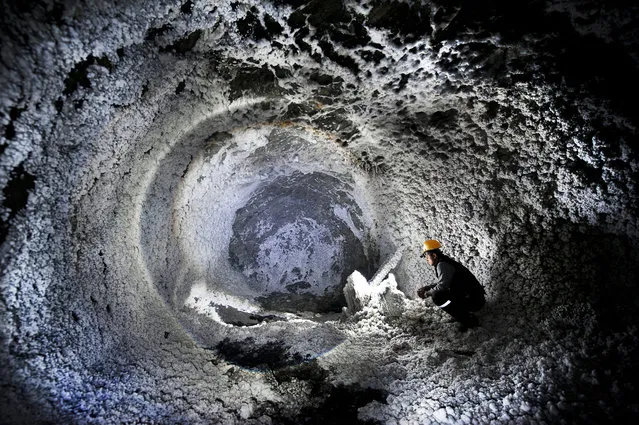 "This area known as Çank r salt cave and believed that, its operated by Hittites (3000 BC), since 5000 years. This area has the largest rock salt reserve in Turkey.This area stated 25 km. east from Çank r and rock salt production made by the mining method, room and pillar system. Although a relatively narrow entrance gallery, the galleries where production made resembles highway tunnels. Salt cavities, 400 m. under the earths crust, thick of blood vessel, separated orderly room and pillars.pillars. In other words, parallel galleries designed in salt cavities". (Photo and caption by Melih Sular/National Geographic Photography Contest)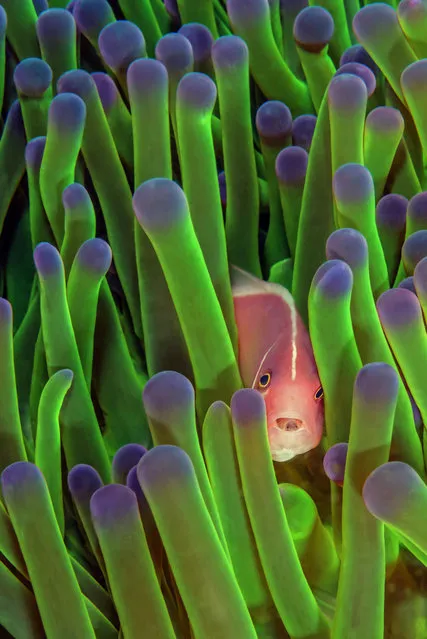 "Rare photo of a tongue parasite in an Anemonefish, taken in Komodo, Indonesia". (Photo and caption by Peter Allinson/National Geographic Photography Contest)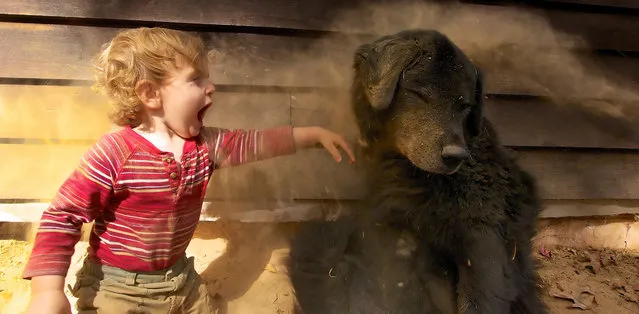 "Our two year old son playing in the dirt with our dog Raine". (Photo and caption by Christopher Port/National Geographic Photography Contest)
"Taken at Mishima town in Fukushima pref. The first train goes across the railway bridge through in morning mist. The train moves forward little by little slowly. I thought, this sight has expressed the Fukushima people defying to recover from the earthquake and nuclear accident. But it is the uncertain endless journey". (Photo and caption by Teruo Araya/National Geographic Photography Contest)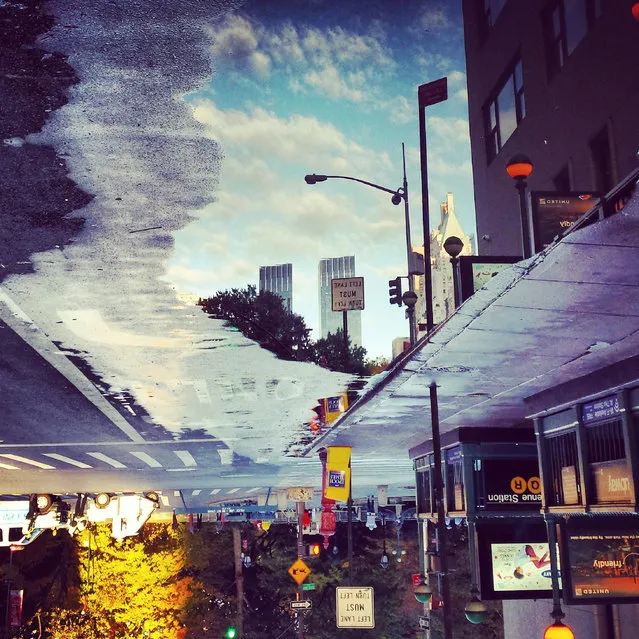 "New York City street at 8:38am". (Photo and caption by Lorena Gonzalez/National Geographic Photography Contest)