Oil "bunkering" – hacking into pipelines to steal crude then refining it or selling it abroad – has become a major cost to Nigeria's treasury, which depends on oil for 80 percent of its earnings.

Major General Johnson Ochoga, who leads a military campaign against bunkering that was stepped up last year under orders from President Goodluck Jonathan, told Reuters nearly 2,000 suspects had been arrested and 4,000 refineries, 30,000 drums of products and hundreds of bunkering boats destroyed in 2012.

Yet the complicity of security officials and politicians who profit from the practice, and the lack of alternatives for those who undertake it, cast doubt on the likelihood of success.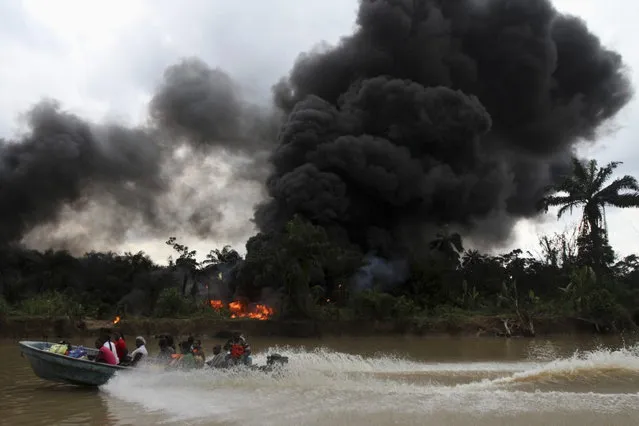 A passenger speedboat churns up the water, while in the background an illegal oil refinery is left burning after a military chase had occurred earlier in a windy creek near river Nun in Nigeria's oil state of Bayelsa December 6, 2012. Thousands of people in Nigeria engage in a practice known locally as "oil bunkering" – hacking into pipelines to steal crude then refining it or selling it abroad. The practice, which leaves oil spewing from pipelines for miles around, managed to lift around a fifth of Nigeria's two million barrel a day production last year according to the finance ministry. (Photo by Akintunde Akinleye/Reuters)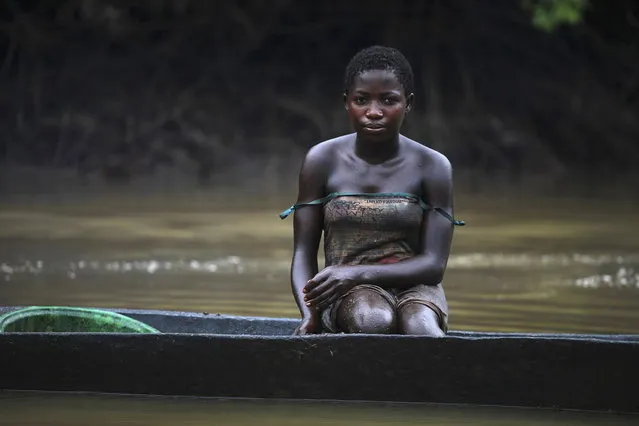 A young woman named Akpomene is pictured coated in oil stains as she sits in a canoe near river Nun in Nigeria's oil state of Bayelsa November 27, 2012. Akpomene fishes in the creek and sells the fish to help her family. She washes after fishing but has sticky rashes on her body. (Photo by Akintunde Akinleye/Reuters)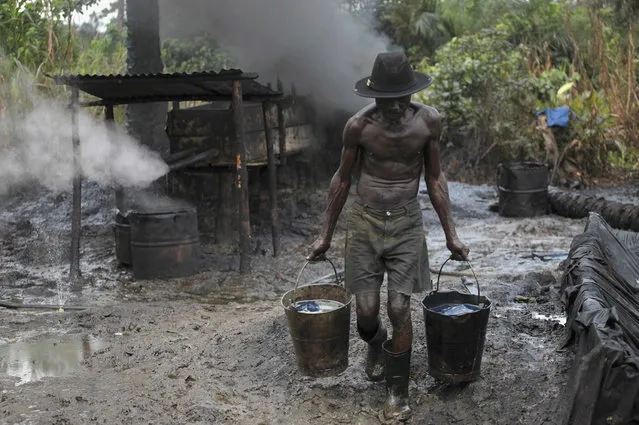 Ebiowei, 48, carries refined oil in buckets at an illegal oil refinery site near river Nun in Nigeria's oil state of Bayelsa November 27, 2012. (Photo by Akintunde Akinleye/Reuters)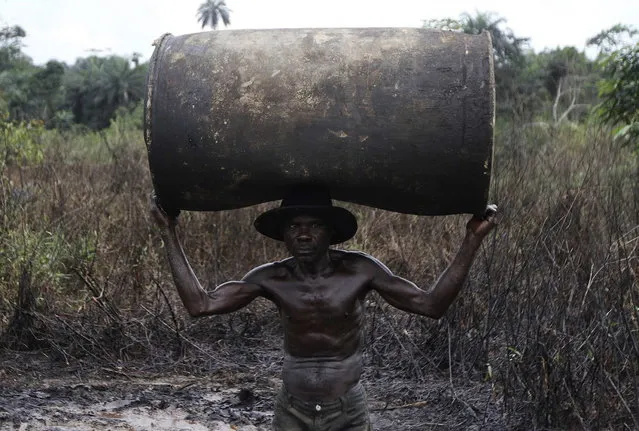 Ebiowei, 48, carries an empty oil container on his head to a place where it would be filled with refined fuel at an illegal refinery site near river Nun in Nigeria's oil state of Bayelsa November 27, 2012. Locals in the industry say workers can earn $50 to $60 a day. (Photo by Akintunde Akinleye/Reuters)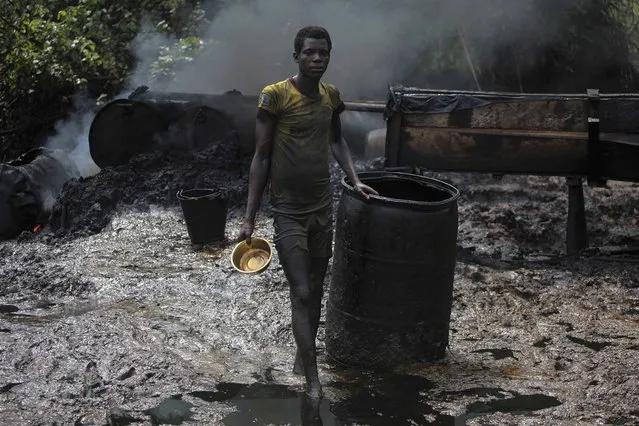 A crude oil refinery worker stands in front of a locally made burner in an illegal oil refinery site near river Nun in Nigeria's oil state of Bayelsa, November 27, 2012. The worker said that he had been doing the job for two years and earned the equivalent of around $60 a day. (Photo by Akintunde Akinleye/Reuters)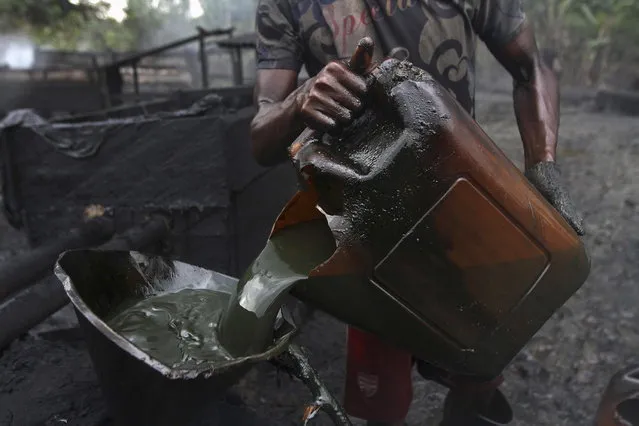 A worker pours crude oil into a locally made burner using a funnel at an illegal oil refinery site near river Nun in Nigeria's oil state of Bayelsa November 25, 2012. (Photo by Akintunde Akinleye/Reuters)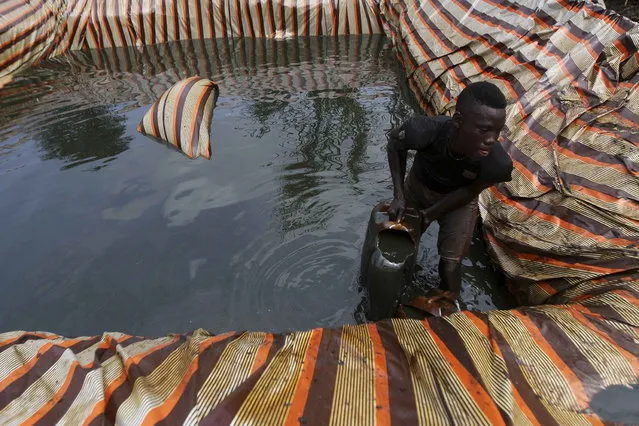 A man named Godswill collects crude oil from a mini storage unit filled with oil, which is waiting to be refined at an illegal refinery site near river Nun in Nigeria's oil state of Bayelsa November 27, 2012. (Photo by Akintunde Akinleye/Reuters)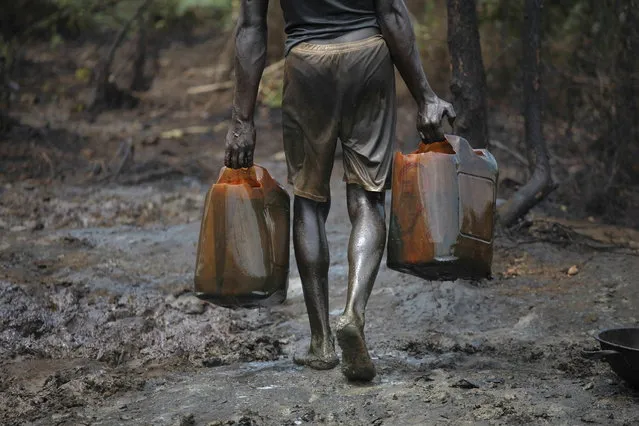 A man works at an illegal oil refinery site near river Nun in Nigeria's oil state of Bayelsa November 27, 2012. (Photo by Akintunde Akinleye/Reuters)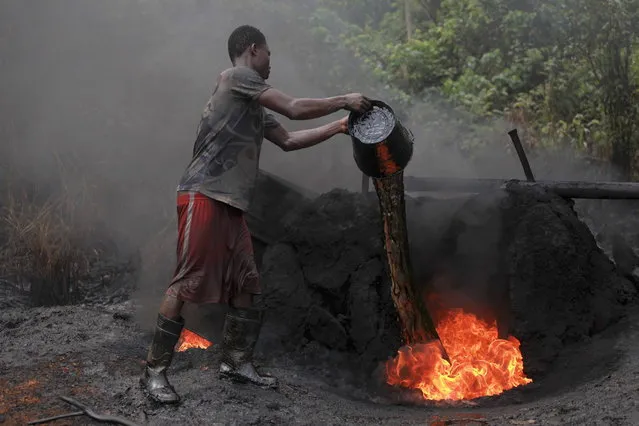 A man working at an illegal oil refinery site pours oil under a locally made burner to keep the fire going, near river Nun in Nigeria's oil state of Bayelsa November 27, 2012. (Photo by Akintunde Akinleye/Reuters)