"Within the stone walls of the medieval village of Santo Stefano di Sessanio, narrow lanes weave through stone arches, cobbled piazzas and overhanging buildings. The streets are mainly empty, except for tourists admiring the architecture and surrounding hills in Italy's southern L'Aquila province. A village which over centuries lived off agriculture and wool, Santo Stefano di Sessanio has just 108 inhabitants, less than a tenth of its pre-World War One population according to its mayor. Like many surrounding villages, most residents left for work in cities or abroad, leaving it all but abandoned.
Decades later, its untouched architecture caught the attention of Swedish-Italian entrepreneur Daniele Kihlgren, who came across it on a 1999 motorbike trip. Kihlgren bought several houses, turning them in 2005 into a hotel with rooms scattered around the centre. The project has drawn tourists and injected life back into the village, according to locals. "When I first arrived ... it seemed nearly abandoned", Kihlgren said. "Everything had stopped in a past era".
While it still has shepherds and farmers, today Santo Stefano di Sessanio is being revived through tourism, with residents seeking to draw visitors to the surrounding Gran Sasso and Monti della Laga national park to their picturesque lodgings. The village now has around a dozen tourist lodgings, Santavicca said, with plans to develop local leisure activities. According to the most recently available hospitality figures from the regional tourism department, the village saw 4,361 visitor arrivals in 2013 versus 900 in 2005.
Santo Stefano di Sessanio is one of several villages in the Abruzzo region which saw its population depleted as the collapse of its wool-making industry after the introduction of synthetic materials, poverty and natural disasters in the active earthquake area drove people away. In nearby San Silvestro village, vegetation fills empty buildings. Further north, Vale Piole is deserted. The village, which in winter sees its population fall further as some residents swap its 1,250-metre altitude for the valley, has also drawn secondary home owners from cities. "People love coming to this region", said resident Amelia, who owns a bed and breakfast and offers cooking classes to tourists. "We are working hard on opening it to the world". – Rocca Calascio via Reuters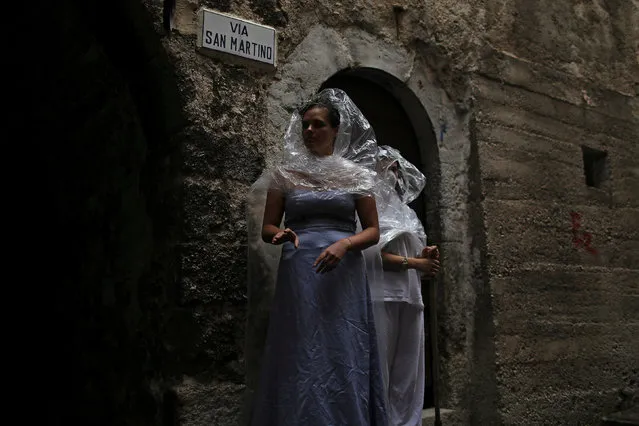 Women wear costumes as part of an art installation in the mostly abandoned old centre of the town of Catsel Vecchio in the province of L'Aquila in Abruzzo, inside the national park of the Gran Sasso e Monti della Laga, Italy, September 11, 2016. (Photo by Siegfried Modola/Reuters)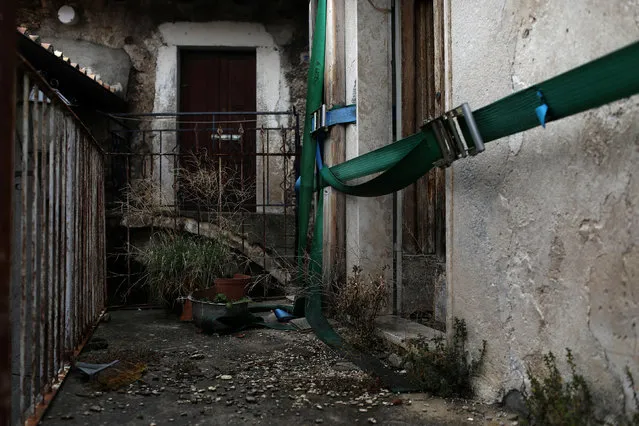 Thick belts are tied around a building to prevent further damage after it was damaged by a strong earthquake, near the old centre of the town of Catsel Vecchio in the province of L'Aquila in Abruzzo, inside the national park of the Gran Sasso e Monti della Laga, Italy, September 11, 2016. (Photo by Siegfried Modola/Reuters)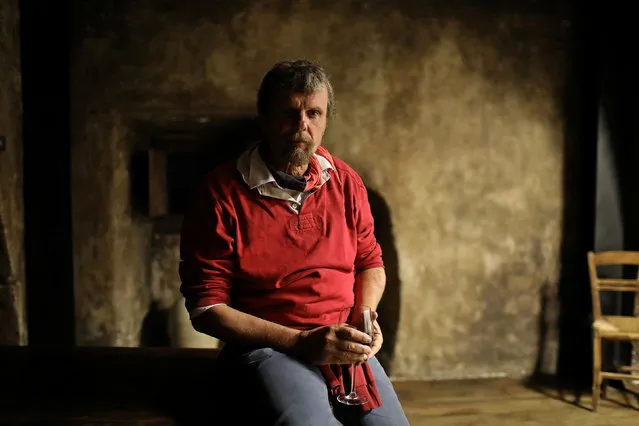 Swedish-Italian entrepreneur Daniele Kihlgren poses in one of the rooms of his Sextantio Albergo Diffuso, a hotel which has rooms throughout the town of Santo Stefano di Sessanio, in the province of L'Aquila in Abruzzo, inside the national park of the Gran Sasso e Monti della Laga, Italy, September 7, 2016. (Photo by Siegfried Modola/Reuters)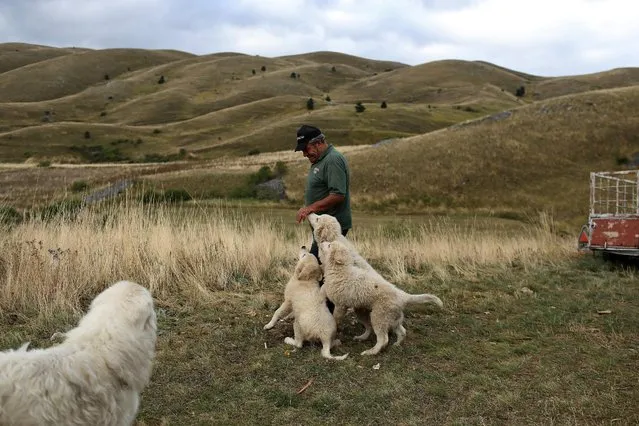 Domenico Ciccone greets his dogs as he arrives where some of his sheep spent the night near the town of Rocca Calascio, close to Santo Stefano di Sessanio in the province of L'Aquila in Abruzzo, inside the national park of the Gran Sasso e Monti della Laga, Italy, September 8, 2016. (Photo by Siegfried Modola/Reuters)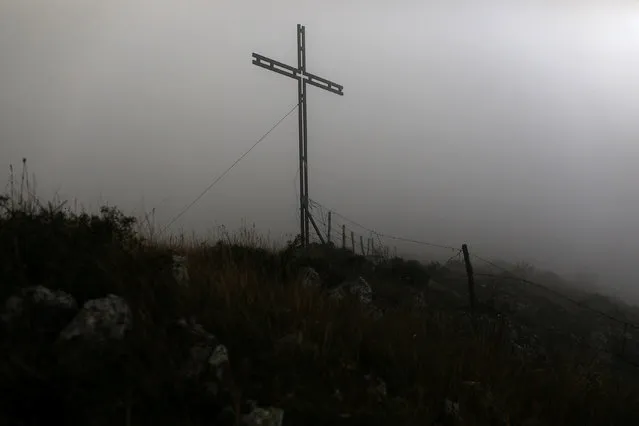 A cross stands on a hilltop near the town of Rocca Calascio in the province of L'Aquila in Abruzzo, inside the national park of the Gran Sasso e Monti della Laga, Italy, September 11, 2016. (Photo by Siegfried Modola/Reuters)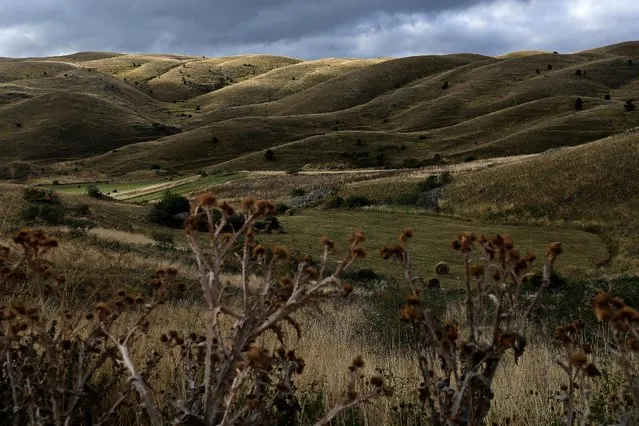 Clouds pass over a valley close to the town of Rocca Calascio, near Santo Stefano di Sessanio in the province of L'Aquila in Abruzzo, inside the national park of the Gran Sasso e Monti della Laga, Italy, September 8, 2016. (Photo by Siegfried Modola/Reuters)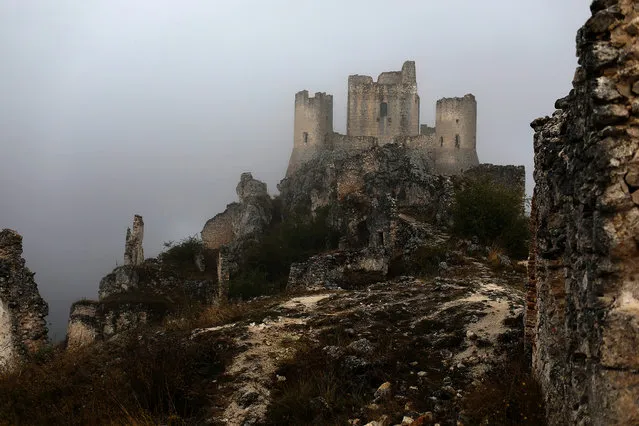 The ruins of a castle stand above the town of Rocca Calascio, close to Santo Stefano di Sessanio in the province of L'Aquila in Abruzzo, inside the national park of the Gran Sasso e Monti della Laga, Italy, September 7, 2016. (Photo by Siegfried Modola/Reuters)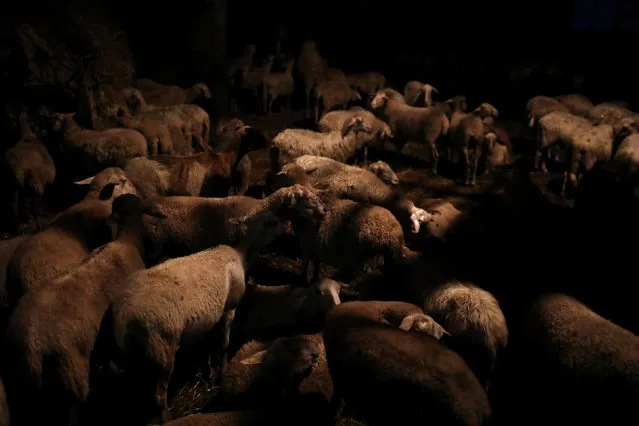 Sheep spend the night inside a cheese and wool making farm belonging to Giulio Petronio, on the outskirts of the town of Castel del Monte, in the province of L'Aquila in Abruzzo, inside the national park of the Gran Sasso e Monti della Laga, Italy, September 13, 2016. (Photo by Siegfried Modola/Reuters)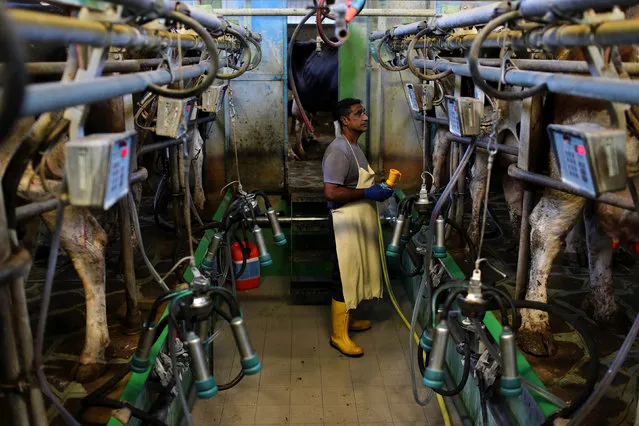 A man works in a local milk factory close to the town of Ofena in the province of L'Aquila in Abruzzo, Italy, September 6, 2016. (Photo by Siegfried Modola/Reuters)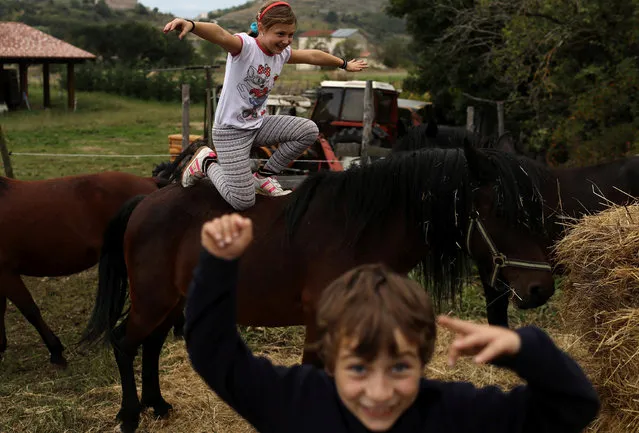 Ginevra, 10, and her brother Giulio Cesare, 7, play with their horses at the family farm in the town of Santo Stefano di Sessanio in the province of L'Aquila in Abruzzo, inside the national park of the Gran Sasso e Monti della Laga, Italy, September 13, 2016. (Photo by Siegfried Modola/Reuters)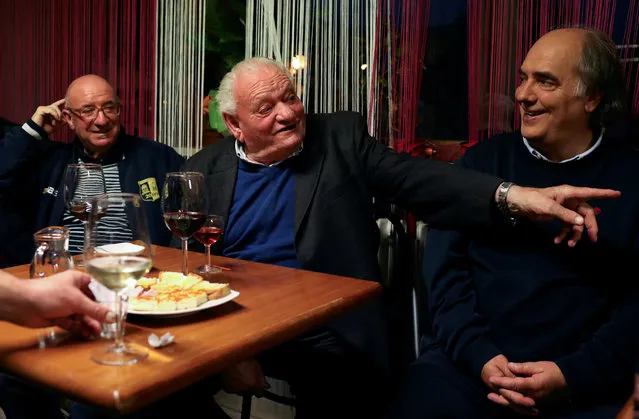 Men enjoy an evening drink before dinner in a bar in the town of Catsel del Monte in the province of L'Aquila in Abruzzo, inside the national park of the Gran Sasso e Monti della Laga, Italy, September 21, 2016. (Photo by Siegfried Modola/Reuters)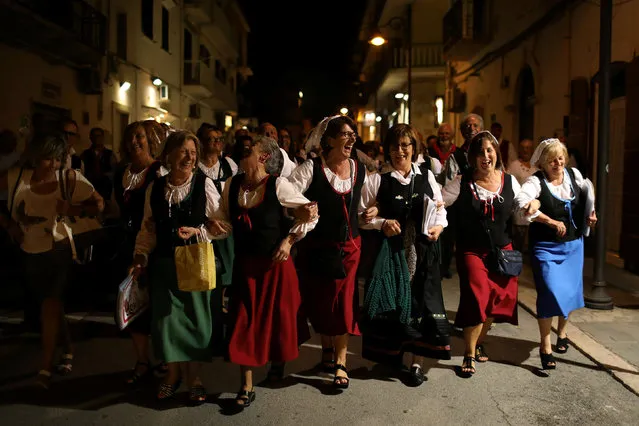 A folklore choir group from the town of Castel del Monte in Abruzzo performs in the town of Vieste in the province of Foggia, Puglia, Italy, September 17, 2016. (Photo by Siegfried Modola/Reuters)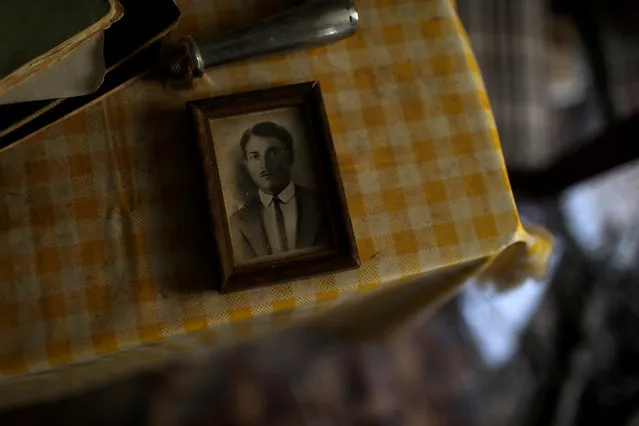 A black and white photograph is seen in an abandoned building in the old centre of the town of Catsel Vecchio in the province of L'Aquila in Abruzzo, inside the national park of the Gran Sasso e Monti della Laga, Italy, September 11, 2016. (Photo by Siegfried Modola/Reuters)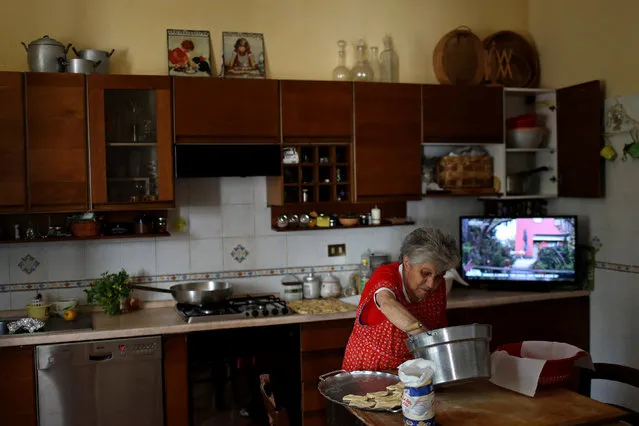 Aida Cicci Cardelli, 90, cooks for a birthday dinner in the town of Santo Stefano di Sessanio, in the province of L'Aquila in Abruzzo, inside the national park of the Gran Sasso e Monti della Laga, Italy, September 5, 2016. (Photo by Siegfried Modola/Reuters)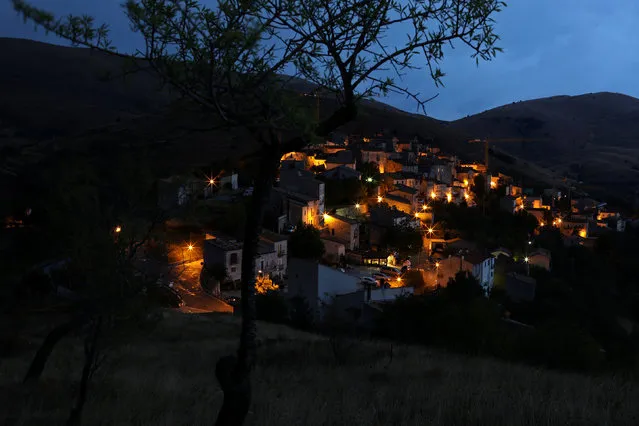 The town of Santo Stefano di Sessanio is pictured at dusk, in the province of L'Aquila in Abruzzo, inside the national park of the Gran Sasso e Monti della Laga, Italy, September 5, 2016. (Photo by Siegfried Modola/Reuters)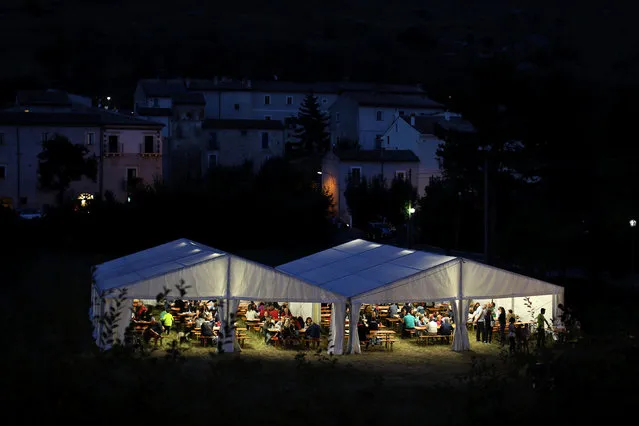 People eat underneath a temporary tent during a fair organised every year to attempt to boost the economy of the town of Santo Stefano di Sessanio in the province of L'Aquila in Abruzzo, inside the national park of the Gran Sasso e Monti della Laga, Italy, September 3, 2016. (Photo by Siegfried Modola/Reuters)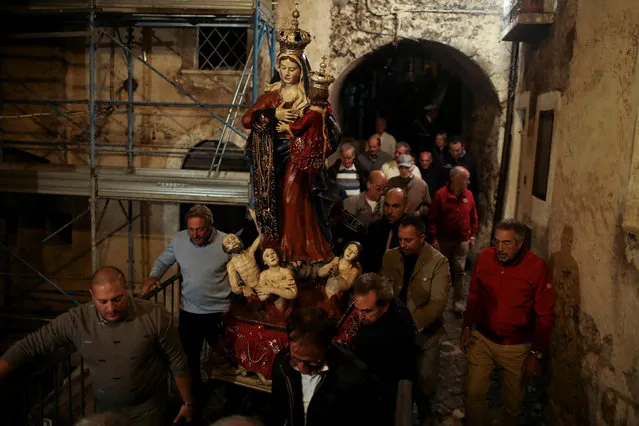 Men carry a statue of the Virgin Mary during a religious procession held every year to bless shepherds who at the beginning of the winter would walk with their herds to the south of Italy for warmer weather, Castel del Monte, in the province of L'Aquila in Abruzzo, inside the national park of the Gran Sasso e Monti della Laga, Italy, September 8, 2016. (Photo by Siegfried Modola/Reuters)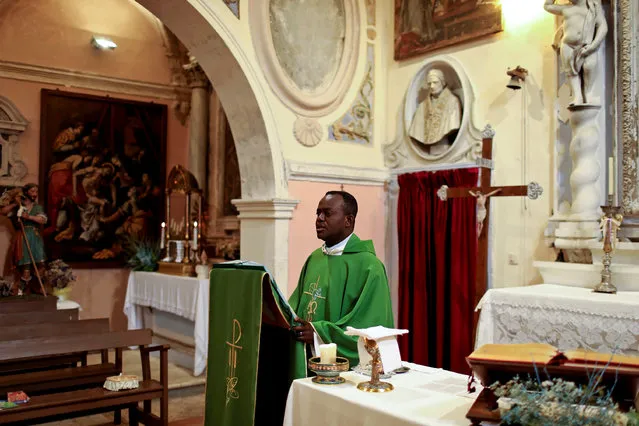 A priest conducts Sunday mass in the church of Santo Stefano di Sessanio, in the province of L'Aquila in Abruzzo, inside the national park of the Gran Sasso e Monti della Laga, Italy, September 18, 2016. (Photo by Siegfried Modola/Reuters)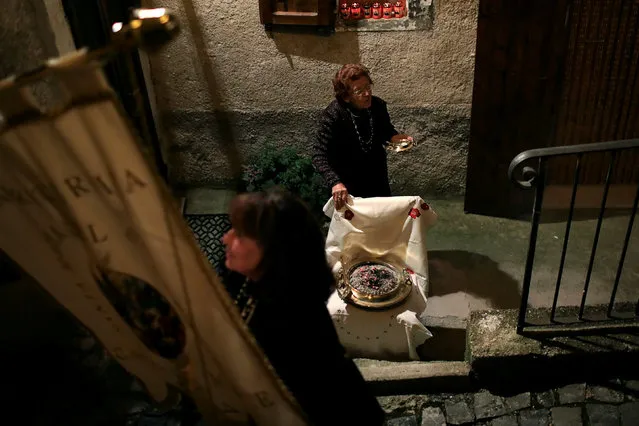 A woman burns incense during a religious procession held every year to bless shepherds, who would at the start of winter, walk with their herds to the south of Italy for warmer weather, Castel del Monte, in the province of L'Aquila in Abruzzo, inside the national park of the Gran Sasso e Monti della Laga, Italy, September 8, 2016. (Photo by Siegfried Modola/Reuters)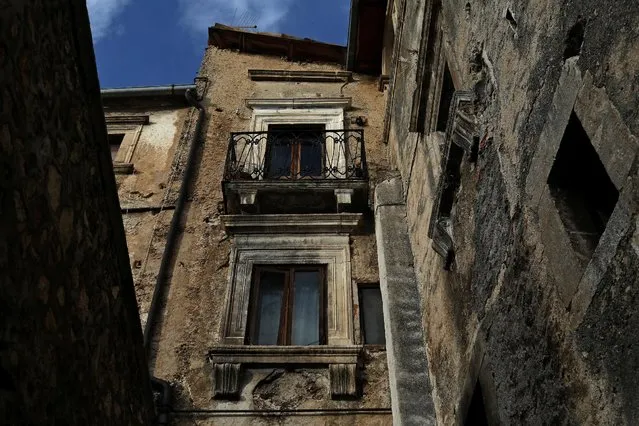 A building is seen near the old centre of the town of Catsel Vecchio in the province of L'Aquila in Abruzzo, inside the national park of the Gran Sasso e Monti della Laga, Italy, September 11, 2016. (Photo by Siegfried Modola/Reuters)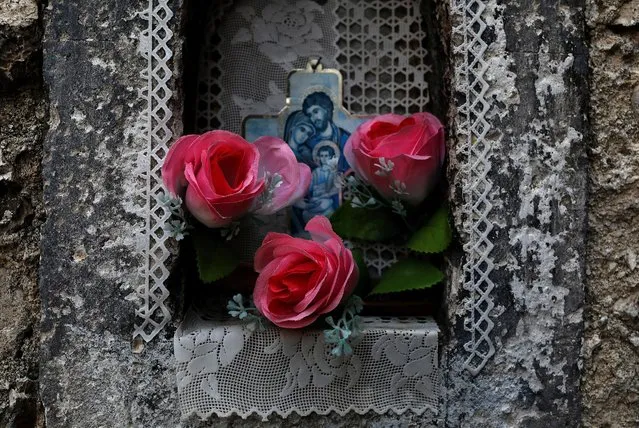 A cross and fake flowers are seen in a wall in the town of Castel del Monte, in the province of L'Aquila in Abruzzo, inside the national park of the Gran Sasso e Monti della Laga, Italy, September 9, 2016. (Photo by Siegfried Modola/Reuters)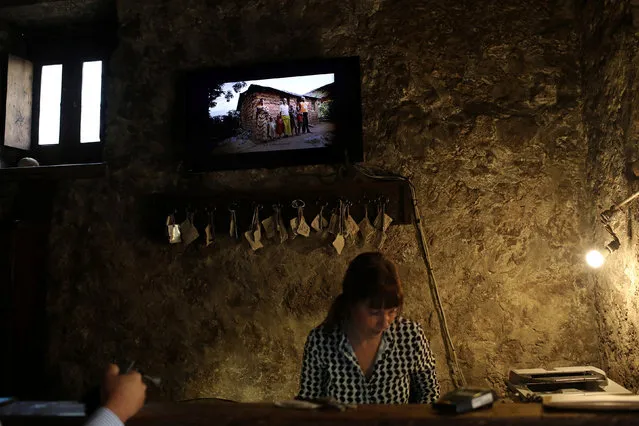 A receptionist assists a visitor at the front desk of the reception of Swedish-Italian entrepreneur Daniele Khilgren's Sextantio Albergo Diffuso, a hotel which has rooms throughout the town of Stefano di Sessanio in the province of L'Aquila in Abruzzo, inside the national park of the Gran Sasso e Monti della Laga, Italy, September 14, 2016. (Photo by Siegfried Modola/Reuters)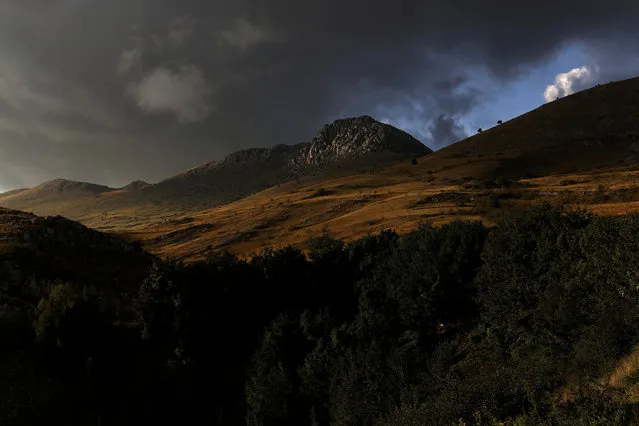 The sun sets behind mountains close to the town of Castel del Monte in the province of L'Aquila in Abruzzo, inside the national park of the Gran Sasso e Monti della Laga, Italy, September 8, 2016. (Photo by Siegfried Modola/Reuters)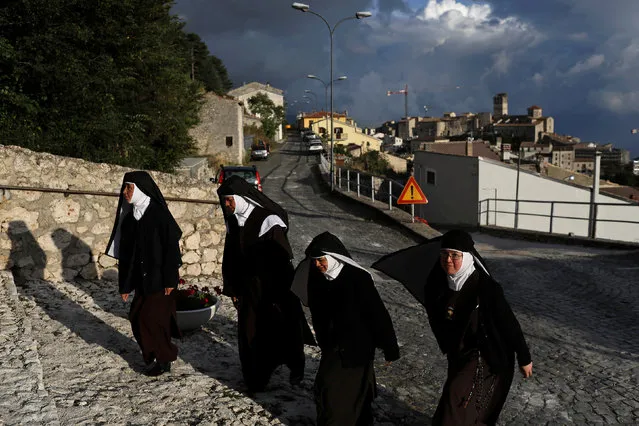 Nuns walk up to the entrance of a church in Castel del Monte, in the province of L'Aquila in Abruzzo, inside the national park of the Gran Sasso e Monti della Laga, Italy, September 8, 2016. (Photo by Siegfried Modola/Reuters)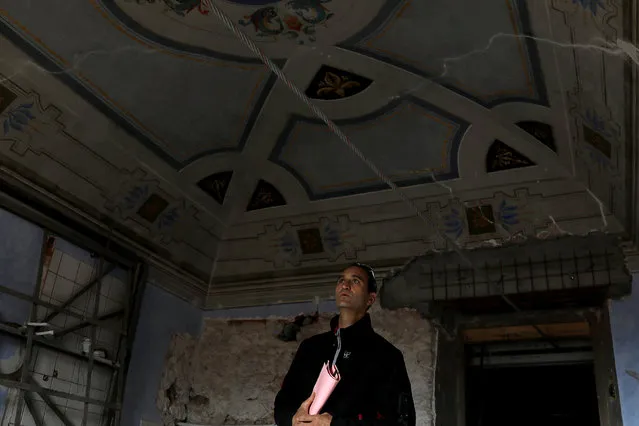 Luca Cucchiella looks at historical frescoes on the ceiling of a room in his familyÕs house, which is undergoing restoration after being damaged during the 2009 earthquake, in Santo Stefano di Sessanio in the province of L'Aquila in Abruzzo, inside the national park of the Gran Sasso e Monti della Laga, Italy, September 23, 2016. (Photo by Siegfried Modola/Reuters)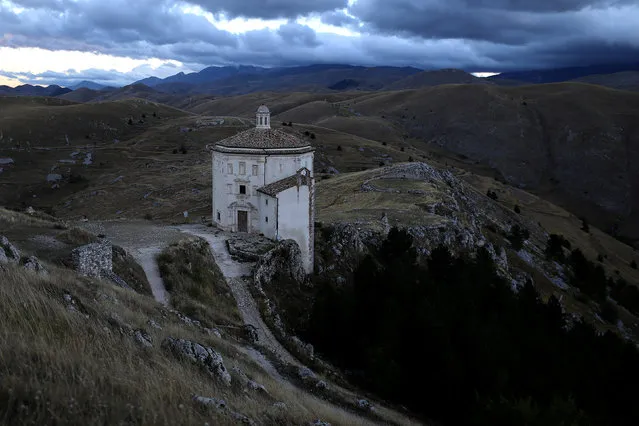 A church stands isolated from other buildings in the small town of Rocca Calascio, close to Santo Stefano di Sessanio in the province of L'Aquila in Abruzzo, inside the national park of the Gran Sasso e Monti della Laga, Italy, September 6, 2016. (Photo by Siegfried Modola/Reuters)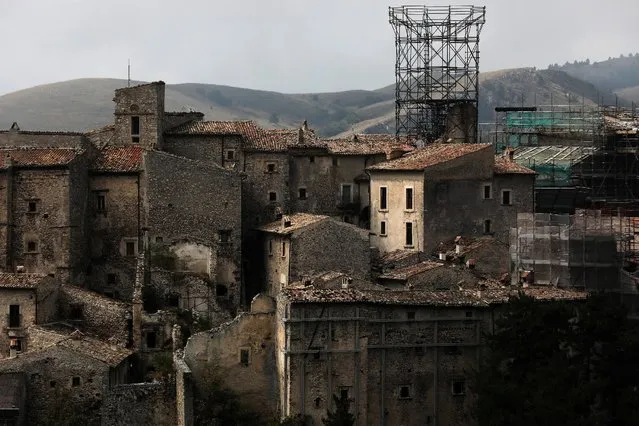 Metal frames support what is left of a medieval tower, as works are in progress to reconstruct it after it collapsed in the 2009 earthquake, in Santo Stefano di Sessanio in in the province of L'Aquila in Abruzzo, inside the national park of the Gran Sasso e Monti della Laga, Italy, September 22, 2016. (Photo by Siegfried Modola/Reuters)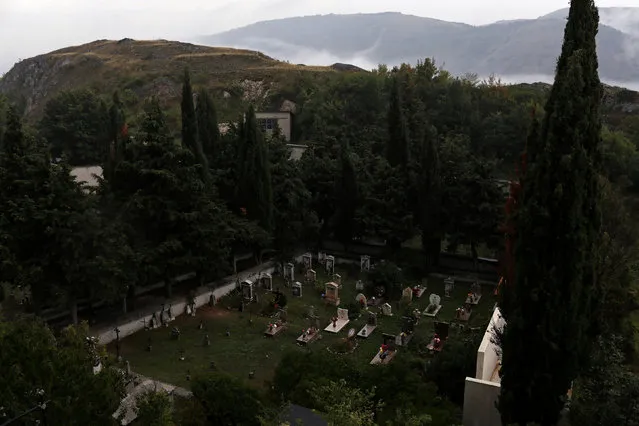 Graves stand in the cemetery of the town of Santo Stefano di Sessanio in the province of L'Aquila in Abruzzo, inside the national park of the Gran Sasso e Monti della Laga, Italy, September 11, 2016. (Photo by Siegfried Modola/Reuters)