"The first sign you see of the equator-hugging central Pacific island nation of Kiribati (pronounced Kir-i-bas), is a small patch of green that breaks the seemingly endless monotony of blue that is the Pacific Ocean. Tropical storm clouds fill the sky, rising so high you feel uncomfortably small. Descending, the tiny atolls that reach just a few meters above sea-level at their highest point and make up this small island nation, come into focus, and even from this height, it is obvious that land is an extremely precious commodity out here in the vastness of an ocean that is cut by the International Date Line.
The immigration check once you are inside the quaint arrival hall is made up of just two small palm-leaf stands marked "Visitors" and "Residents". The rental car, which should be called a "borrow" car, is waiting for me in the dusty car lot out the front, with the key handover no more than an acknowledgment that I am staying at the motel I have named. Showing some identification, let alone a driver's license, is not even a thought – just a welcoming smile and a handshake will suffice. I think it best to ask how to find the motel and I am told: "Well, just keep heading down the one road we have on the island, and you won't miss it".
Upon arriving at the motel, I meet up with David Lambourne, a well-informed local who moved to Kiribati's capital Tarawa some 18 years ago from Australia, to discuss the problems facing the nation. Including the possible catastrophic scenario that one day Kiribati could possibly become uninhabitable under the weight of its own population and an ever encroaching sea. David tells me this is a real possibility, especially for the small group of atolls that make up South Tarawa.
Tarawa is broken into two sections, north and south. David takes me to the village of Betio which lies in the south and is already dealing with a population density greater than that of London, England (currently standing at around 5200 people per square kilometer), but amazingly population growth forecasts for the area say this could double in less than a decade. Betio's small homes are mostly made from bits of corrugated-iron and panels of wood nailed together. You get the impression these are shelters for temporary accommodation. But David tells me that not only are these homes decades old, the chances that they will change in the future is highly unlikely.
But this is not the biggest concern for these homeowners. The lack of a sewerage system does not lend itself to a clean environment. The area had an outbreak of cholera in the late 70′s, and some are worried that with present sanitation levels, it could easily happen again. The local fresh water supplies come from shallow "lenses" located just below the surface, with hundreds of wells scattered between the ramshackle huts. But the quality of water from these wells is becoming more polluted as a result of ground-based pollutants and rising sea levels creating salinity problems. This also means that growing any types of food crops has become extremely difficult.
After this trip, I continue driving around the island, and it doesn't take long before I have to stop again after spotting yet another interesting scene. A group of local women, some seemingly on the edge of the distant horizon, are hunched over digging for something on lagoon flats made up of smelly reef-mud. I venture out just a few meters only to discover a sinking feeling in the mud, but finally reach a woman and her rather nervous dog. She raises her head for just a second and acknowledges my presence with nothing more than a fleeting smile, then returns to her back-breaking work. It soon becomes apparent her work requires physical strength beyond most people. Not only does she have to deal with the reflective searing heat from the muddy reef surface, but must dig using only a kitchen fork or knife to find shellfish located just below the surface. I have nothing but respect for this group of determined women, who diligently go about their work hour after hour, occasionally stopping to observe this crazy man with a camera and offer him a smile.
Driving on, it is becoming more apparent to me just how poor Kiribati is, with the dilapidated state of the countless huts that line the pot-hole infested road becoming more obvious as I continue.
I then decide to rent a boat to visit a small islet called Bikeman, which is just a 20-minute ride west of the over-crowded south Tarawa. Here a family lives, having decided to build a home, and move permanently to this patch of sand, that stands less than 10 centimeters (four inches) above the high-tide mark. The reason is simple explains Binata Pinata and her husband Kaibakia; "The islet offers better sleeping, better living as it is less crowded, and an abundance of fresh, healthy fish. The only problem however is we must make daily boat trips back to Tarawa for fresh water". The problem of fresh water once again becomes apparent.
Scattered all around south Tarawa are World War II relics that have become as much a part of the landscape as the coconut trees and sea-walls. Japanese bunkers and large guns still stand testament to the battle that was fought here in 1943 and which cost the lives of more than 1,600 U.S. Marines and countless Japanese soldiers. It again emphasizes the precious value of land in this area surrounded by a vast ocean. It is also a reminder that outside factors have long had an impact on Kiribati's environment and that its people, those who contribute the least to these changes, are left to manage the fallout.
At one stage when talking to a local man, he says with a wry smile that some people are calling Kiribati "the next Atlantis". But from what I have seen, way before this tiny nation is flooded by the yearly and encroaching king-tides, it may sink under the pressures of its own population much, much sooner". – David Gray via
Reuters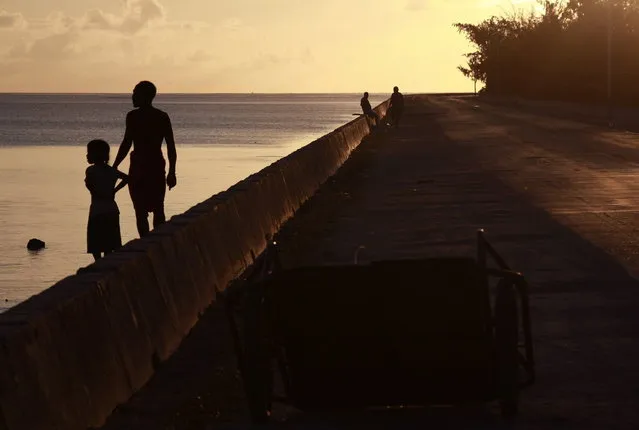 Locals stand on a causeway, which allows travel between the atolls of South Tarawa, near the town of Bairiki in the central Pacific island nation of Kiribati May 25, 2013. (Photo by David Gray/Reuters)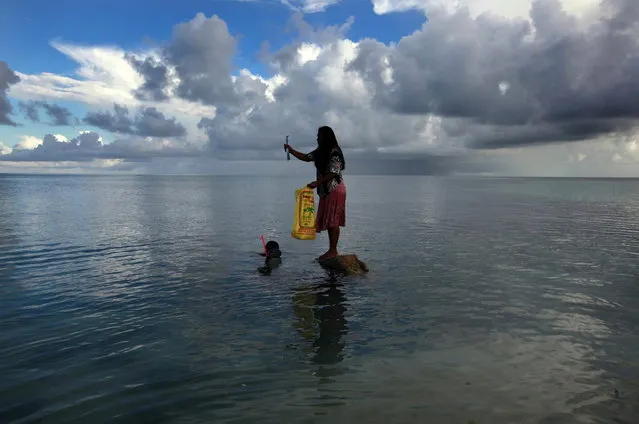 Binata Pinata stands on top of a rock holding a fish her husband Kaibakia just caught off Bikeman islet, located off South Tarawa in the central Pacific island nation of Kiribati May 25, 2013. (Photo by David Gray/Reuters)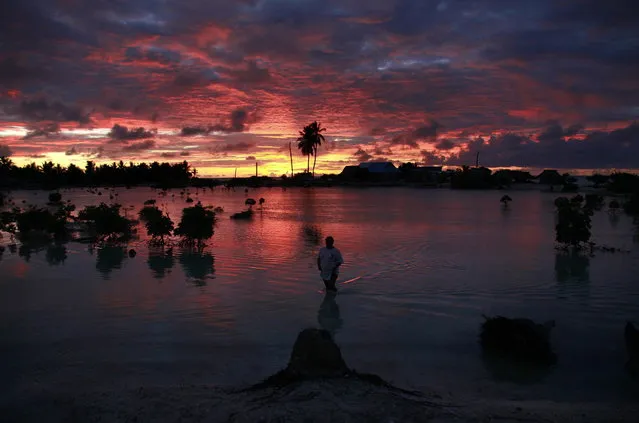 A villager wades through a small lagoon, which at high-tide laps at the base of homes, near the village of Tangintebu on South Tarawa in the central Pacific island nation of Kiribati May 25, 2013. (Photo by David Gray/Reuters)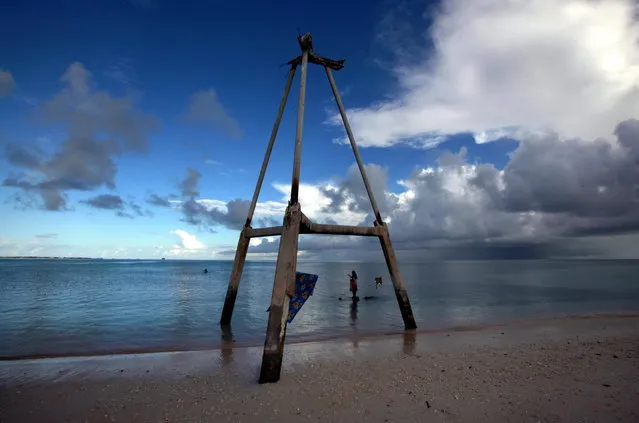 Binata Pinata stands on top of a rock underneath an old tower as she waits for her husband Kaibakia to hand her the fish he is catching, on Bikeman islet, located off South Tarawa in the central Pacific island nation of Kiribati May 25, 2013. (Photo by David Gray/Reuters)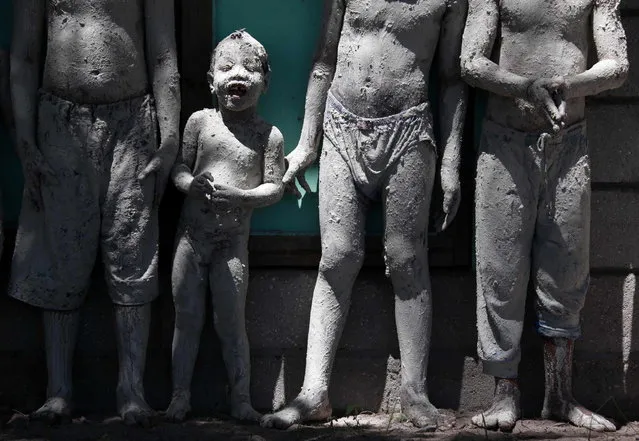 A boy covered in reef-mud reacts as he stands with other boys in the village of Ambo on South Tarawa in the central Pacific island nation of Kiribati May 25, 2013. (Photo by David Gray/Reuters)
A boat floats in the lagoon near Bikeman islet, located off South Tarawa in the central Pacific island nation of Kiribati May 25, 2013. (Photo by David Gray/Reuters)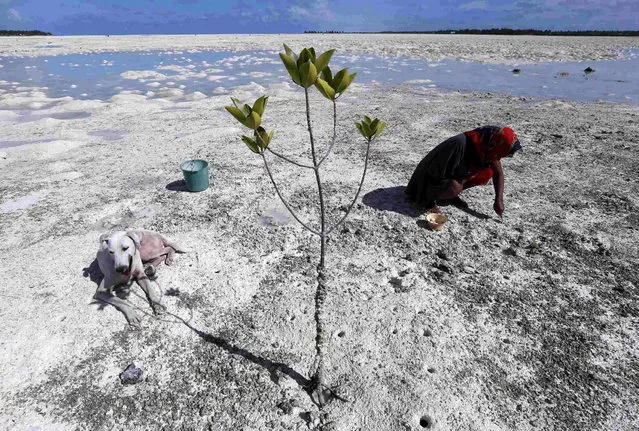 A dog sits in the shade of a mangrove tree as a woman uses a fork to dig for shellfish on the reef-mud flats of a lagoon located at South Tarawa in the central Pacific island nation of Kiribati May 23, 2013. (Photo by David Gray/Reuters)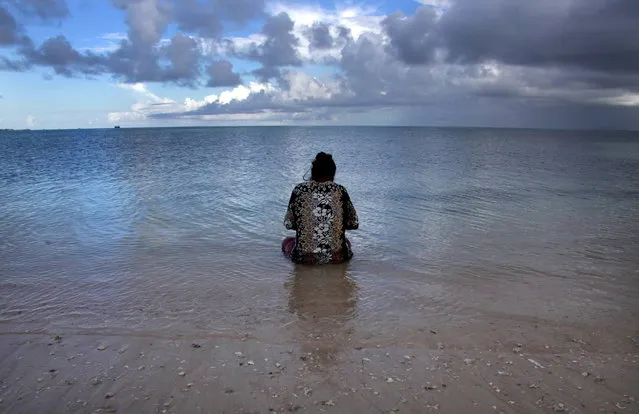 Binata Pinata scales a fish her husband Kaibakia caught, as she sits in the sea just off Bikeman islet, located off South Tarawa in the central Pacific island nation of Kiribati May 25, 2013. (Photo by David Gray/Reuters)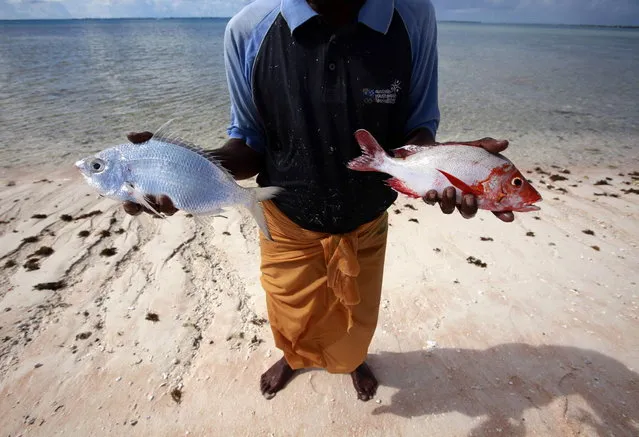 Kaibakia Pinata holds the fish he caught in his nets off Bikeman islet, located off South Tarawa in the central Pacific island nation of Kiribati May 25, 2013. (Photo by David Gray/Reuters)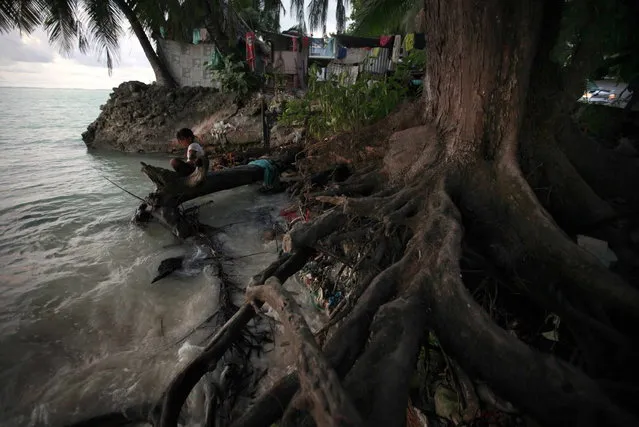 A girl sits on a log next to the roots of a tree, which have been exposed as a result of high-tides, near the village of Teaoraereke on South Tarawa in the central Pacific island nation of Kiribati May 25, 2013. (Photo by David Gray/Reuters)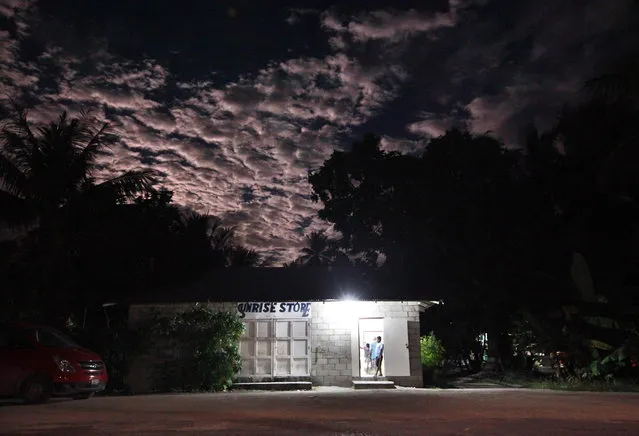 A full moon rises as a young boy stands in the doorway of a shop called the Sunrise Store located in the village of Ambo located on South Tarawa in the central Pacific island nation of Kiribati May 25, 2013. (Photo by David Gray/Reuters)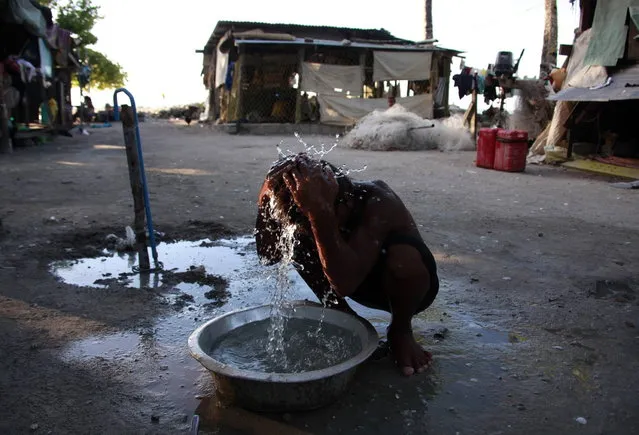 A boy washes himself with water from a well outside his home in the village of Antebuka located on South Tarawa in the central Pacific island nation of Kiribati May 25, 2013. (Photo by David Gray/Reuters)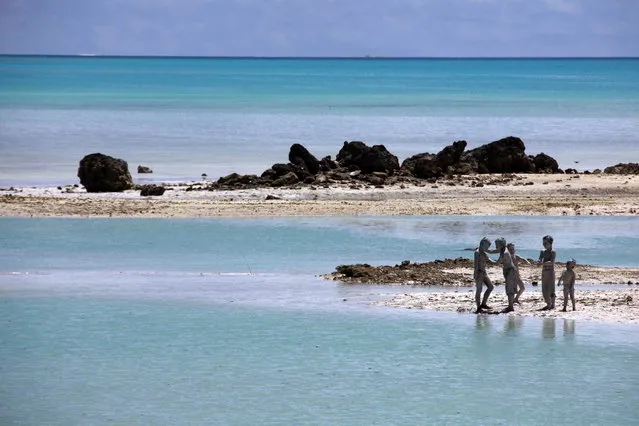 Young boys cover each other in reef-mud near the village of Ambo on South Tarawa in the central Pacific island nation of Kiribati May 25, 2013. (Photo by David Gray/Reuters)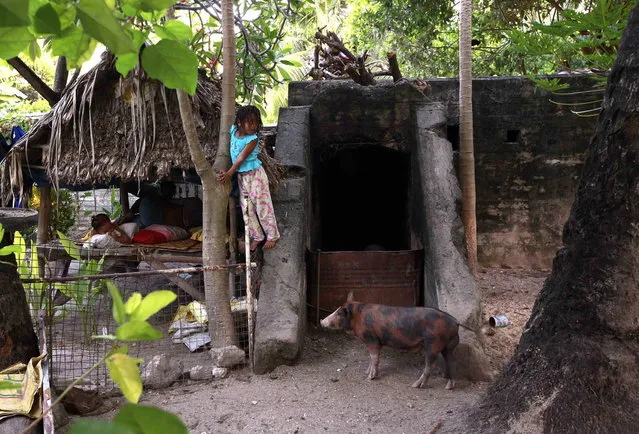 A girl stands on a World War Two Japanese bunker, which is being used as a pigsty, next to her home in the village of Betio on South Tarawa in the central Pacific island nation of Kiribati May 23, 2013. (Photo by David Gray/Reuters)