"The River Ganges is sacred in Hinduism, and the city of Varanasi, which lies on its banks, is one of the oldest and holiest sites for Hindu pilgrims from all over the world. Devotees believe that you can wash away your sins by taking a dip in the Ganges at Varanasi. What's more, dying and having your ashes scattered here is a sacred thing for Hindus who believe that it brings "moksha", or freedom for the soul from the constant cycle of death and rebirth. To attain this salvation, many travel to Varanasi to die.
"Mukti Bhavan", or "Salvation House", is a charity-run hostel for people who wish to pass away in the city. It has 12 rooms, a temple and small quarters for its priests. Lodging there comes with certain conditions: guests have two weeks to die or they are gently asked to move on. Sometimes, Bhairav Nath Shukla, the hostel manager, extends his guests' stays by a few days if he thinks the person is about to die. Eerily enough, Shukla can often predict roughly when it will happen.
The 61-year-old has been taking in the dying and performing prayers for their salvation for the last 44 years and when I started covering this story, hostel records showed that 14,577 people had checked in to date. Most of them have attained moksha. Many of those who couldn't die left disheartened with their relatives.
Just after my first visit to Mukti Bhavan, guest number 14,578 arrived. Munna Kuvar, a 105-year-old widow, had travelled from her village with her relatives to get here, lying for five hours in the back seat of a jeep. Kuvar's husband had died in this same hostel about 18 years ago. "It was her wish to die at the same place where her husband had died", Kuvar's 45-year-old nephew Surender Upadhyay told me.
In another room you could hear the crying of 97-year-old Bhogla Devi as she was comforted by her 30-year-old grandson Divyesh Tiwari. He had left his job as an engineer to accompany her to the hostel. "My grandmother is the most precious thing I ever had. I would like her to attain salvation in my arms", he said.
Room No. 3 was occupied by the 82-year-old Kishore Pandey, who had travelled with his three daughters all the way from a small, dusty village in the eastern part of India. In Hinduism, sons normally perform all the last rites for their parents but Pandey's daughters were there for him as the end approached. The eldest, Usha Tiwari, explained: "We had no brother but we didn't want our father to feel that he has no son".
Hostel manager Bhairav Nath Shukla and his family seemed accustomed to the deaths around them. Shukla's grandchildren played in the compound while he enjoyed watching television soaps after his evening prayers. For me, taking pictures of the men and women who had come to Mukti Bhavan was a challenge. I didn't want the sound of a camera shutter to disturb people who were dying or mourning their loved ones. I spent hours speaking to the families and helping them to get used to the presence of my camera before I took my first picture.
As I covered this story, I also photographed one of the holiest and biggest cremation grounds for Hindus in Varanasi. There I met Bilal, the owner of a photo studio at the site. His grandson has now inherited his business and photographs the dead with their relatives. For the families who have their pictures taken, this is a proud moment as the deceased have come to be cremated at such a sacred site next to the Ganges. They want to preserve their memories of it. Bilal matter-of-factly told me that business slows during the summer, but gets much busier in the winter when a lot of old people die. At that time, about 200-300 bodies come for cremation every day.
On my last day in Varanasi, in the early morning I got a call from a priest at Mukti Bhavan. He told me that someone had just died a few minutes ago, and so I hurried back to the hostel to find an old woman lying on the ground with her daughter mourning next to her. I was told that she was guest number 14,579 and had checked in just four hours ago. The priest gently but sternly told the daughter not to cry but to feel happy that her mother had attained moksha.
Before leaving I thanked all the families of the guests for allowing me to photograph their loved ones. As I departed, 105-year-old Munna Kuvar's nephew told me with a sigh: "I hope the old woman dies soon and her soul finds freedom". As I landed in Delhi from Varanasi, I got a call from the priest checking whether I was still around. Guest number 14,578 had passed away. Munna Kuvar's soul had attained salvation at last. She could now join her husband". –
Danish Siddiqui
via Reuters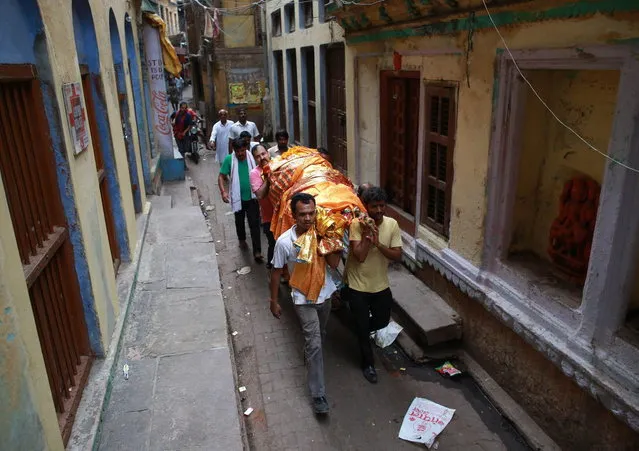 A body is carried through a street to the banks of the river Ganges in Varanasi, in the northern Indian state of Uttar Pradesh, June 18, 2014. The city of Varanasi, on the banks of the River Ganges, is widely considered Hinduism's holiest city and many Hindus believe that dying there and having their remains scattered in the Ganges allows their soul to escape a cycle of death and rebirth, attaining "moksha" or salvation. "Mukti Bhavan" or "Salvation House", is a charity-run hostel that caters for people who wish to come to Varanasi to die. Guests can normally stay up to two weeks after which, if they haven't yet passed away, they are gently asked to leave. (Photo by Danish Siddiqui/Reuters)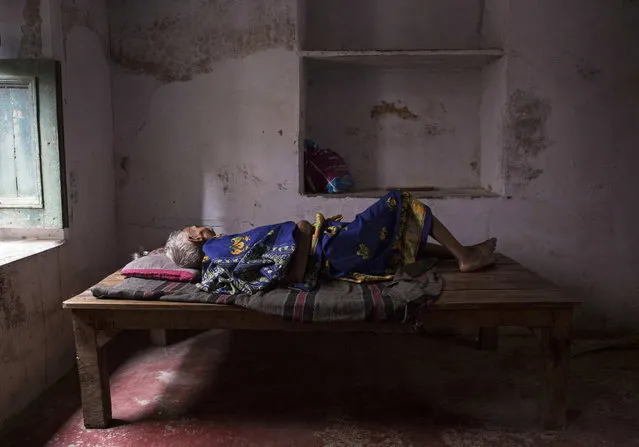 Munna Kuvar, 105, lies on a bed at Mukti Bhavan (Salvation House) in Varanasi, in the northern Indian state of Uttar Pradesh, June 18, 2014. (Photo by Danish Siddiqui/Reuters)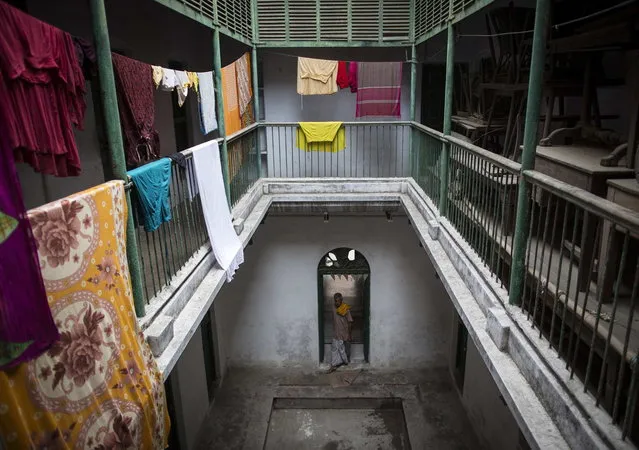 Clothes hang out to dry inside Mukti Bhavan (Salvation House) in Varanasi, in the northern Indian state of Uttar Pradesh, June 19, 2014. (Photo by Danish Siddiqui/Reuters)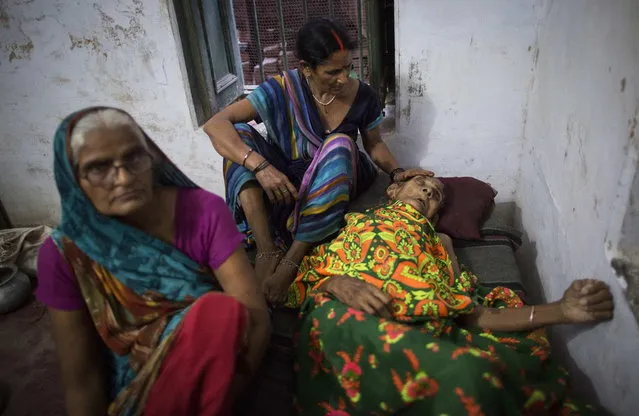 Munna Kuvar, 105, lies on a bed as she is comforted by relatives at Mukti Bhavan (Salvation House) in Varanasi, in the northern Indian state of Uttar Pradesh, June 17, 2014. (Photo by Danish Siddiqui/Reuters)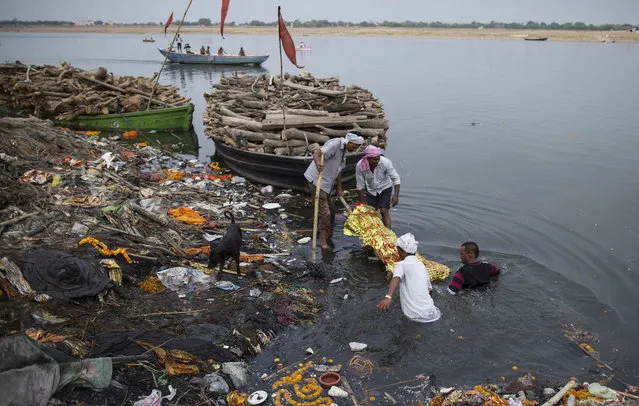 Relatives immerse a body in the river Ganges prior to cremation in Varanasi, in the northern Indian state of Uttar Pradesh, June 19, 2014. (Photo by Danish Siddiqui/Reuters)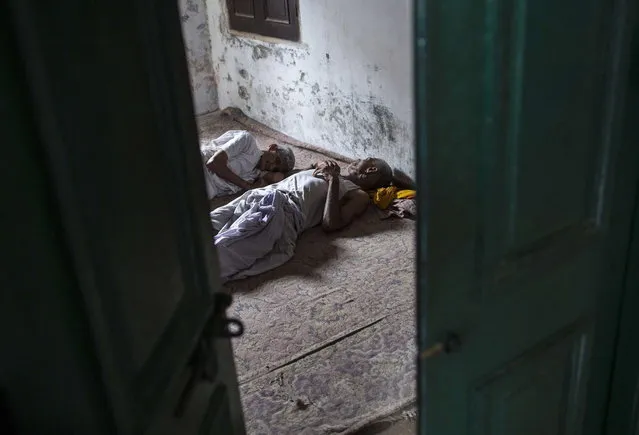 Hindu priests rest in their room after conducting morning prayers at Mukti Bhavan (Salvation House) in Varanasi, in the northern Indian state of Uttar Pradesh, June 17, 2014. (Photo by Danish Siddiqui/Reuters)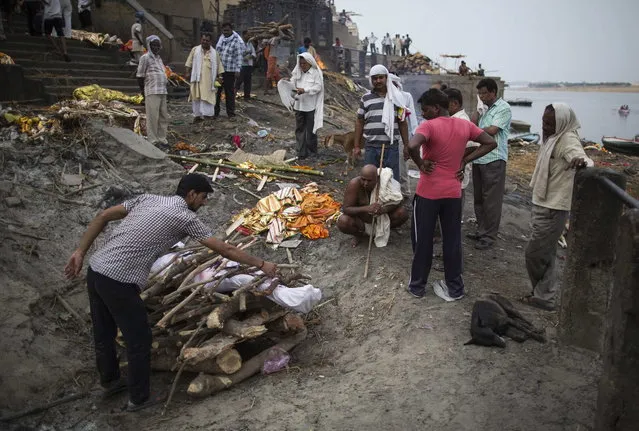 A man places wood on a funeral pyre at a cremation on the banks of river Ganges in Varanasi, in the northern Indian state of Uttar Pradesh, June 19, 2014. (Photo by Danish Siddiqui/Reuters)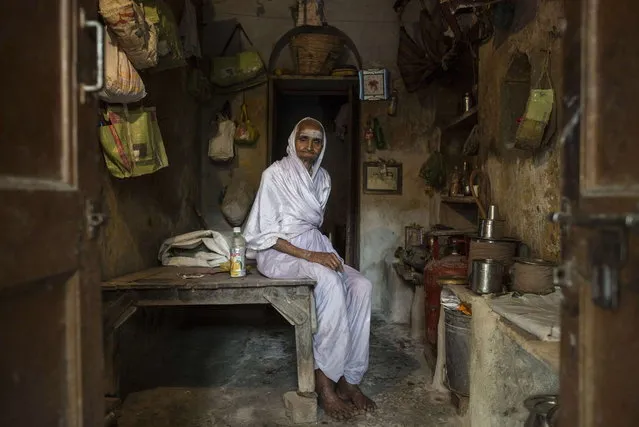 Savitri, an 80-year-old widow, poses for a photograph inside her room at Mumukshu Bhavan (Home of the Ailing) in Varanasi, in the northern Indian state of Uttar Pradesh, June 19, 2014. (Photo by Danish Siddiqui/Reuters)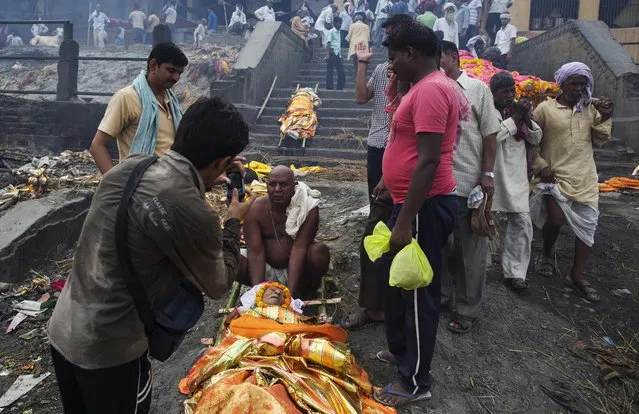 A man poses for a photograph with the body of a deceased relative prior to cremation on the banks of river Ganges in Varanasi, in the northern Indian state of Uttar Pradesh, June 19, 2014. (Photo by Danish Siddiqui/Reuters)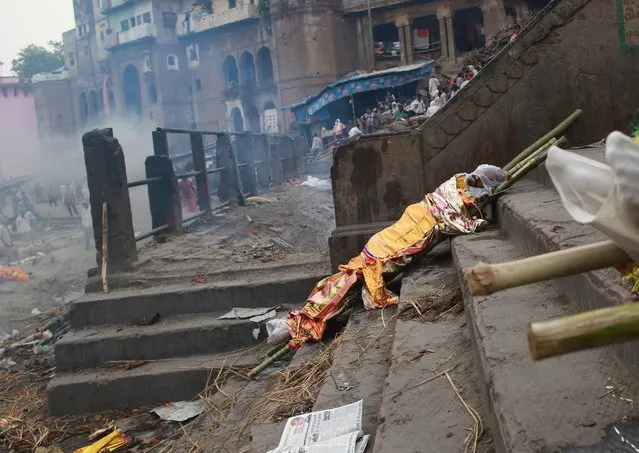 A body is left to dry prior to cremation on the banks of river Ganges in Varanasi, in the northern Indian state of Uttar Pradesh, June 19, 2014. (Photo by Danish Siddiqui/Reuters)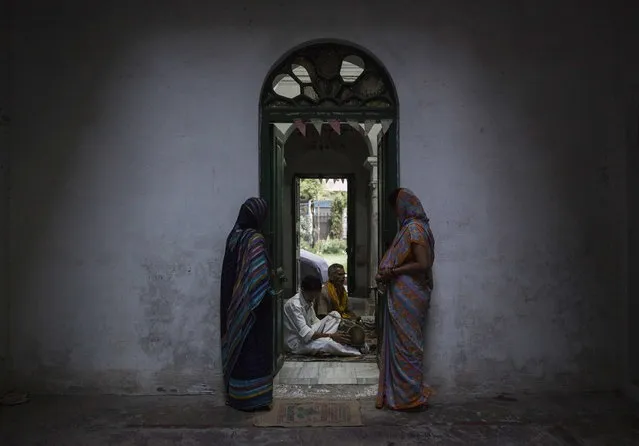 Relatives of patrons listen to priests as they chant during evening prayers at the Mukti Bhavan (Salvation House) in Varanasi, in the northern Indian state of Uttar Pradesh, June 17, 2014. (Photo by Danish Siddiqui/Reuters)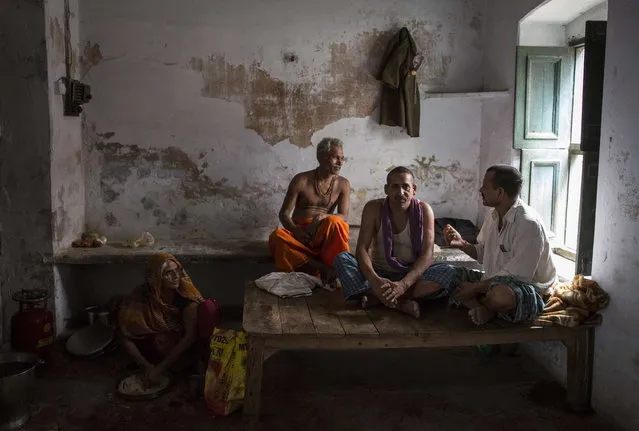 Relatives of Munna Kuvar, 105, sit inside her room at Mukti Bhavan (Salvation House) in Varanasi, in the northern Indian state of Uttar Pradesh, June 18, 2014. (Photo by Danish Siddiqui/Reuters)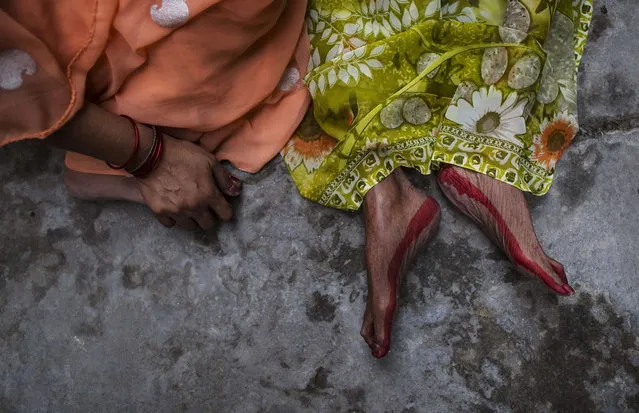 A relative (L) of Champa Devi, 88, sits next to her body, minutes after her death at Mukti Bhavan (Salvation House) at Varanasi, in the northern Indian state of Uttar Pradesh, June 21, 2014. (Photo by Danish Siddiqui/Reuters)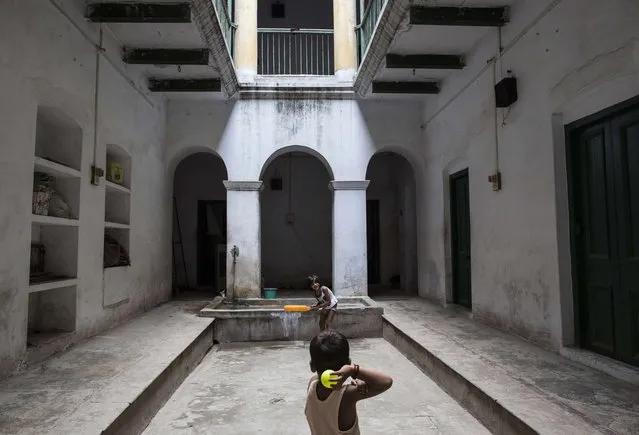 Children of Mukti Bhavan employees play cricket inside its premises in Varanasi, in the northern Indian state of Uttar Pradesh, June 17, 2014. (Photo by Danish Siddiqui/Reuters)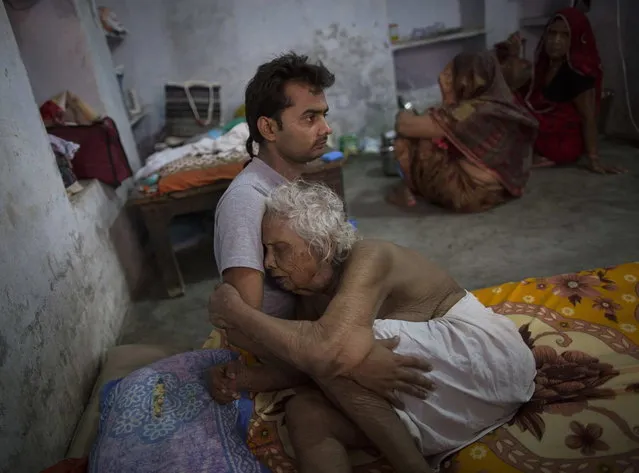 Bhogla Devi, 97, is comforted by her grandson Divyesh Tiwari as she cries in pain at Mukti Bhavan (Salvation House) in Varanasi, in the northern Indian state of Uttar Pradesh, June 17, 2014. (Photo by Danish Siddiqui/Reuters)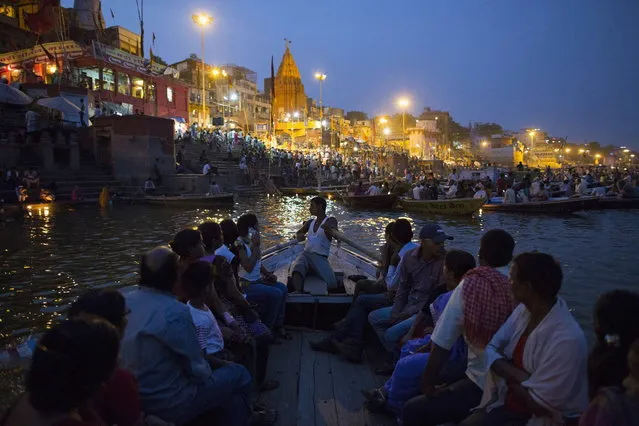 Hindu devotees travel past holy ghats on the banks of the river Ganges in Varanasi, in the northern Indian state of Uttar Pradesh, June 16, 2014. (Photo by Danish Siddiqui/Reuters)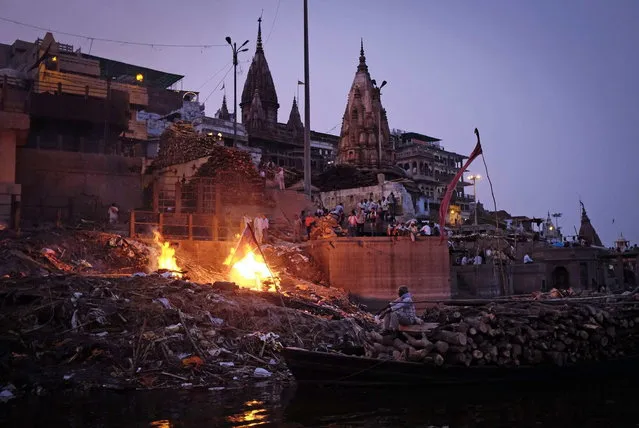 People watch as pyres burn at a cremation ground on the banks of river Ganges in Varanasi, in the northern Indian state of Uttar Pradesh, June 19, 2014. (Photo by Danish Siddiqui/Reuters)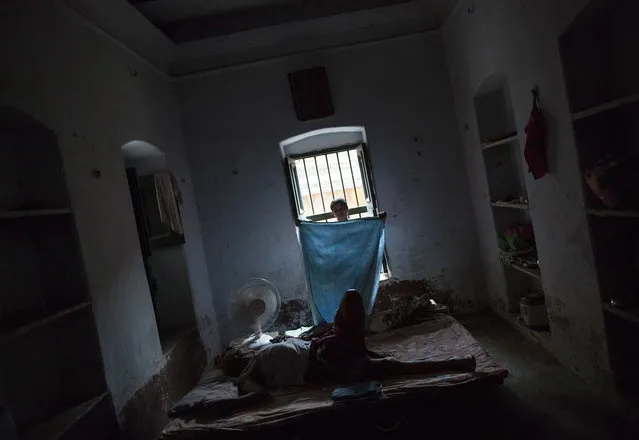 Kishore Pandey, 82, lies on a bed as his daughter Neelam Tiwari folds a cloth at Mukti Bhavan (Salvation House) in Varanasi, in the northern Indian state of Uttar Pradesh, June 17, 2014. (Photo by Danish Siddiqui/Reuters)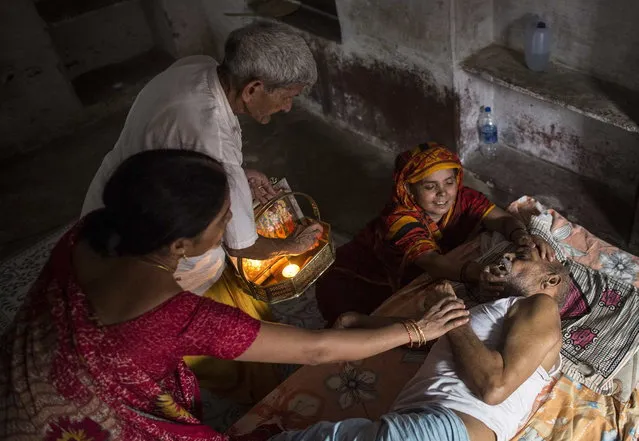 Kishore Pandey, 82, lies on a bed as his daughter, Usha Tiwari, holds him and a priest stands by them (L) at Mukti Bhavan (Salvation House) in Varanasi, in the northern Indian state of Uttar Pradesh, June 19, 2014. (Photo by Danish Siddiqui/Reuters)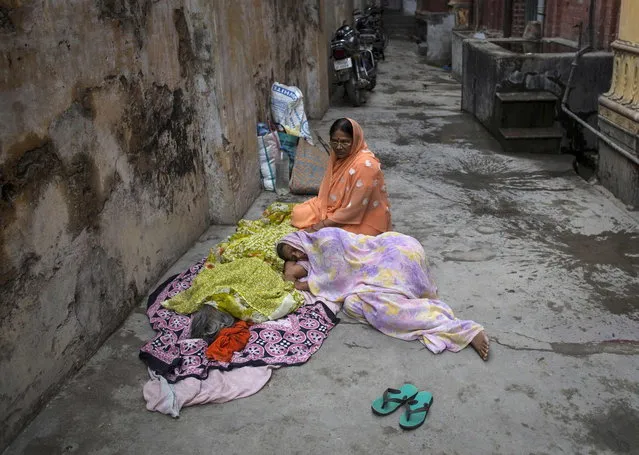 Devki Rai, 49, lies next to the body of her mother Champa Devi, minutes after her death at the Mukti Bhavan (Salvation House) in Varanasi, in the northern Indian state of Uttar Pradesh, June 21, 2014. (Photo by Danish Siddiqui/Reuters)