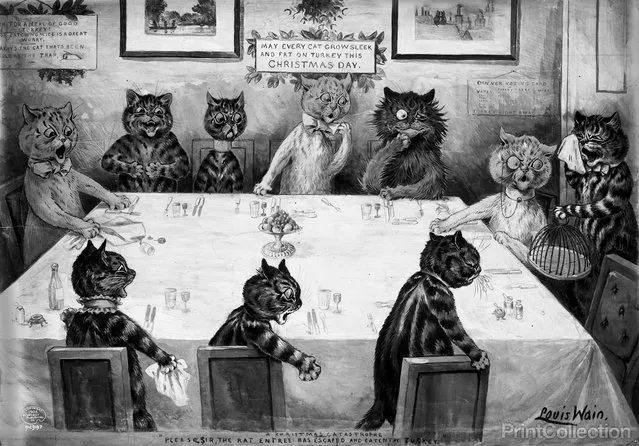 A Christmas catastrophe: please, sir, the rat entree has escaped and eaten the turkey. Drawing created by Louis Wain in 1906. Photographed by the Detroit Publishing Company in 1906.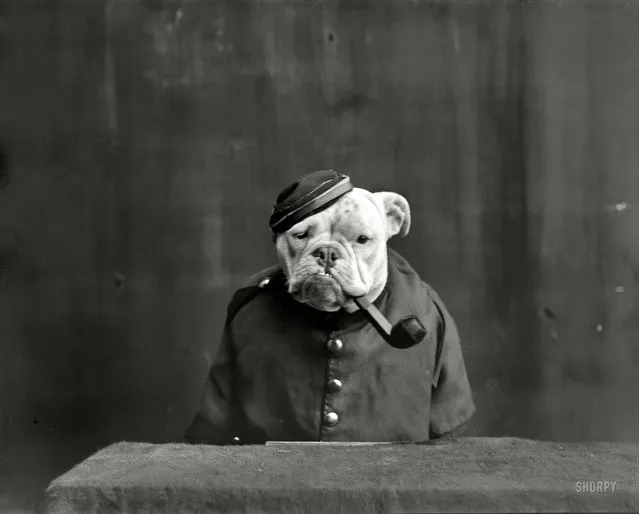 Tommy Atkins (the name being a sort of generic, John-Doe-type moniker for a British soldier), 1905. (Photo by Detroit Publishing Company)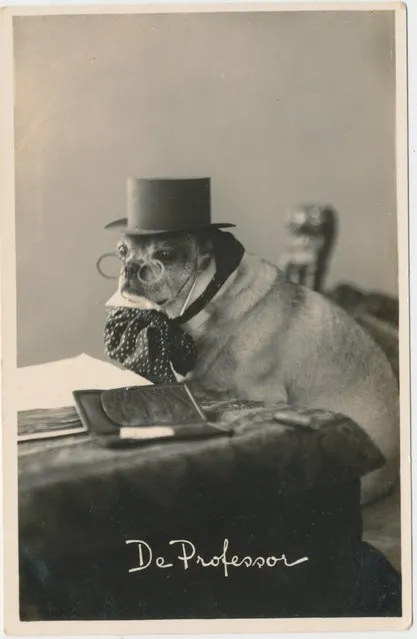 "De Professor", 1934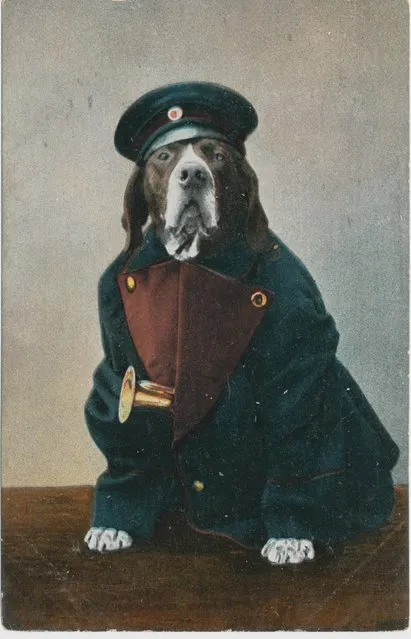 Dog on postcard, 1910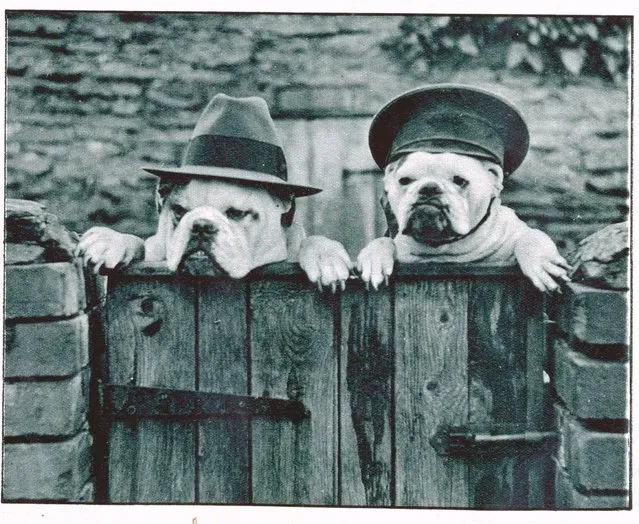 Dogs with hats, 1932
Pipe puffing puppies puzzle proud possessor, 1933. Two bulldog puppies, belonging to Billie H. Moncrief, son of Col. and Mrs. Moncrief, of the Army Medical Center, Walter Reed Hospital, with pipes in their mouths. (Photo by Underwood & Underwood)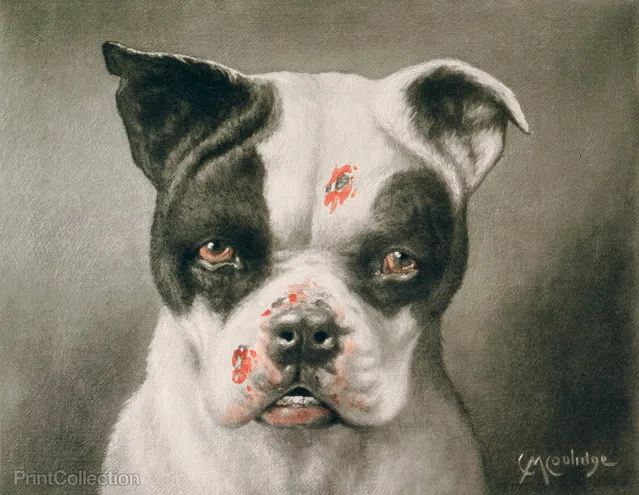 "I'm a bad dog! What kind of a dog are you"? (this is the actual title of the work) By C. M. Coolidge, created in 1885 as a hand-colored photogravure. Head-and-shoulders of a Boston terrier (?) with a bloody face. I guess there was a different view of cruelty to animals back in the 19th century.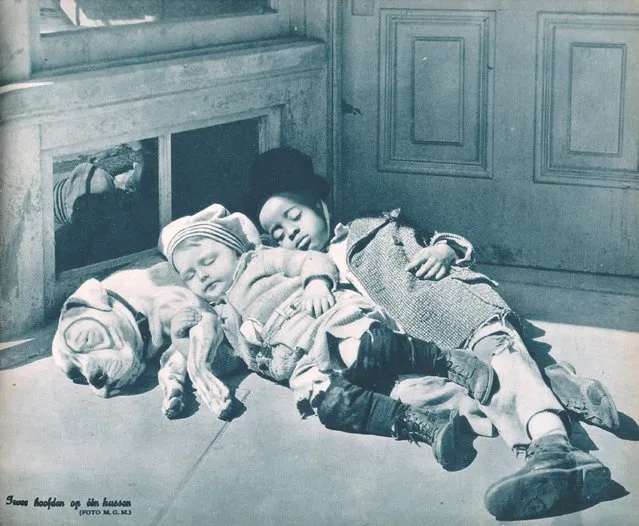 Sleeping children and dog, 1932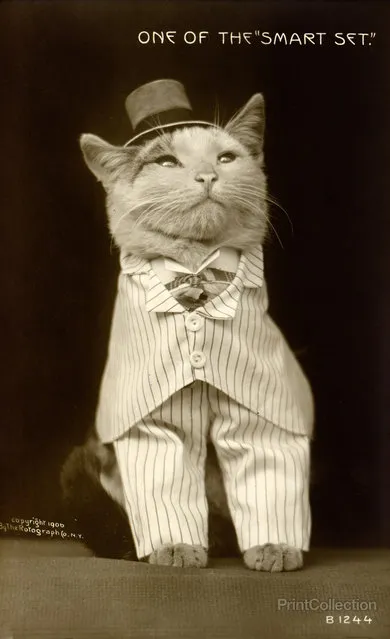 Cat Dressed to the Nines. One of the "smart set". Published in 1906 as a gelatin silver print. Postcard showing cat wearing suit and hat.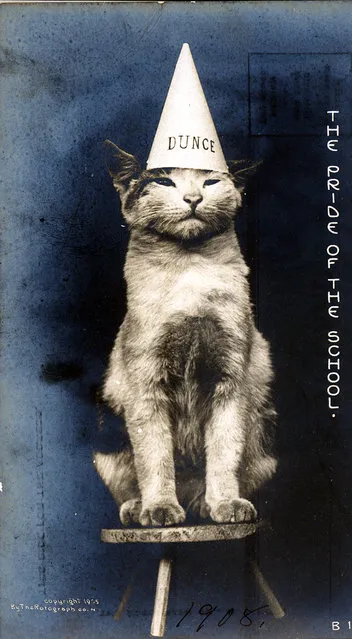 This cat is not a dunce! Cats never answer wrong; cats just fail to answer. This postcard was taken by The Rotograph Co., in New York City, 1905.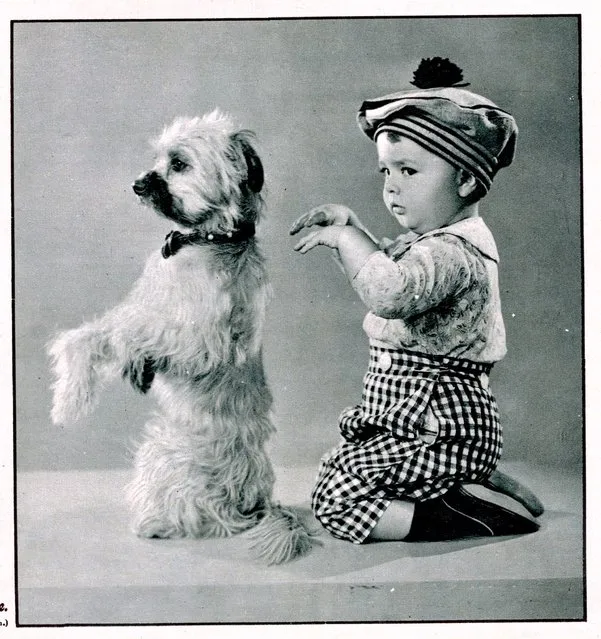 Nice sit, 1932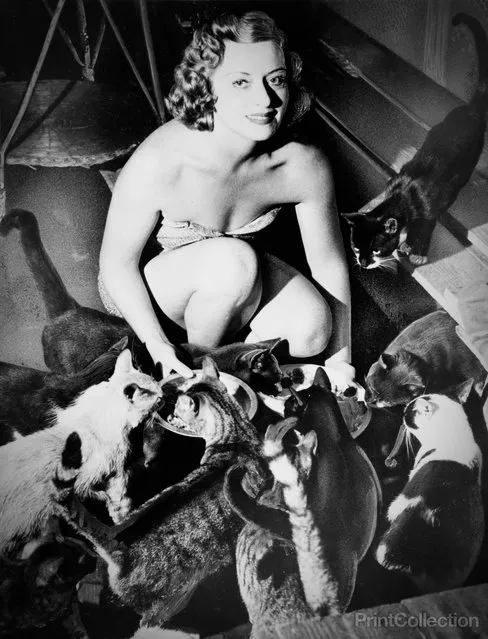 Cats Make Marriage go to the Dogs, Almost! Photographed in 1951 by Fred Palumo for the New York World Telegram and Sun. Former model Mrs. William Black feeding some of her 47 cats.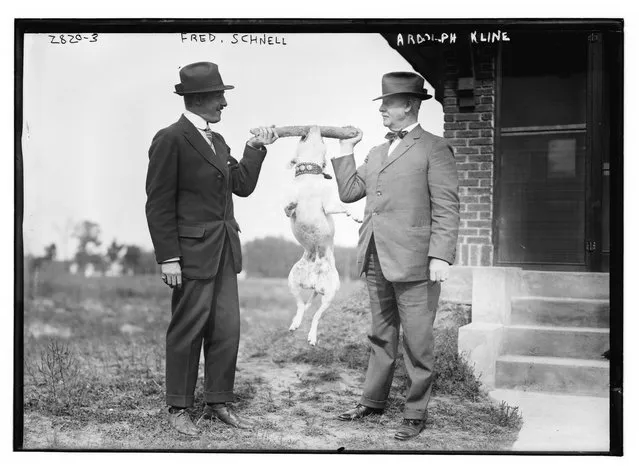 Photo shows Mayor Ardolph Loges Kline (1858-1930), a Republican politician who became acting Mayor of New York City after the death of Mayor William Jay Gaynor, with his son-in-law Fred Schnell. Between ca. 1910 and ca. 1915. (Photo by Bain News Service)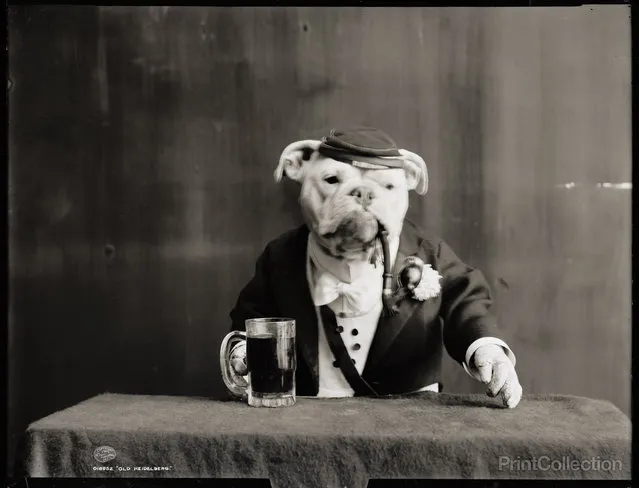 Old Heidelberg, Dog with Pipe, 1905. (Photo by Detroit Publishing Company)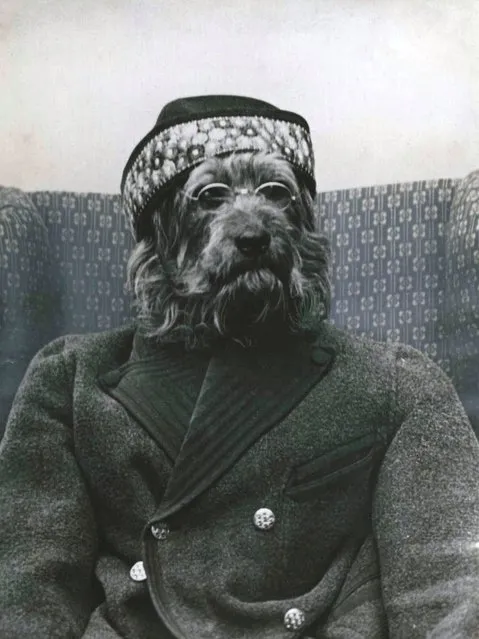 Hond als oude man, 1934. Collectie Spaarnestadarchief. (Photo by Het Leven)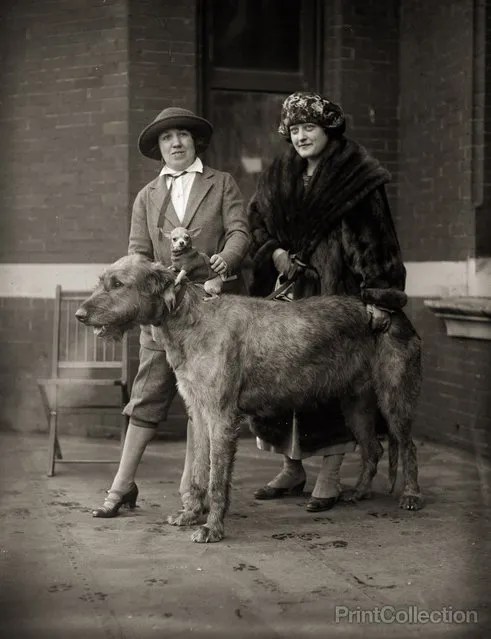 All Creatures LARGE and small. Dog show, photographed by the USA National Photo Compnay in 1923
The Missis Must be a b*tch, 1905. (Photo by Detroit Publishing Company)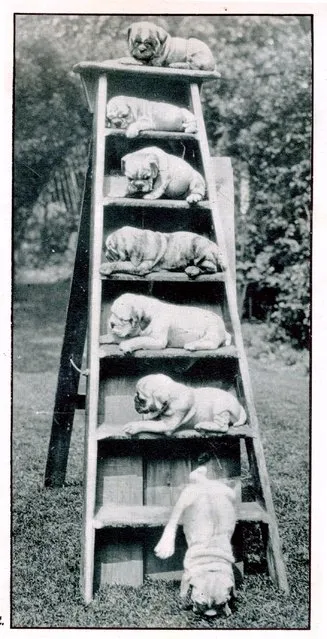 Six and a half puppies on a ladder, 1932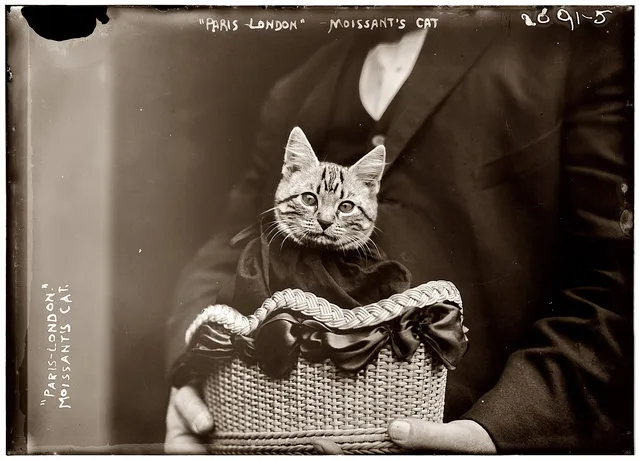 Paree the Flying Cat: 1910. In 1910, on the first airplane flight across the English Channel to carry a passenger, American aviator John Moissant flew from Paris to London accompanied by both his mechanic and his cat, named either Mademoiselle Fifi or Paree, depending on which newspaper you believe. Later that year Moisant died in a crash near New Orleans.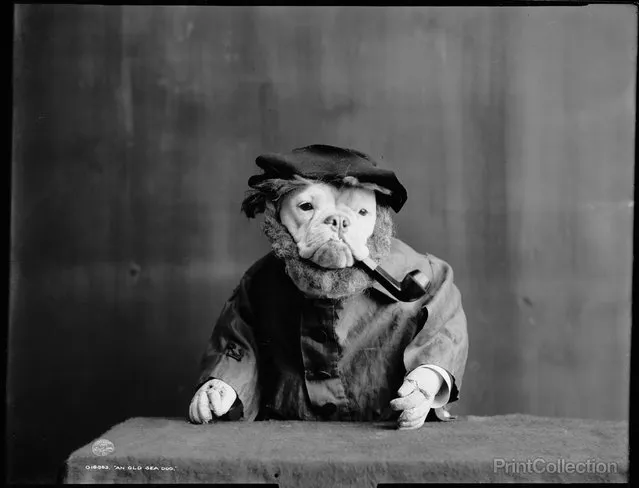 An Old Sea Dog, Literally, 1905. (Photo by Detroit Publishing Company)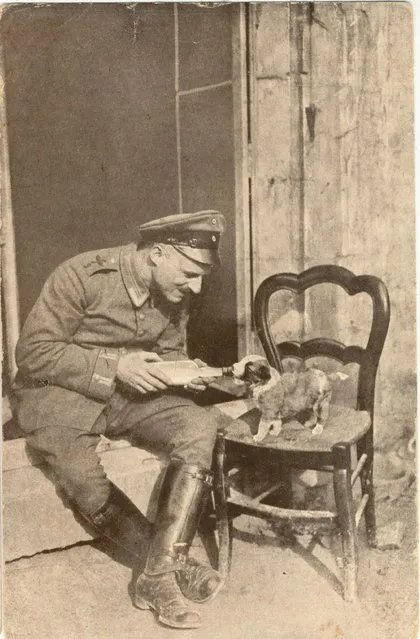 A german sergeant (unteroffizier) from Flieger-Abteilung 9, something for the fellows from the Flying Circus, feeding a puppy during WWI. Circa 1915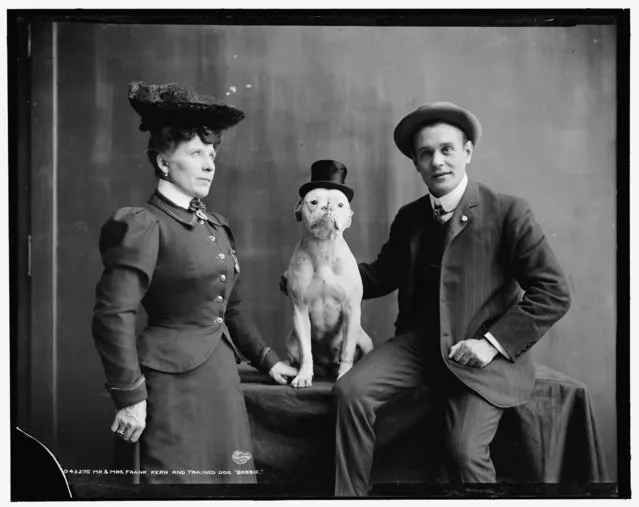 Mr. and Mrs. Frank Kern and their trained dog Bobbie, ca. 1905. (Photo by Detroit Publishing Co. Collection at the Library of Congress)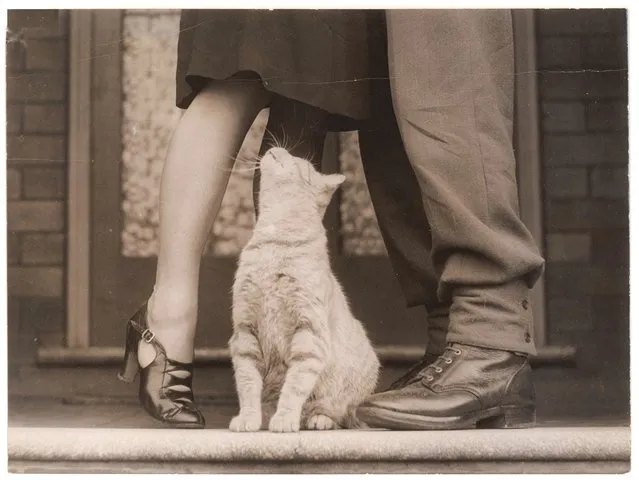 Soldier's goodbye & Bobbie the cat, Sydney, ca. 1939 – ca. 1945. (Photo by Sam Hood)