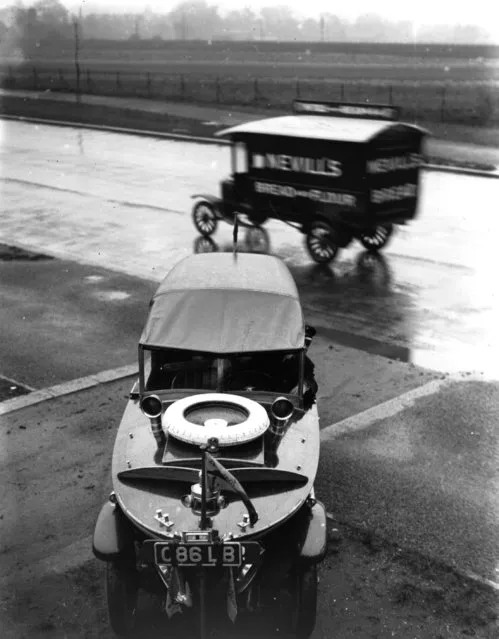 A Peugeot Motorboat Car, seen from above with a van passing behind it, October 1925.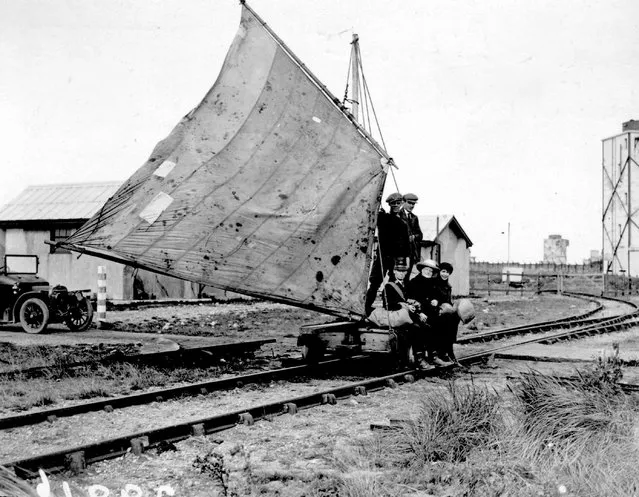 A group of men travelling along a railway track using a sail-driven wagon at Spurn Head, England, October 1922.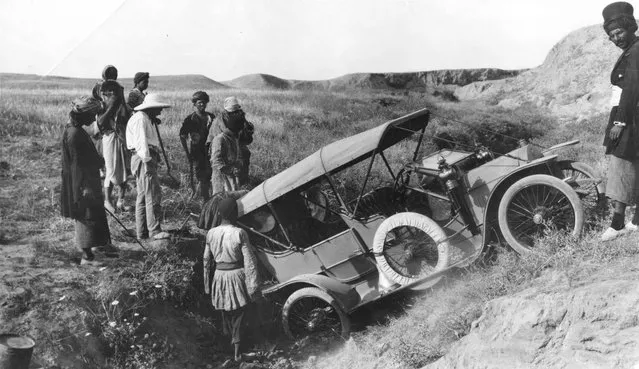 A car ends up in a ditch after being driven off the road, somewhere in Persia, circa 1925.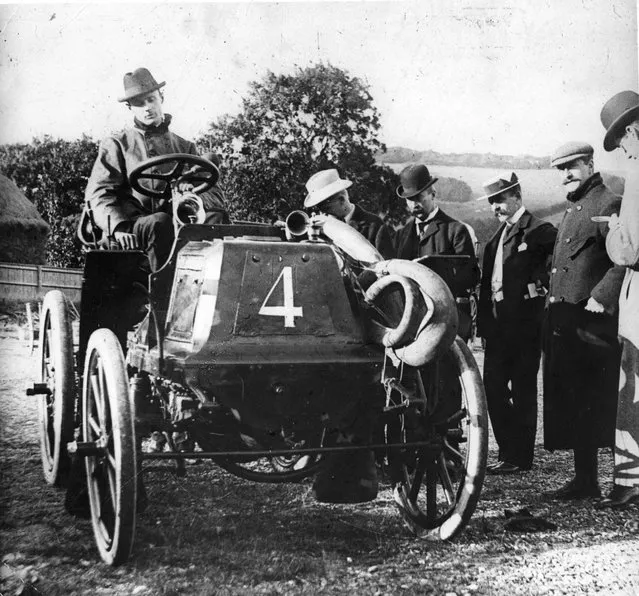 British motoring pioneer, Charles Stewart Rolls (1877–1910), in his first racing car, the 8hp Panhard Lavassor, built in 1898 and fitted with pneumatic tyres, 1899.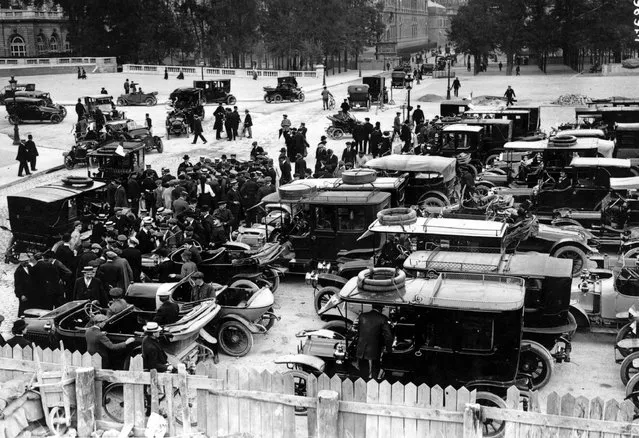 Commandeered private automobiles for army usage parked in Paris, 1914.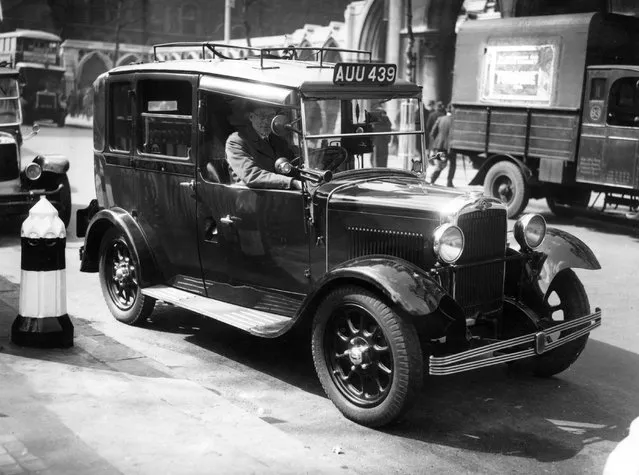 A Morris Commercial taxi-cab and its driver. 11th April 1935.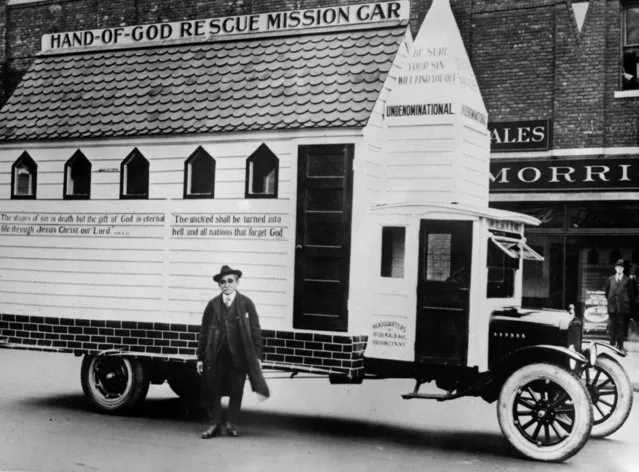 Herman Frics, one-time saloonkeeper and now evangelist and principal supporter of the Hand Of God Mission of Brooklyn, New York, with the church on wheels, which he takes into the city's slums to preach, circa 1925.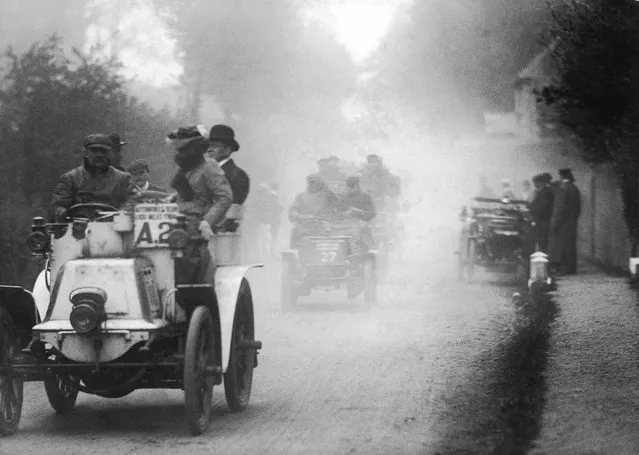 Pioneer motorist and aviator Frank Hedges Butler in his Panhard car, followed by Mr Astell in a New Orleans, a mile outside St. Albans on the return leg of the Automobile Club 1,000 mile trial, 1900. (Photo by Edgar Scamell)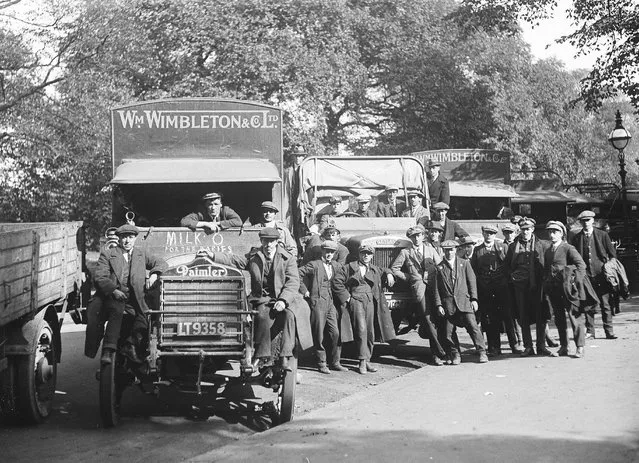 Daimler and Leyland lorries which are being used for deliveries during the railway strike. 3rd October 1919. (Photo by A. R. Coster)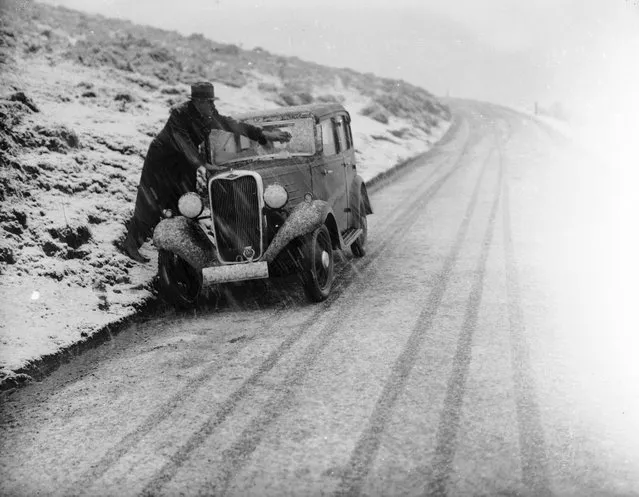 A driver on the Horseshoe Pass in North Wales wiping the snow from the windscreen of his car during a heavy snow storm, 18th January 1937. (Photo by Norman Smith)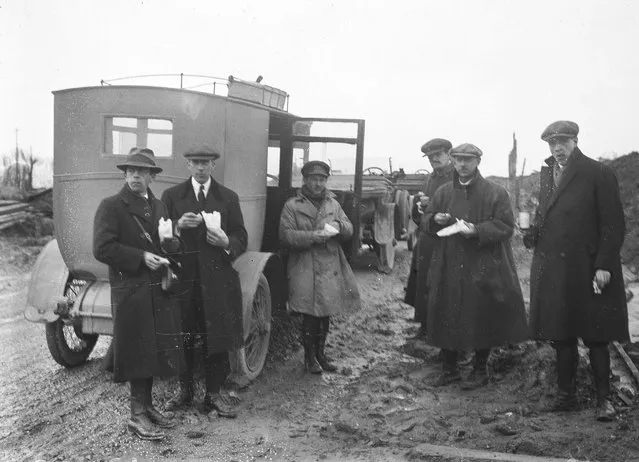 A group having lunch on the Guilivant road, where the allies first held up the German advance, September 1919.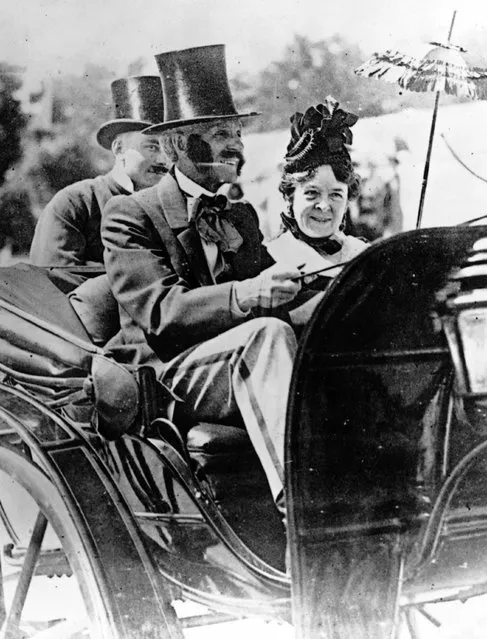 American inventor, industrialist and motor car pioneer Henry Ford (1863–1947) driving an 1860 Pageant motor car whilst his wife Clara sits beside him.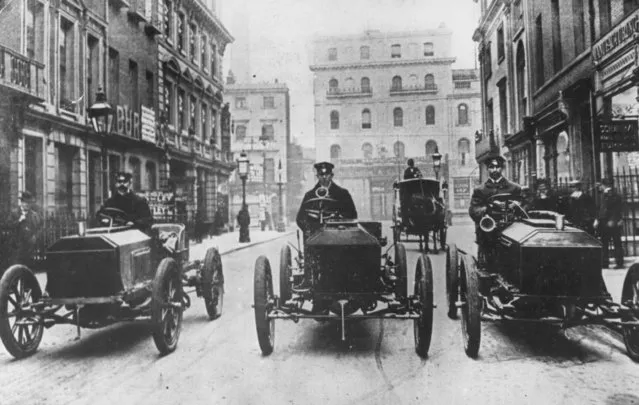 The Napier team for the Gordon Bennett motor car race of 1903 (left to right) Stock, Farrott and Edge.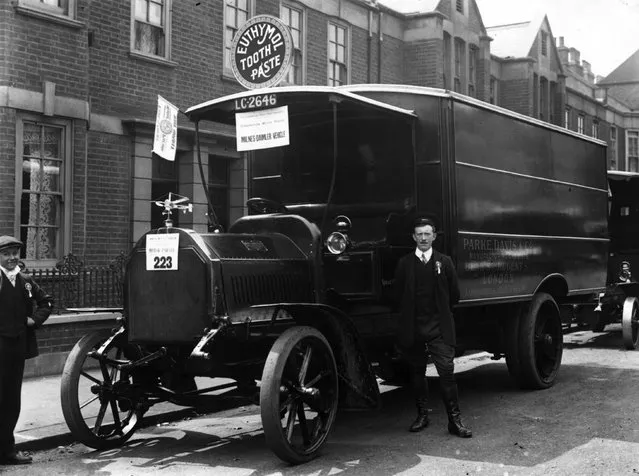 A Milnes Daimler lorry at Earls Court, London, June 1911.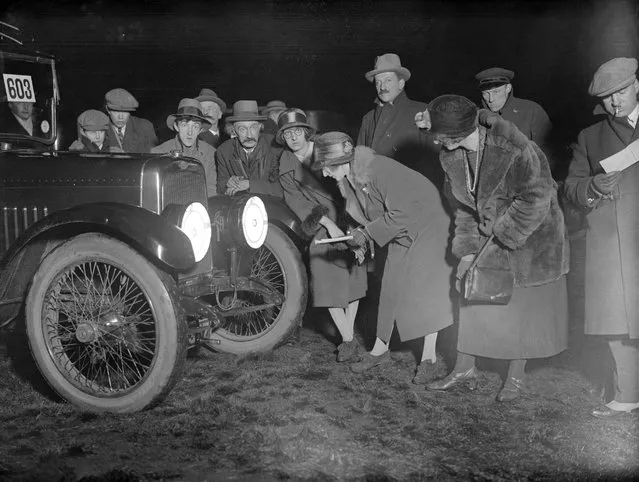 Motorists inspect a device designed to reduce dazzle from a vehicle's headlights. Here fitted on an Austin, 1925. (Photo by MacGrego)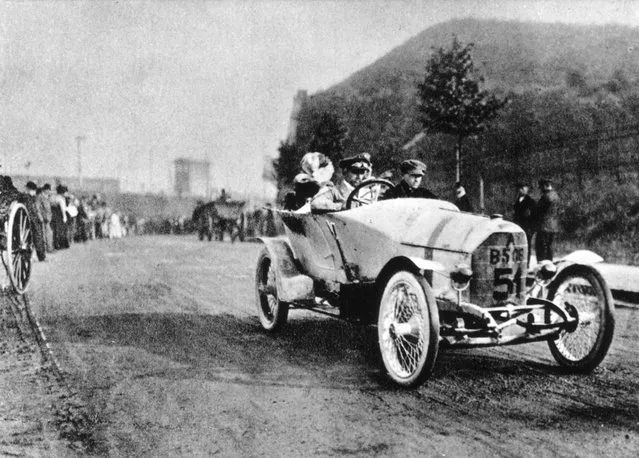 German racing driver and engineer Ferdinand Porsche (1875–1951) driving an Austro Daimler at the Prince Henry Trial, 1910. (Photo by Keystone)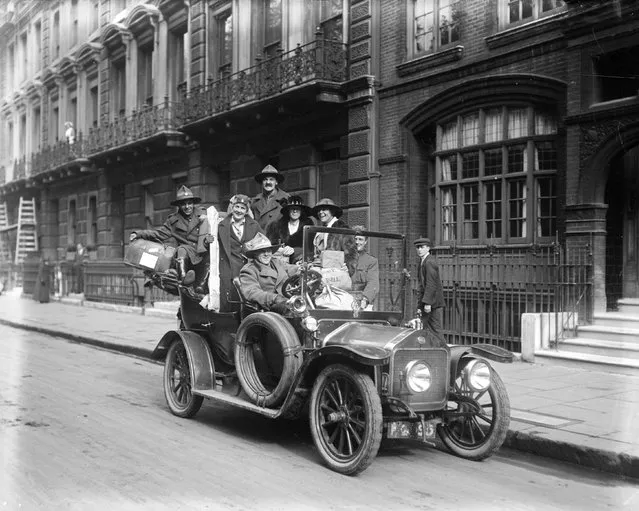 New Zealanders leaving by car to catch the boat during the railway strike, October 1919. (Photo by Davies)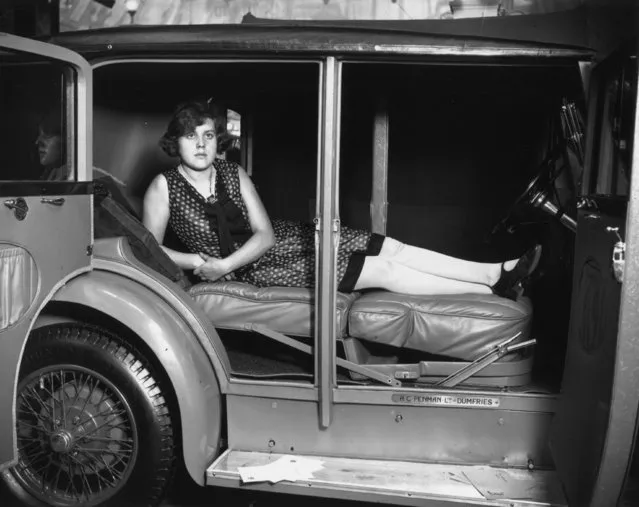 A camping car at the Motor Show, Olympia, showing how the inside can be adjusted to make a bed. Built by A. C. Penman Ltd of Dumfries. 17th October 1929. (Photo by Edward G. Malindine)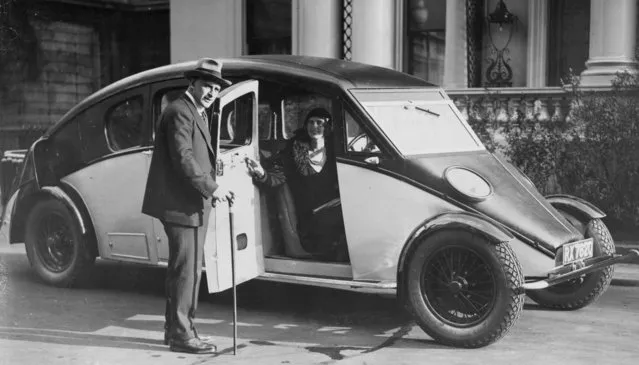 The R-100 Streamline car with its designer Sir Denniston Burney, 1931. (Photo by Evening Standard)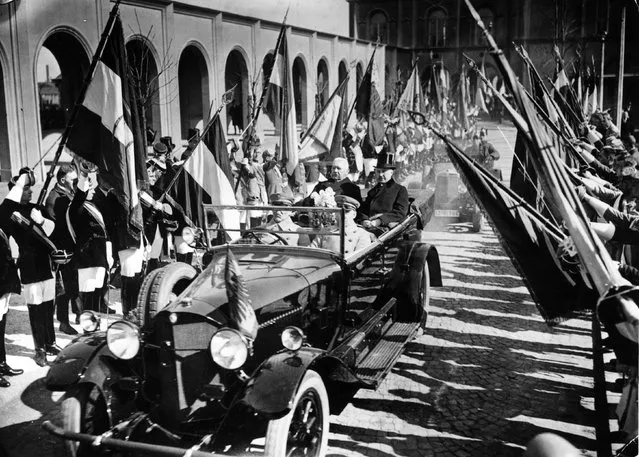 President Hindenburg of Germany (1847–1934) driving through the streets of Cologne with the Burgomaster Dr. Konrad Adenauer (1876–1976), March 1926. (Photo by Grandery)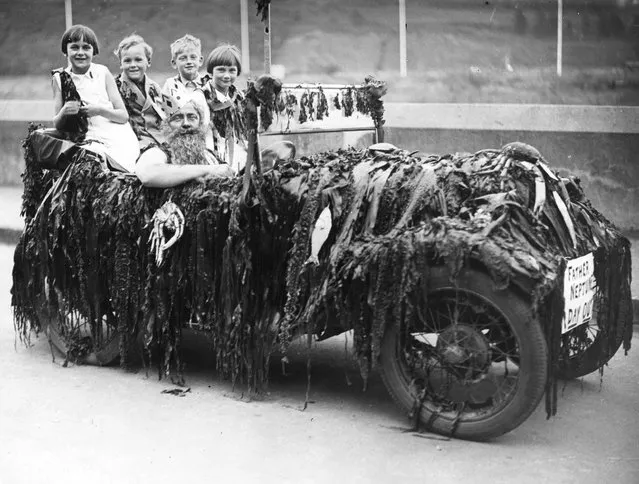 Children sitting in the back of an Austin Seven car driven by a man dressed as King Neptune, in the procession to celebrate the opening of Dartmouth's Carnival Week. 13th July 1936.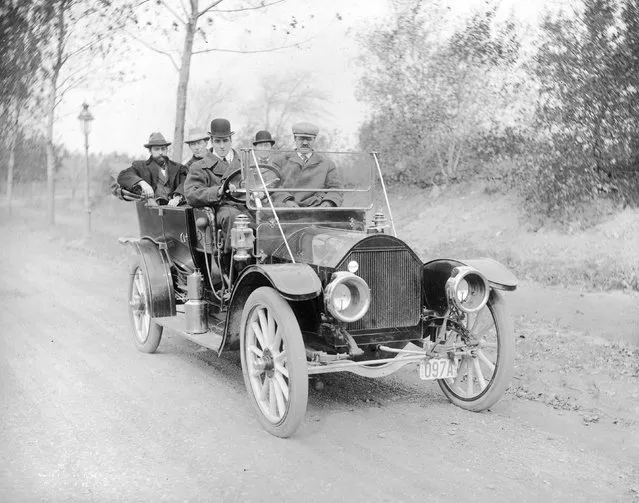 Aviation pioneer Claude Grahame-White (1879–1959) at the wheel of a motor car during the filming of a Western film, with other members of the cast as passengers, 1910.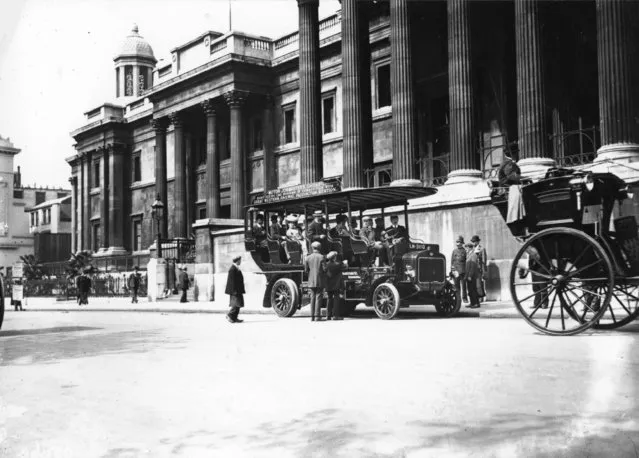 A Great Western Railway sightseeing charabanc outside the National Gallery, London, circa 1910.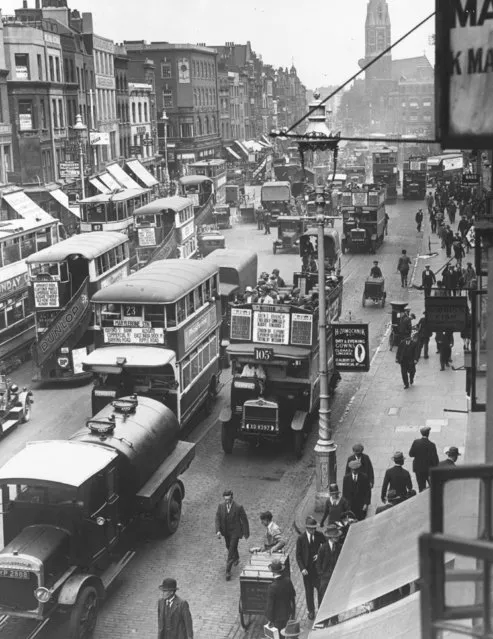 Traffic scene at Shoreditch, East London, 1929.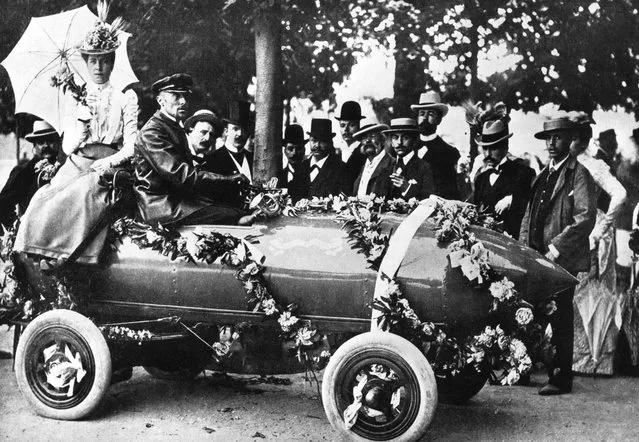 Laurels for Camille Jenatzy (in driver's seat), the first man to exceed 100 kph (62 mph) at Acheres, near Paris. The car, christened "Jamais Contente", was an electric vehicle of his own design, 1899.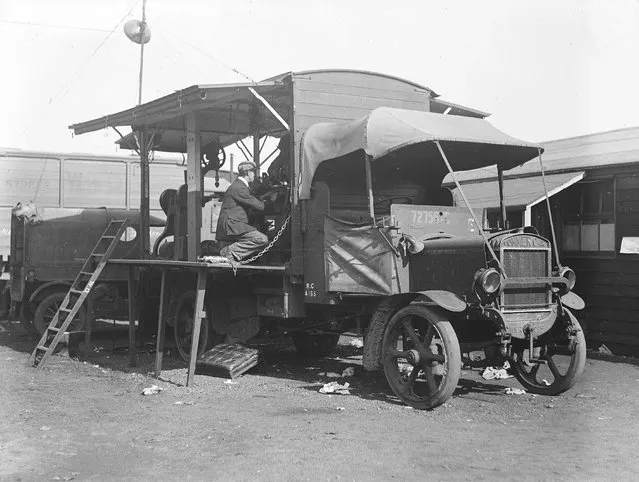 A mobile car repair shop during the railway strike. 3rd October 1919. (Photo by A. R. Coster)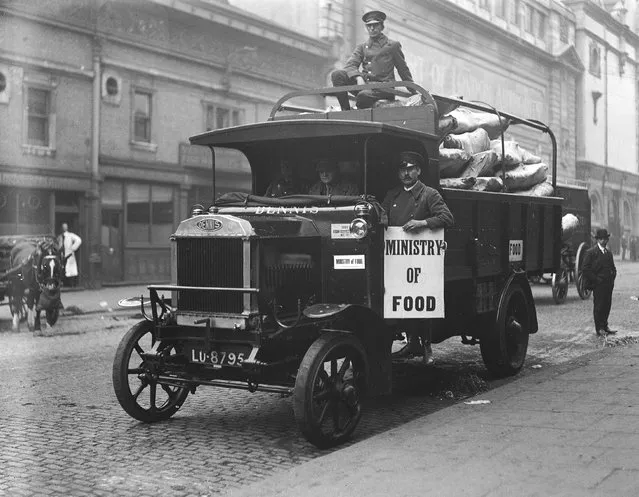 A Ministry of Food lorry loaded with beef at Smithfield market, London, during the railway strike, October 1919.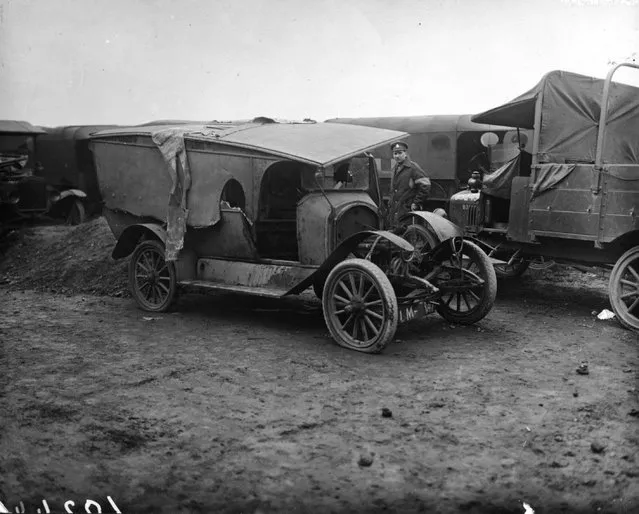 A motor sale at Hendon, March 1919.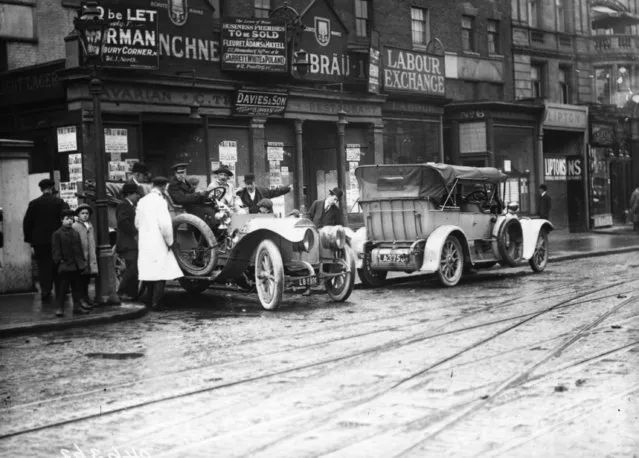 Competitors setting off from Pentonville on the "Challenge Tyre Company" Motor Tyre Testing Trip to Brighton, 1912.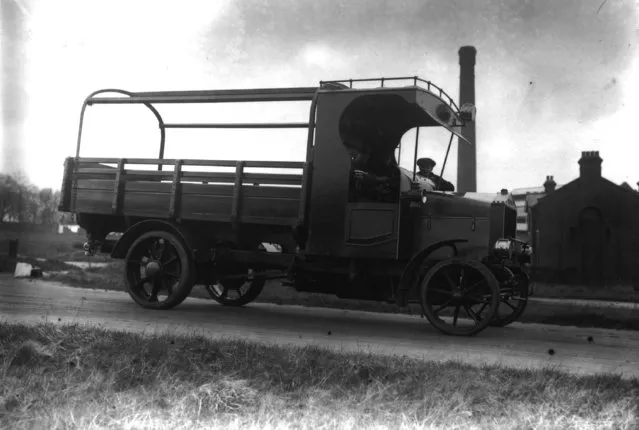 An early example of a commercial lorry. 9th January 1913.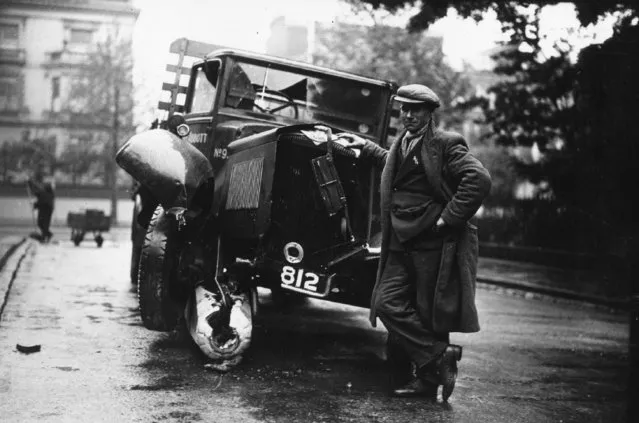 A driver leaning on his wrecked lorry, after he collided, and destroyed, a bollard in Holland Park, London, 25th May 1935. (Photo by J. A. Hampton)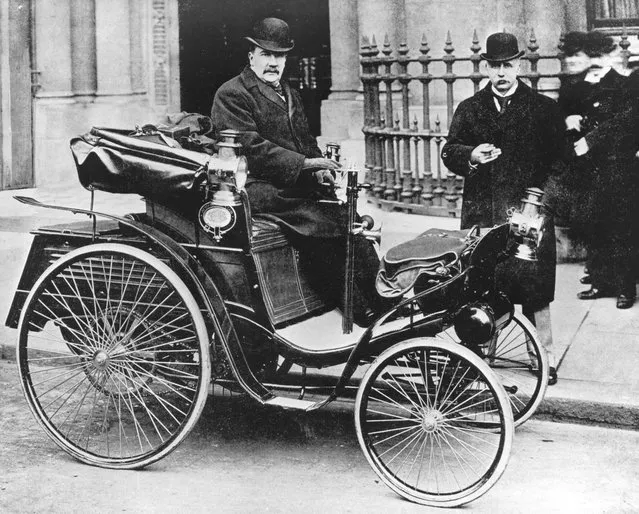 Pioneer motorist and aviator Frank Hedges Butler driving his Benz car, 1898.
A contestant in a midget motorcycle race, left, beside a man riding a motorcycle, September 1923.
PART I
PART II
PART III
PART IV
PART V
PART VI
PART VII
PART VIII