"A skydiver has made history by smashing the world record for the highest skydive after leaping from 128,097ft (39,044m).

Daredevil Felix Baumgartner ascended to the edge of space in a pressurised capsule suspended beneath a giant helium balloon. He then jumped out, freefalling for four minutes and 19 seconds before opening his parachute.

The 43-year-old Austrian also broke the record for the highest manned balloon flight after riding with the capsule 24 miles above New Mexico.

He also achieved the fastest freefall after reaching a top speed of 834mph (1,342km/h) and broke the sound barrier".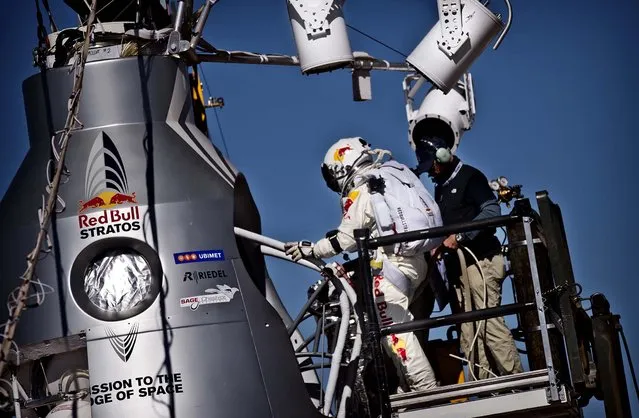 Baumgartner steps into the capsule on October 9, 2012. (Photo by Balazs Gardi/Red Bull Stratos)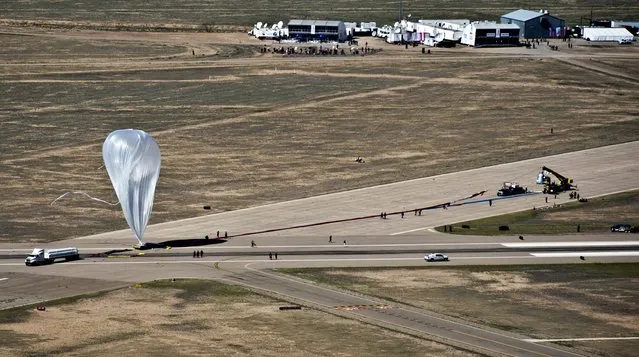 The 55-story, ultra-thin helium balloon that was to carry Baumgartner to his 24-mile free fall twists in the wind on October 9, 2012. A 25 mph gust of wind rushed so fast that it spun the still-inflating balloon as if it was a giant plastic grocery bag, and the jump was postponed. (Photo by Predrag Vuckovic/Red Bull Stratos)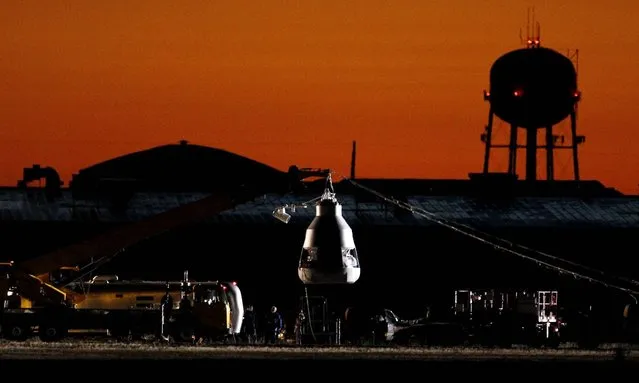 As the sun rises on Sunday, October 14, workers prepare at the launch site for the rescheduled mission. (Photo by Ross D. Franklin/Associated Press)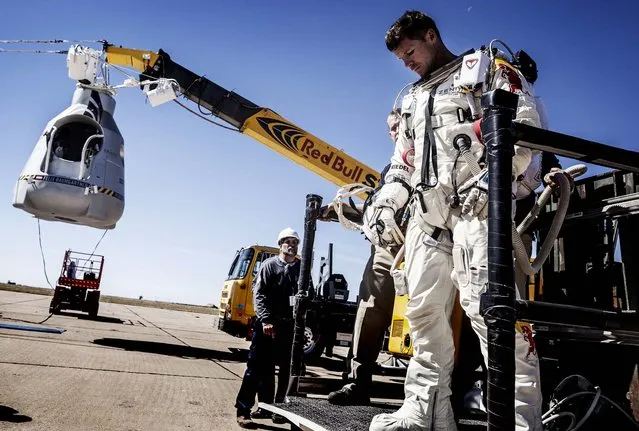 Baumgartner leaves the capsule after his mission was aborted. (Photo by Balazs Gardi/Red Bull Stratos)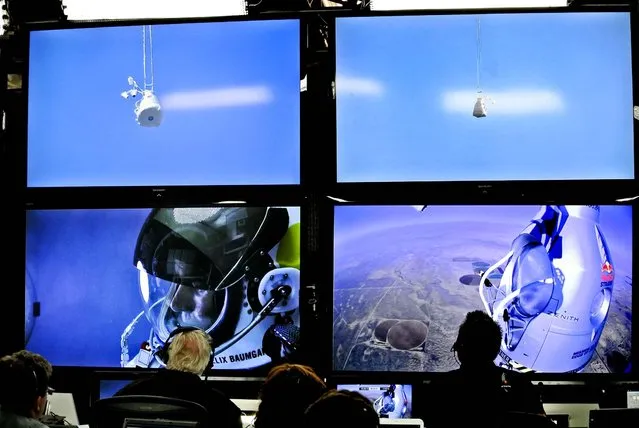 Baumgartner is seen on a screen at the project's mission control center as the balloon ascends. (Photo by Stefan Aufschnaiter/Red Bull)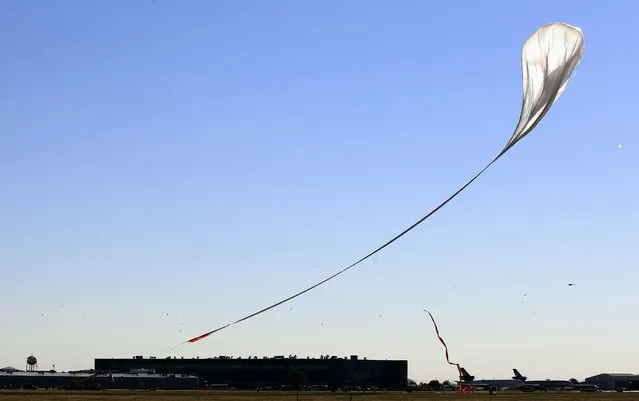 The weather was fine Sunday, and the capsule and attached helium balloon carrying Baumgartner lifts off as scheduled. (Photo by Ross D. Franklin/Associated Press)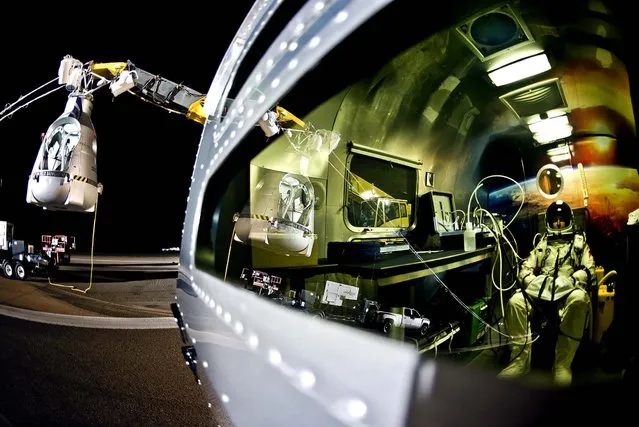 Baumgartner sits in his trailer as he waits to go aloft Sunday. (Photo by Joerg Mitter/Red Bull Stratos)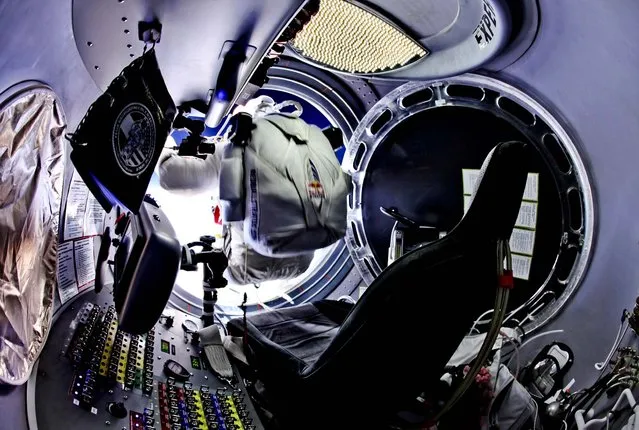 24 miles up, Baumgartner prepares to jump from the capsule. (Photo by Jay Nemeth/Red Bull Stratos)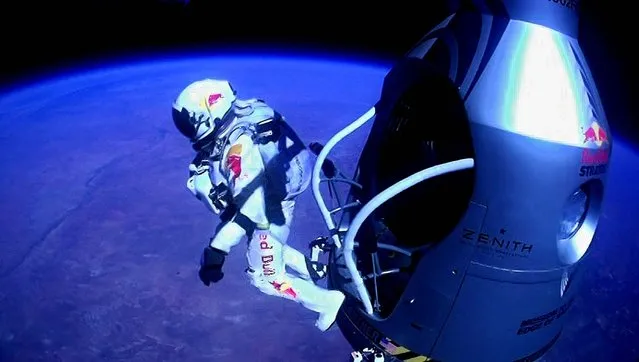 Baumgartner jumps out of the capsule during the final manned flight for Red Bull Stratos. Baumgartner shattered the sound barrier while making the highest jump ever. (Photo by Red Bull Stratos)
Crew members at mission control watch the jump. (Photo by Joerg Mitter/Red Bull)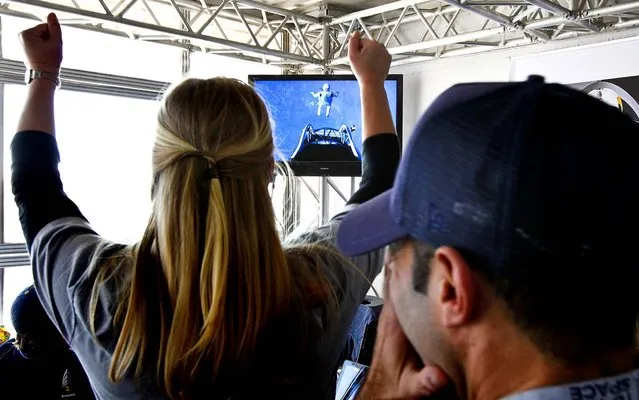 Project team members cheer as Baumgartner leaps out of the space capsule. (Photo by Ross D. Franklin/Associated Press)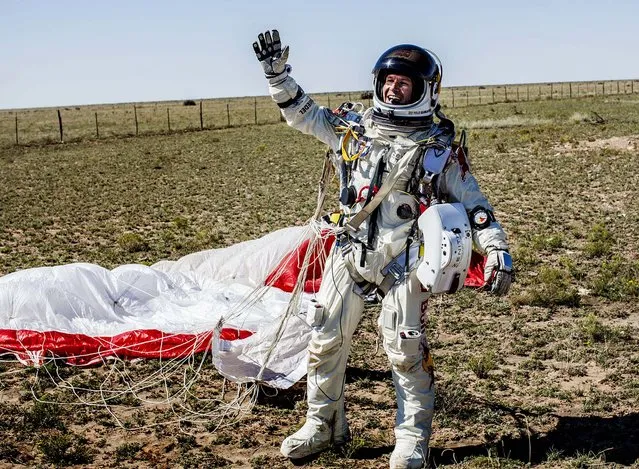 Baumgartner celebrates after successfully completing the jump. (Photo by Balazs Gardi/Red Bull Stratos)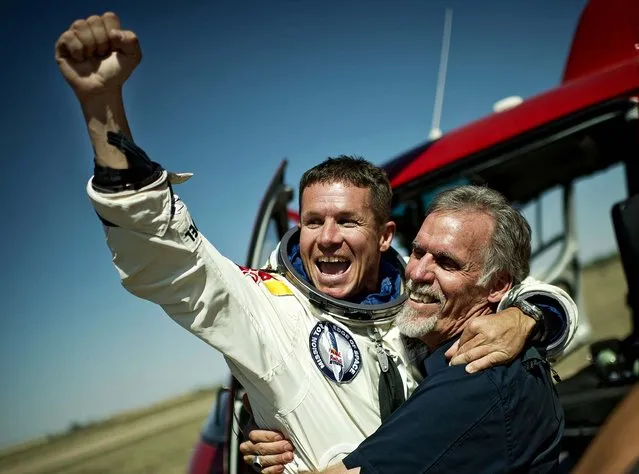 Baumgartner and Technical Project Director Art Thompson embrace after successfully completing the final manned flight for Red Bull Stratos in Roswell. (Photo by Joerg Mitter/Red Bull Stratos)