Stephen Webster is a world renowned jewelry designer, who opened his first store in London in 1994, and in just 14 years had 20 international boutiques. This designer is most famous for his steam punk, rock and roll, and gothic styles of fine jewelry. His latest collection is named "The Seven Deadly Sins", in which he has created seven cocktail rings, each of which depicts one of the seven vices. Each of the deadly sins is instantly recognizable in the shape and form of the rings, with Lust being the most beautiful ring of this set (in our opinion). Despite their beauty, few people would be daring enough to wear one of such rings. Who would want to share their sins with the world? Who would be arrogant enough?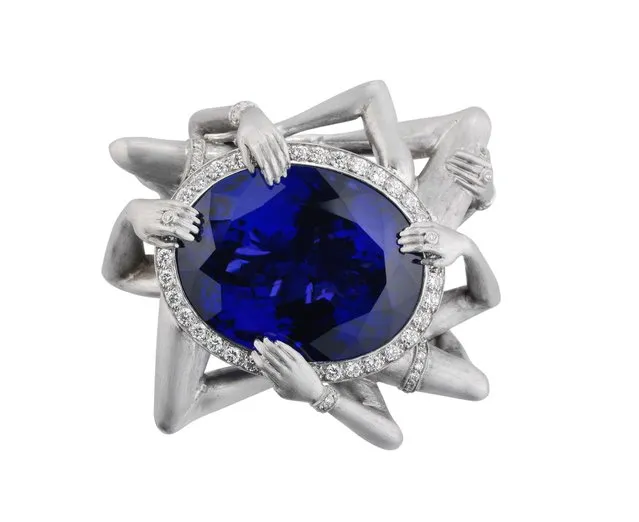 LUST
– 18 ct. white gold ring, pave set with white diamonds and a tanzanite oval siz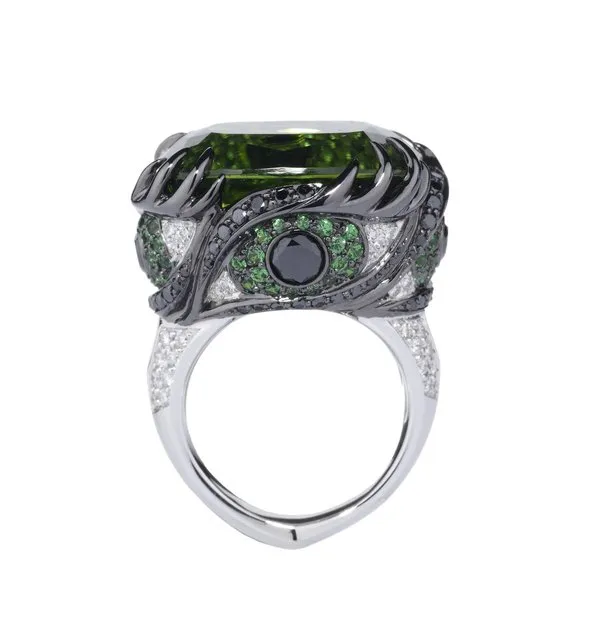 ENVY
– The green eye of envy is all seeing. (18ct White Gold Ring, pave set with Black and White Diamonds, Tsavorites and Green Tourmaline.)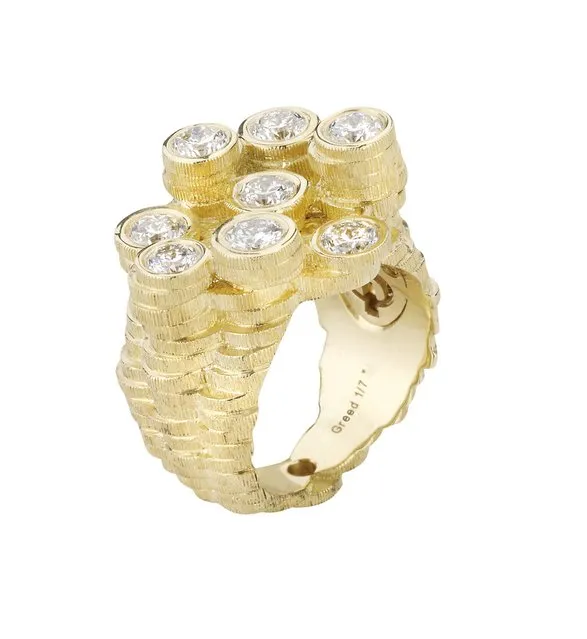 GREED
– A desire that burns, inciting desperate hands to grasp gratuitously. 18ct White Gold Ring, pave set with White Diamonds and Tanzanite.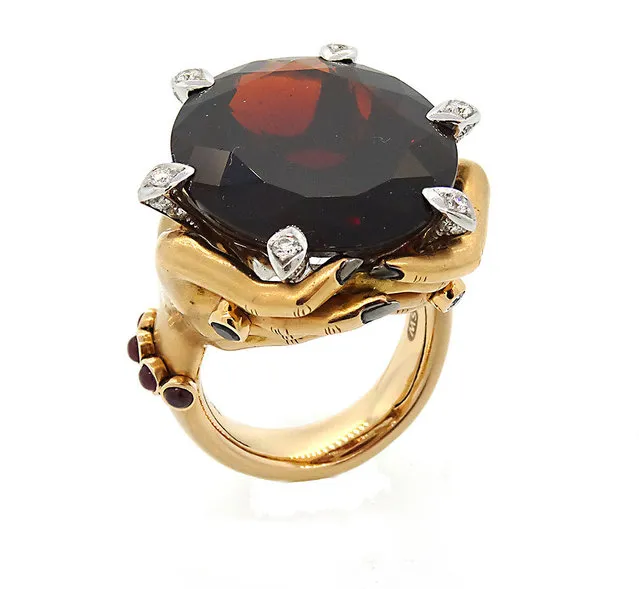 WRATH
– Red rage is offered in a guise by the hand that provokes the spark. 18ct Rose Gold Ring, set with White Diamonds, Rubies and Red Garnet.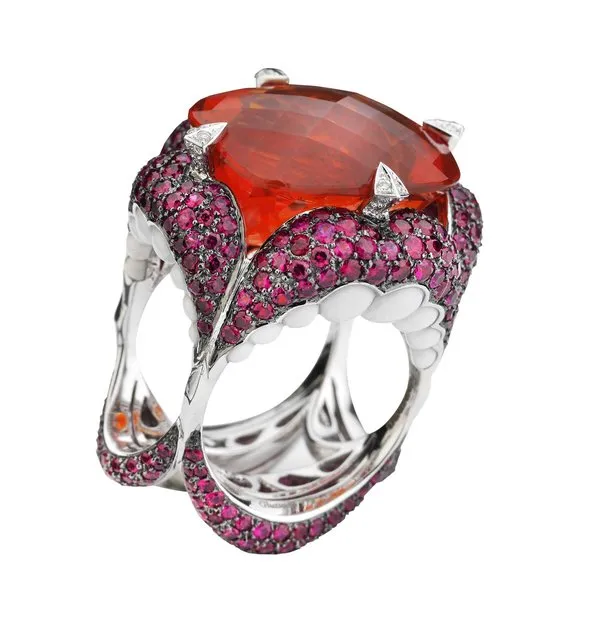 GLUTTONY
– In its gaping glory the gargantuan mouth remains unsatisfied. 18ct White Gold Ring, pave set with Rubies, White Agate Inlay and Fire Opal.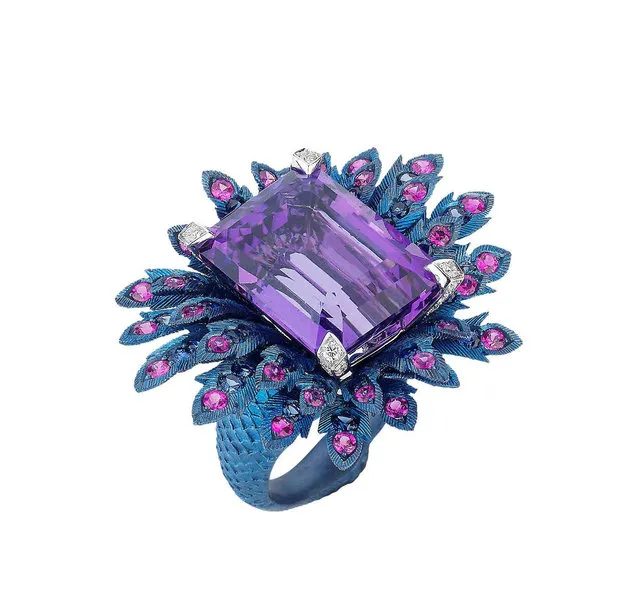 PRIDE
– Blue titanium ring set with white diamonds, pink sapphires and a big amethyst with rectangular size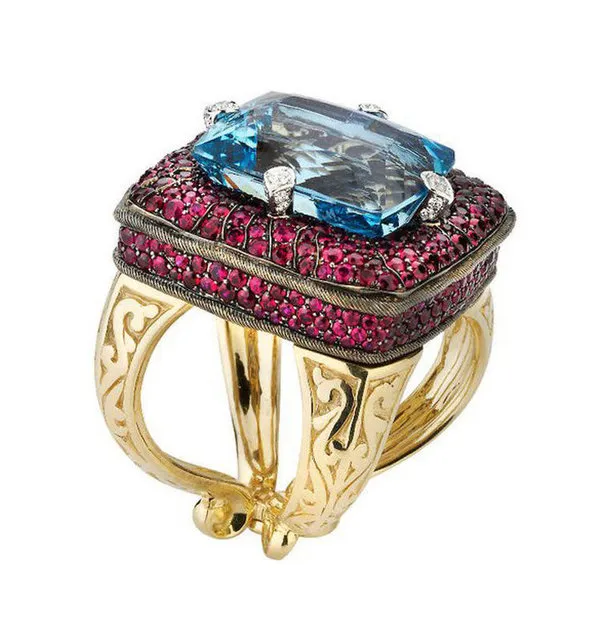 SLOTH
– A plush pink pillow of passivity absorbs wasted talents and gifts. (18ct Yellow Gold Ring, pave set with White Diamonds, Blue Topaz and Enamel Inlay.)
Stephen Webster