"Four FEMEN activists staged a topless protest against Putin in Brussels on Friday, shouting "Putin go to hell! Democracy, democracy", AFP reports. The Russian president was in the Belgian capital to attend an EU-Russia summit.
In a statement on its website, FEMEN said it wanted to "drive from the capital of the European Union apocalyptic dwarf Putin and warn EU about the disastrous (sic!) for democracy from close contact with the Kremlin freaks".
The group added: FEMEN calls on the leaders of the European Union to stop immediately political, economic and cultural contacts with Gazprom-Kremlin's dictatorship. FEMEN warns eurobosses that dependence of the gas pipe will bring Europe to the economic collapse, the abolition of visas for Russians threatens Europe with cultural Armageddon, and political appeasement before Putin threatened with the Customs Union.
According to Agence France Presse, Brussels' police detained the four activists after mere minutes". – Eline Gordts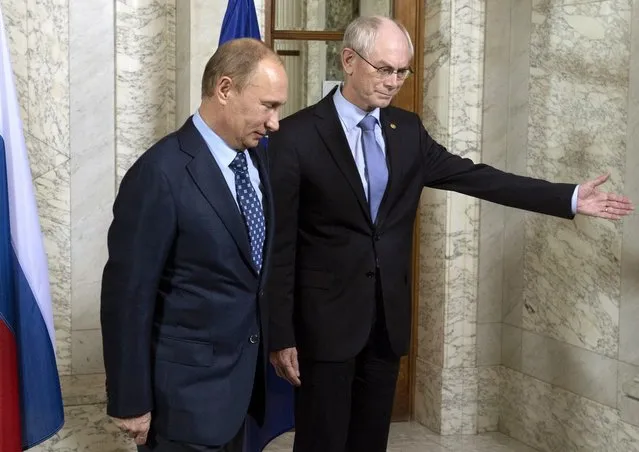 EU Council President Herman Van Rompuy (R) shows the way to Russia's President Vladimir Putin as they meet in Brussels, on December 20, 2012. Putin arrived yesterday in Brussels to take part in a working session of the 30th EU-Russia summit at EU headquarters. (Photo by Sergei Guneyev/AFP Photo/RIA-Novosti)
Activists of Ukraine's feminist movement Femen is taken away by the police as she demonstrates by the EU Council building where the EU-Russia summit is taking on December 21, 2012 in Brussels, Belgium. (Photo by Georges Gobet/AFP Photo)