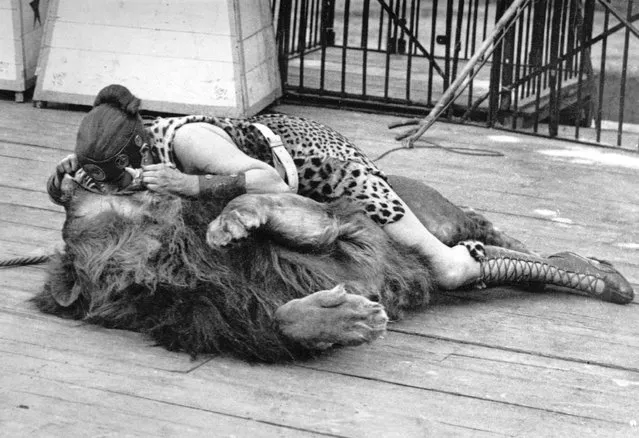 A woman circus performer, dressed in a leopard skin gladiator costume, places her head in a lion's mouth, 1900.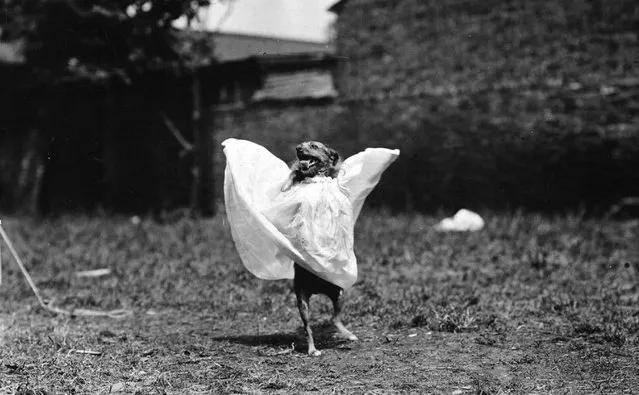 A performing dog wearing a dress and walking on hind legs. 1st June 1907.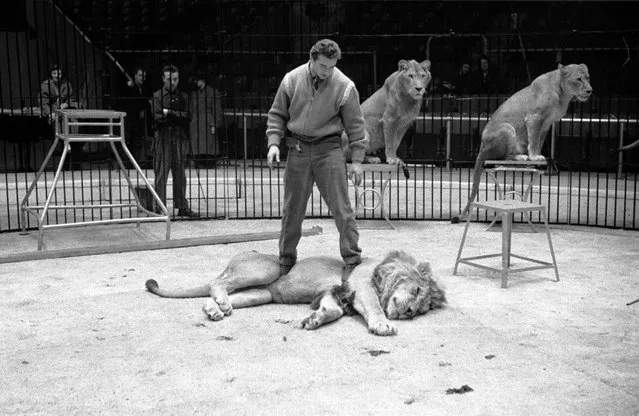 Trainer Joe Clavall aka "Tarzan" subdues one of his twelve Atlas lions and lionesses whilst rehearsing for a show by Jack Hylton's circus at Earl's Court in London. 16th January 1954. (Photo by Maurice Ambler)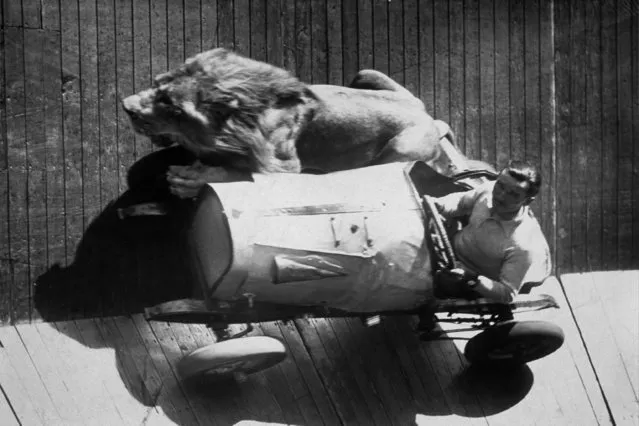 Mr. Egbert taking his five year-old lion for a ride on the wall of death at Mitcham fair, 1935.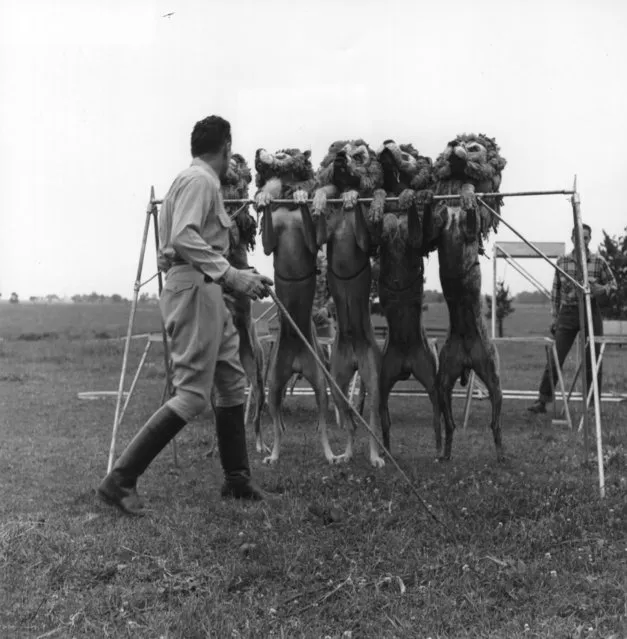 Animal trainer Robert Baudy with a group of boxer dogs that he has dressed and trained to perform like circus lions, circa 1956. (Photo by Don)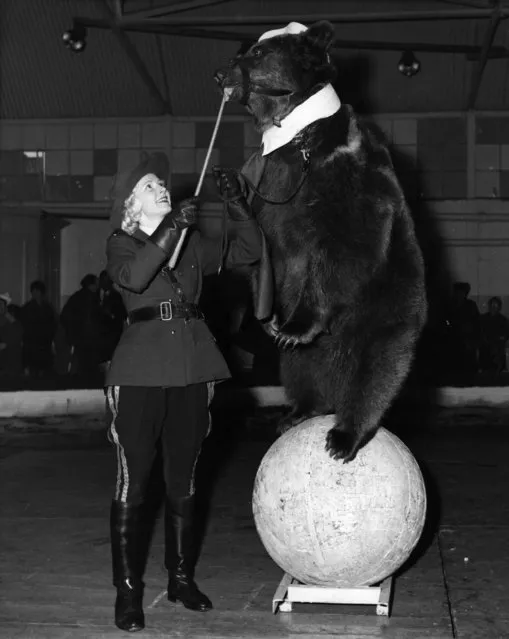 Joan Kruse, stands with a Canadian Brown Bear balancing on a ball. She joined the circus at the age of 16 as an usherette. She is married to Gosta Kruse, who is Bertram Mills elephant trainer. 27th November 1961.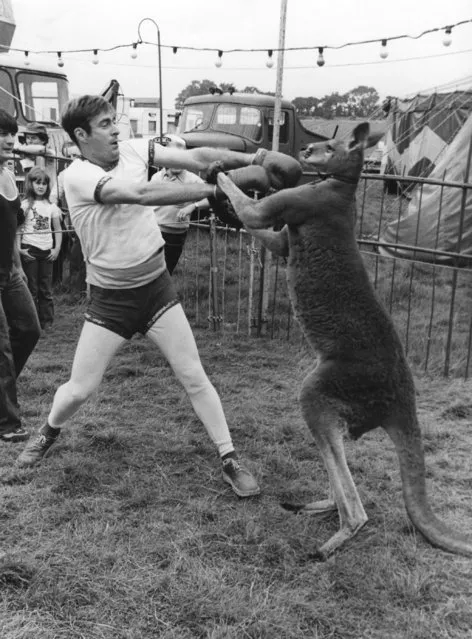 UK radio 1 disc jockey, Paul Gambaccini, takes on a boxing kangaroo at Eastbourne circus. 15th August 1980.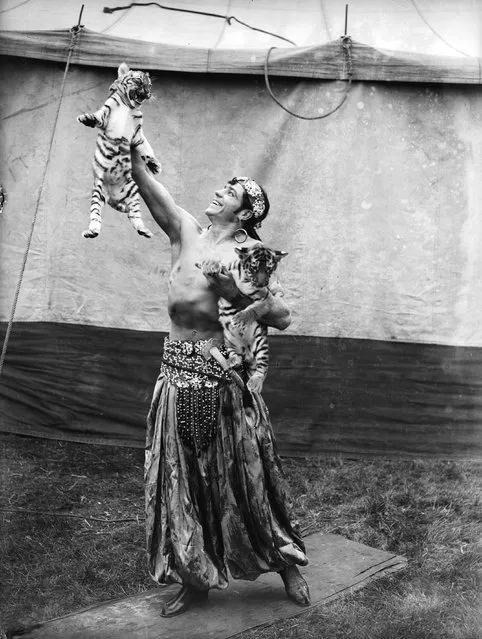 Togare playing with two tiger cubs at the Bertram Mills Circus in Hull, August 1934.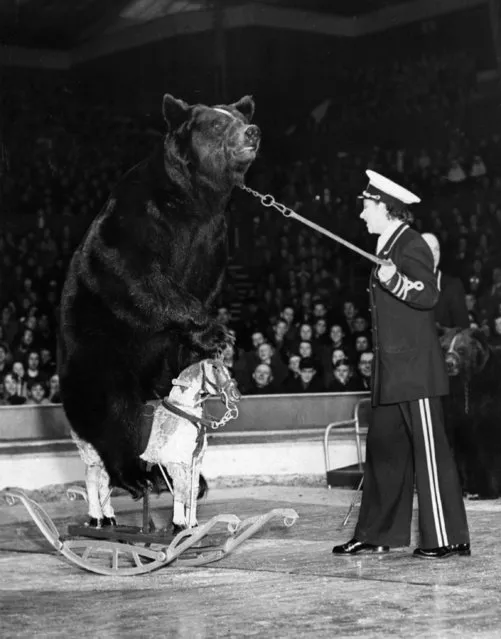 One of the performing bears at the Circus of Olympia balances on a child's rocking horse to the delight of the crowd. 18th December 1951.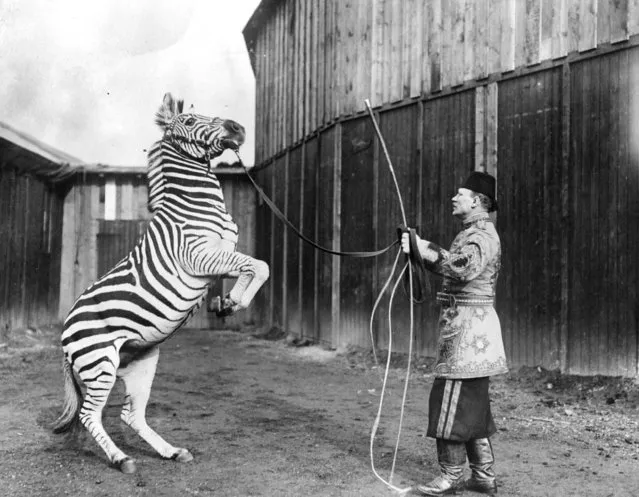 A circus performer trains a zebra to stand on its hind legs, circa 1920.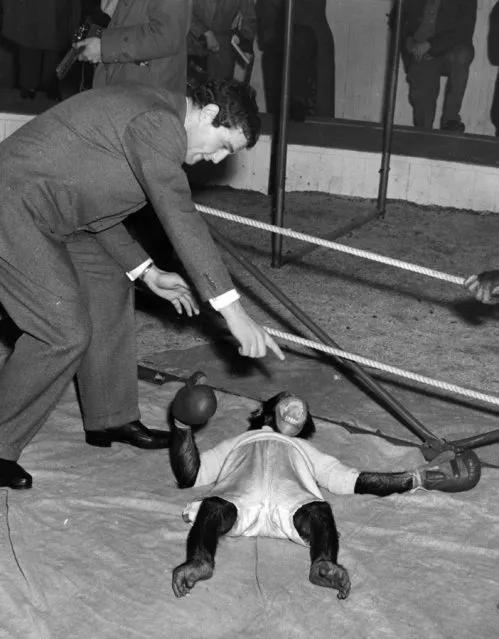 Ron Barton the boxer counts out a chimp during the chimp boxing match being rehearsed at the Bertram Mills Winter quarters in Ascot, December 1955.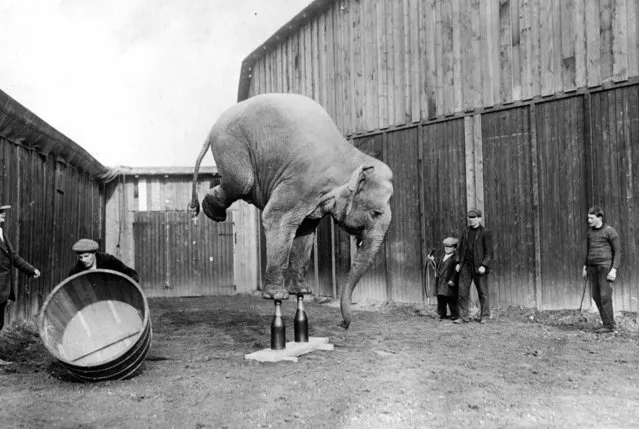 A circus elephant balances on its front legs, circa 1920.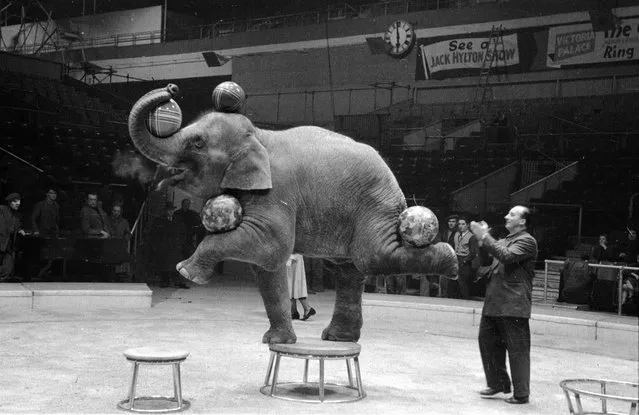 A performing Indian elephant balances four balls on its trunk, head and feet during a rehearsal for a show by Jack Hylton's circus at Earl's Court in London. 16th January 1954. (Photo by Maurice Ambler)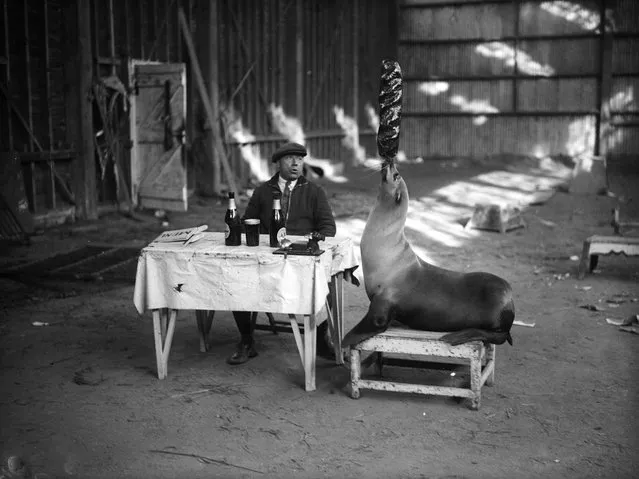 A performing seal practises one of its feats for the "crazy restaurant" routine at the Sangers Circus Revue in Reading. The animal sits at table next to its co-performer and juggles with the food and utensils. 24th March 1932.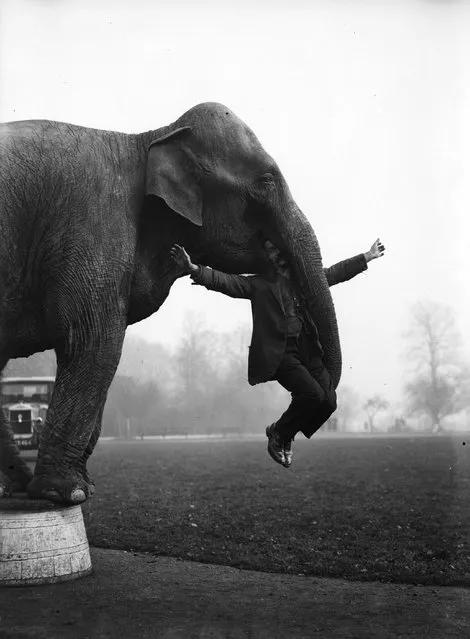 Dixie the elephant from Whipsnade Zoo performs part of her repertoire learnt with Bostock's Circus with her keeper George Braham. 8th February 1932.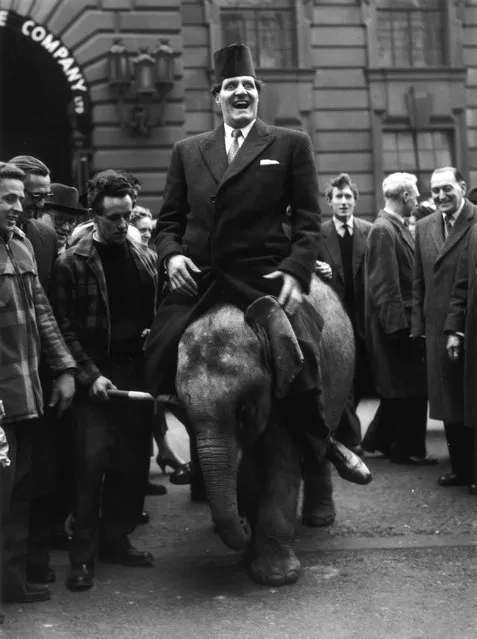 Comic conjuror Tommy Cooper (1922–1984), wearing his trade-mark fez, riding Pioneer, a three year old elephant from Billy Smart's circus, to the opening of a joke and tricks shop in High Holborn. 23rd February 1959. (Photo by Keystone)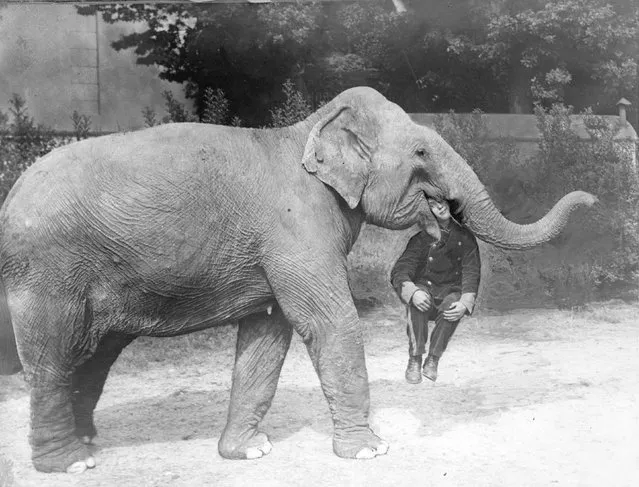 An elephant from Earl's Court Circus with a man in its mouth, 1928.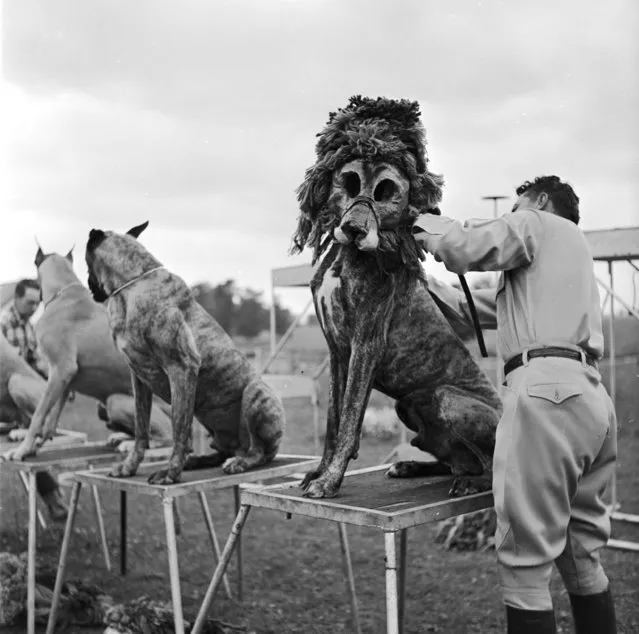 Animal trainer Robert Baudy dresses boxer dogs as lions. The special lion masks worn by his dogs save him the cost and the danger of working with real lions, 1956. Audiences seem to like it as much as the real thing too. (Photo by Don)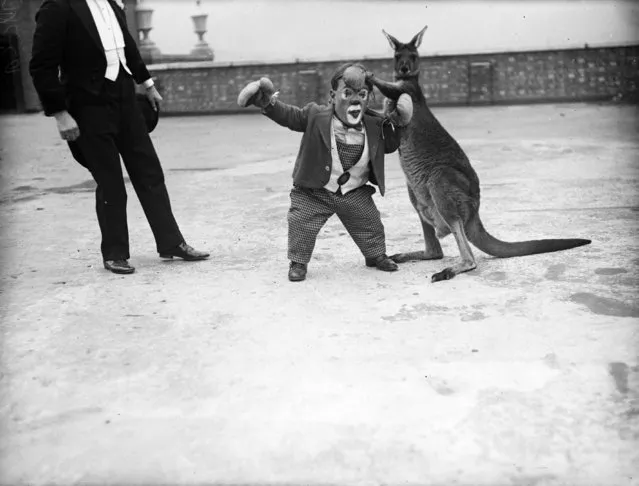 Six Foot, a midget circus performer tries a practice round with a boxing kangaroo before a show at Kingston-on-Thames. 8th December 1932.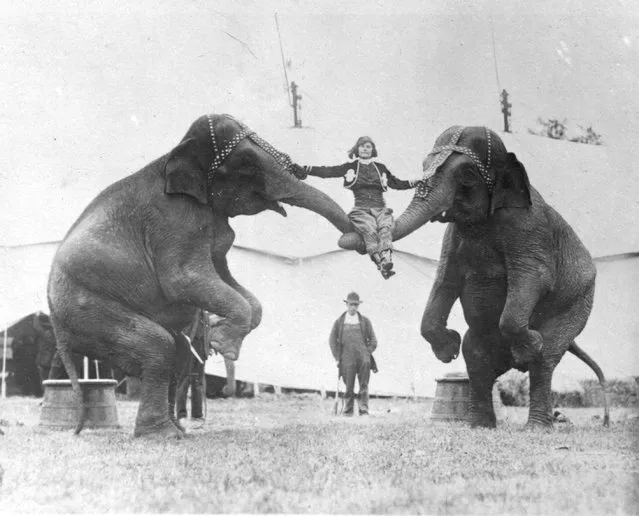 A woman sitting on the trunks of two elephants, while rehearsing her circus act, circa 1924.