"Venezuela's food shortages, inflation and crumbling medical sector have become such a source of anguish that a growing number of young women are reluctantly opting for sterilisations rather than face the hardship of pregnancy and child-rearing. Traditional contraceptives like condoms or birth control pills have virtually vanished from store shelves, pushing women towards the hard-to-reverse surgery. "Having a child now means making him suffer", said Milagros Martinez, waiting on a park bench on a recent morning ahead of her sterilisation at a nearby Caracas municipal health center. The 28-year-old butcher from the poor outskirts of Caracas decided on the operation after having an unplanned second child because she could not find birth control pills. Her daily life revolves around finding food: she gets up in the middle of the night to stand in long lines outside supermarkets, sometimes with no choice but to bring along her baby son, who has been sunburnt during hours-long waits. "I'm a little scared about being sterilised but I prefer that to having more children", said Martinez, who with dozens of other women took a bus from the slums at 4 a.m. to attend a special "sterilisation day" in this wealthy area of Caracas.
While no recent national statistics on sterilisations are available, doctors and health workers say demand for the procedure is growing. The local health program for women in Miranda state, which includes parts of Caracas, offers 40 spots during these "sterilisation days" but as recently as last year did not usually fill them. Now all the slots are scooped up and some 500 women are on the waiting list, according to program director Deliana Torres. "Before, the conditions for this program were that the women be low-income and have at least four kids. Now we have women with one or two kids who want to be tied up", she said. The trend highlights how the oil-rich nation's brutal recession is forcing people to make difficult choices. Venezuela is a largely Roman Catholic country where Church doctrine rejects all forms of contraception and abortion is banned unless a woman's life is at risk. But Venezuela's crisis has triggered almost daily riots for food and slammed a shrinking middle class as well as the poor who were once a bastion of support for late leftist leader Hugo Chavez's self-styled "beautiful revolution".
Pregnant women are particularly affected as they struggle to find adequate food and supplements, give birth in crowded and under-equipped hospitals, and have to spend hours in lines for scarce diapers, baby food and medicines. "Sometimes we hear: 'My husband told me to get sterilised because another child now wouldn't be practical'", said social worker Ania Rodriguez at family planning group PLAFAM in central Caracas. Rodriguez says she meets with up to five women a day seeking sterilisations, up from one or two per week about a year ago. When women seem unsure or pressured into sterilisations, Rodriguez tries to steer them towards contraceptives like intra-uterine devices, which are somewhat more available and affordable than birth control pills or condoms. When they have them, pharmacies sell a pack of three condoms for around 600 bolivars, only 60 U.S. cents at the black market rate but a big expense for those who earn the minimum wage of some 33,000 bolivars per month. On the Caracas re-sale market, those same condoms fetch around 2,000 bolivars. Venezuela's elite can afford those prices but the ailing middle class and poor are increasingly stuck.
Amid what now feels like a distant oil boom, Chavez built thousands of Cuban-staffed health centres in poor neighbourhoods and also launched popular maternity-health programs during his 1999-2013 rule. But with Venezuela's state-led economic model decaying and oil prices depressed, hospitals have deteriorated sharply under his successor Nicolas Maduro. Medicine shortages hover around 85 percent, according to a leading pharmaceutical association. Equipment ranging from surgical gloves to incubators is scarce, and many underpaid doctors have left the public sector or emigrated. The government still says it has one of the world's best health systems and accuses detractors of waging a smear campaign. It has stopped releasing timely health data, though. The World Health Organization says Venezuela's neo-natal mortality rate was 8.9 per 1,000 live births last year, above the Americas region's average of 7.7. It says Venezuela's maternal mortality rate was 95 per 100,000 live births in 2015, one of the worst rates in Latin America and up from 90 in 2000. The nation of 30 million people has one of Latin America's highest rates of teenage pregnancies and large numbers of single-parent households, U.N. data shows". – Alexandra Ulmer via Reuters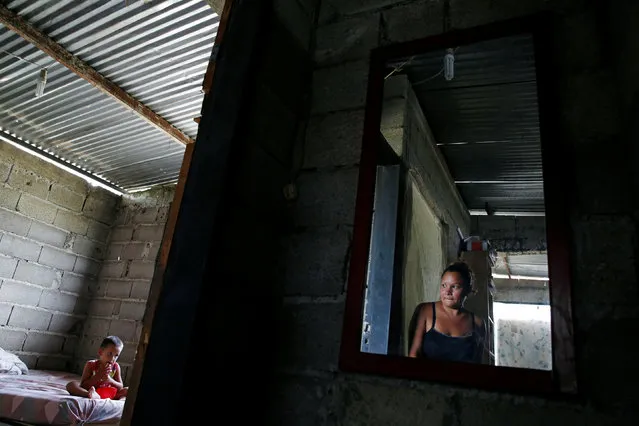 Venezuela's food shortages, inflation and crumbling medical sector have become such a source of anguish that a growing number of young women are reluctantly opting for sterilizations rather than face the hardship of pregnancy and child-rearing. Traditional contraceptives like condoms or birth control pills have virtually vanished from store shelves, pushing women towards the hard-to-reverse surgery. While no recent national statistics on sterilizations are available, doctors and health workers say demand for the procedure is growing. Here: Oleydy Canizalez (R), 29, looks at her son Luis, 3, while he eats lunch, before her sterilization surgery, at their home in Charallave, Venezuela July 7, 2016. (Photo by Carlos Garcia Rawlins/Reuters)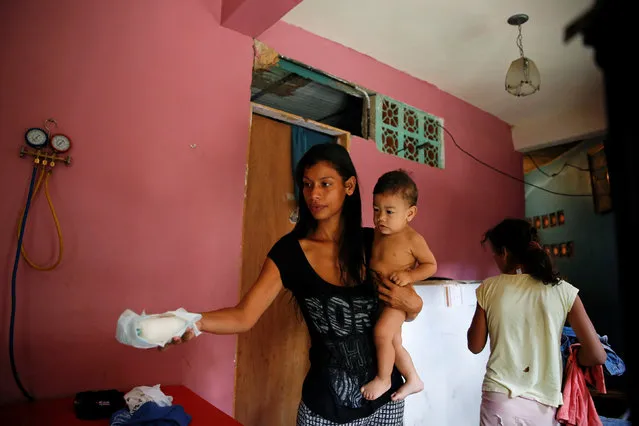 Geraldine Rocca, 29, carries her son Jeremy, ahead of her sterilization surgery in Caracas, Venezuela July 20, 2016. (Photo by Carlos Garcia Rawlins/Reuters)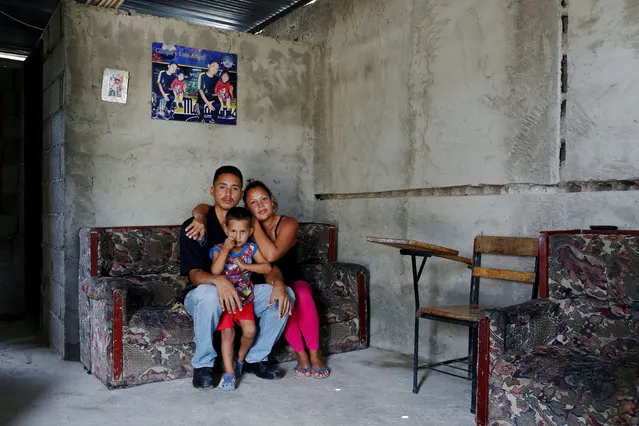 Oleydy Canizalez, 29, poses for a picture with her husband Julio Espinoza, 28, and her son Luis, 3, before her sterilization surgery, at their home in Charallave, Venezuela July 7, 2016. (Photo by Carlos Garcia Rawlins/Reuters)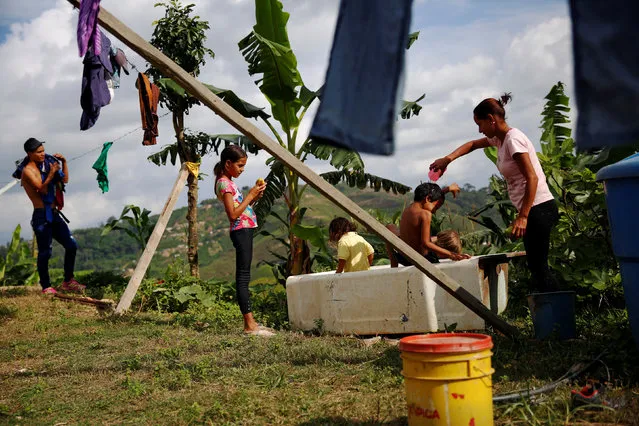 Lisibeht Martinez (R), 30, who was sterilized one year ago, plays with her children in a bathtub in the backyard of their house in Los Teques, Venezuela July 19, 2016. (Photo by Carlos Garcia Rawlins/Reuters)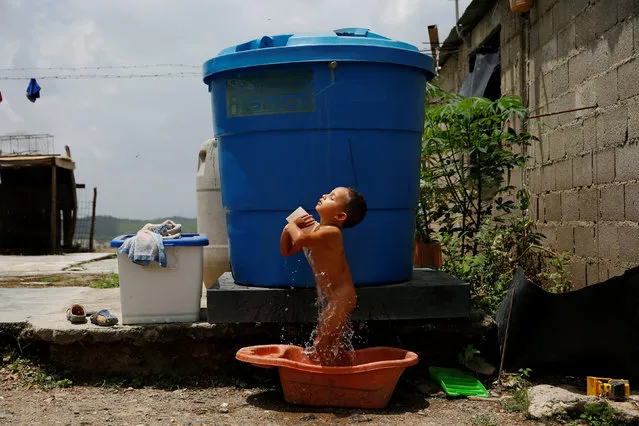 Luis Espinoza, 3, takes a bath next to a water tank, at his home in Charallave, Venezuela July 7, 2016. Luis's mother Oleydy Canizalez plans to have a sterilization surgery. (Photo by Carlos Garcia Rawlins/Reuters)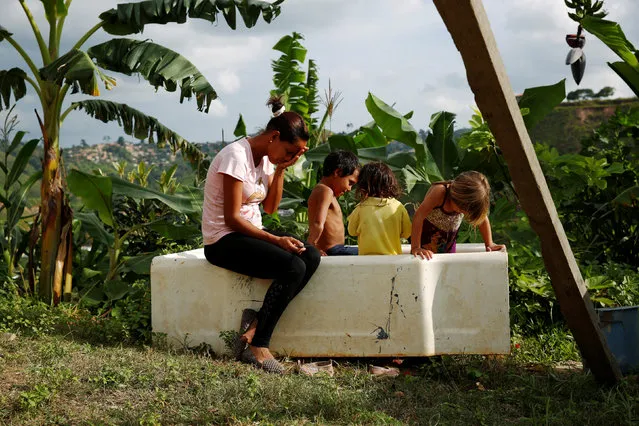 Lisibeht Martinez (L), 30, who was sterilized one year ago, sits next to her children while they play in a bathtub in the backyard of their house in Los Teques, Venezuela July 19, 2016. (Photo by Carlos Garcia Rawlins/Reuters)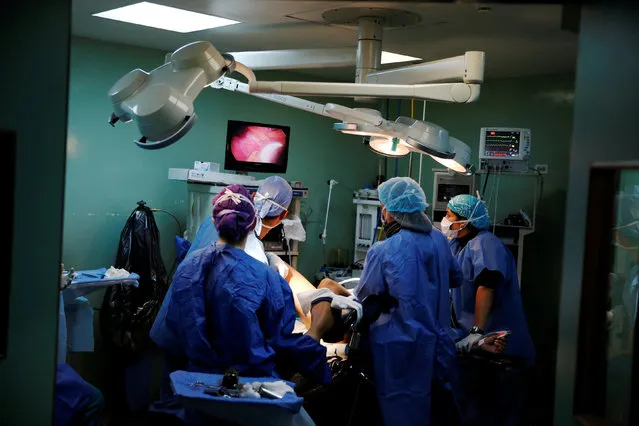 Surgeons carry out a sterilization on a patient in an operating room at a hospital in Caracas, Venezuela July 27, 2016. (Photo by Carlos Garcia Rawlins/Reuters)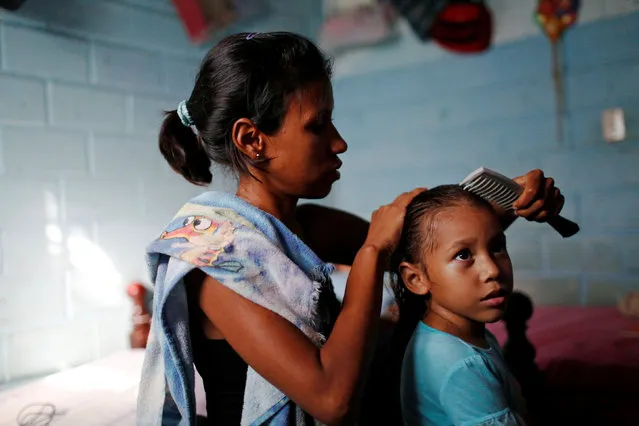 Alejandra Jordan, 30, combs her daughter Valeria's hair at their home in San Francisco de Yare, Venezuela July 11, 2016. (Photo by Carlos Garcia Rawlins/Reuters)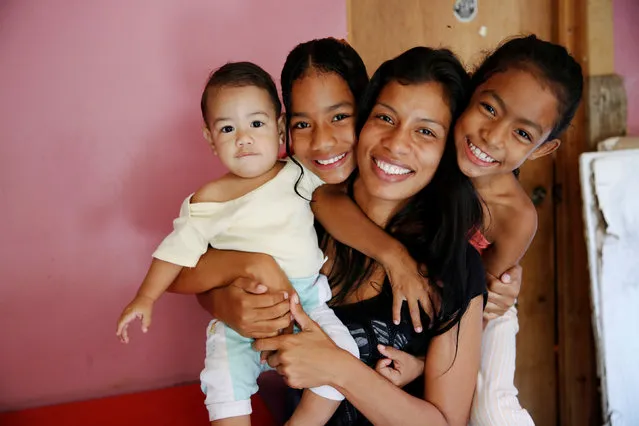 Geraldine Rocca, 29, (2nd R) poses for a picture with her children (L-R) Jeremy, Nicole and Janna, ahead of her sterilization surgery in Caracas, Venezuela July 20, 2016. (Photo by Carlos Garcia Rawlins/Reuters)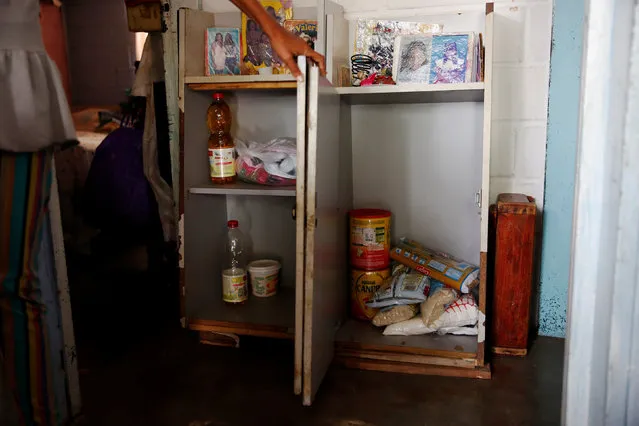 Alejandra Jordan, 30, shows the food she has at home, while she recovers after a sterilization surgery, in San Francisco de Yare, Venezuela July 28, 2016. (Photo by Carlos Garcia Rawlins/Reuters)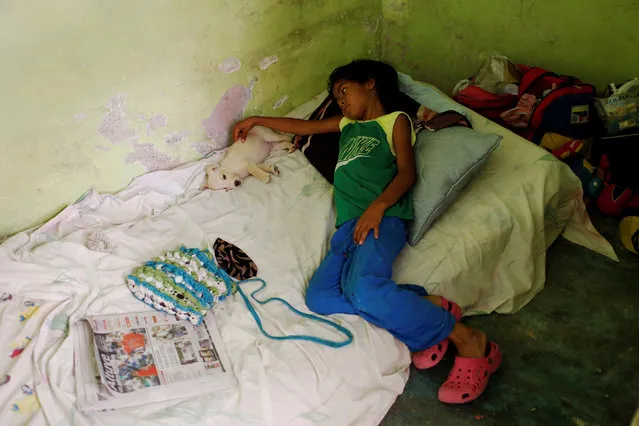 Janna, 7, plays with a puppy while her mother Geraldine Rocca cooks the lunch at her grandmother's house in Caracas, Venezuela July 20, 2016. (Photo by Carlos Garcia Rawlins/Reuters)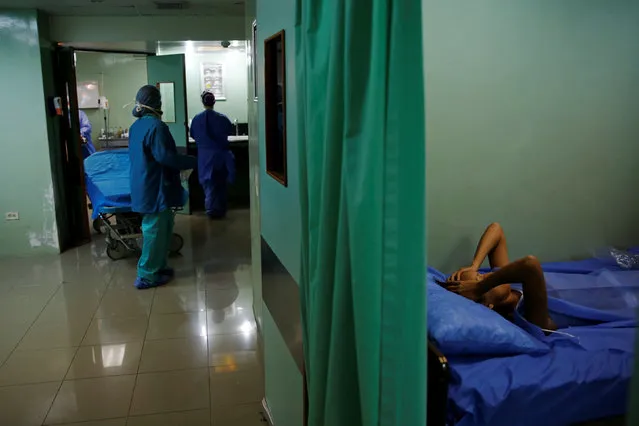 A patient lies in bed while recovers after sterilization surgery in a hospital in Caracas, Venezuela July 27, 2016. (Photo by Carlos Garcia Rawlins/Reuters)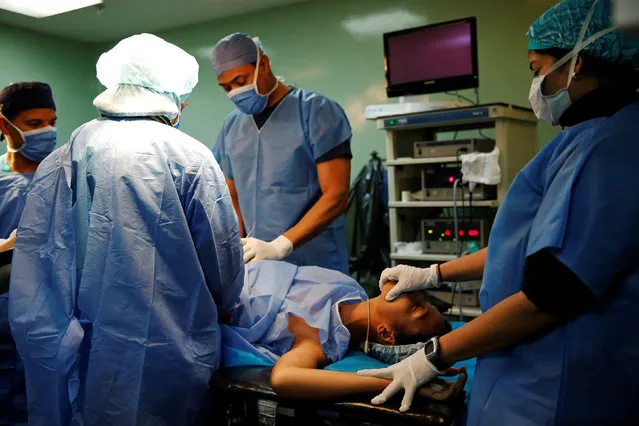 A patient lies on a bed during sterilization surgery in the operating room of a hospital in Caracas, Venezuela July 27, 2016. (Photo by Carlos Garcia Rawlins/Reuters)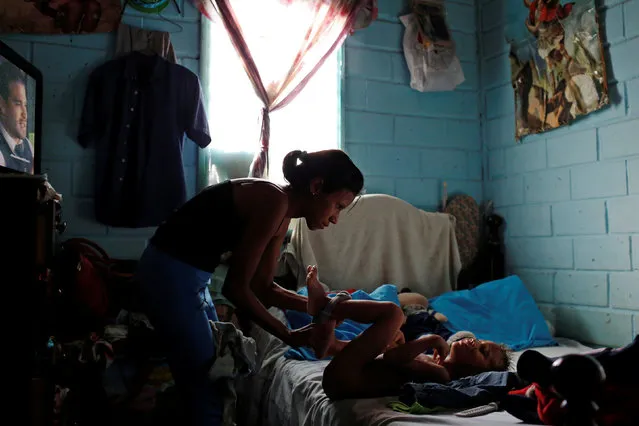 Alejandra Jordan, 30, dresses her son Josue, before her sterilization surgery, at her home in San Francisco de Yare, Venezuela July 11, 2016. (Photo by Carlos Garcia Rawlins/Reuters)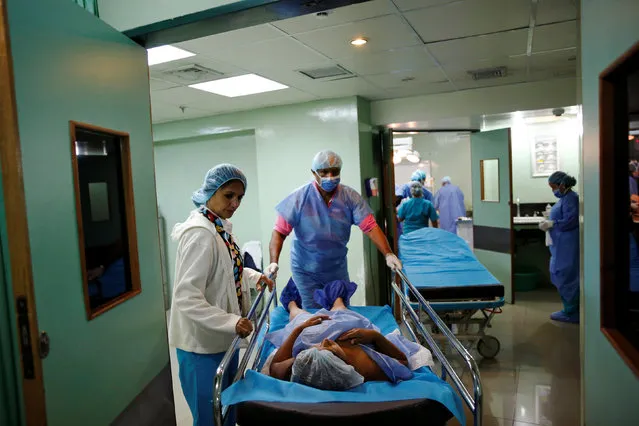 Medical personnel move a woman after her sterilization surgery in the operating room of a hospital in Caracas, Venezuela July 27, 2016. (Photo by Carlos Garcia Rawlins/Reuters)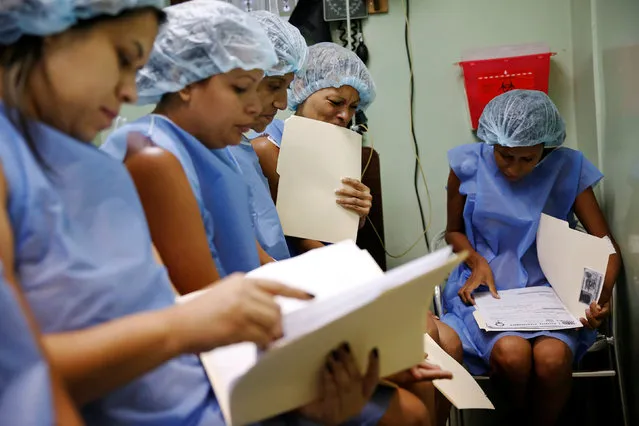 Women wait for sterilization surgery at a hospital in Caracas, Venezuela July 27, 2016. (Photo by Carlos Garcia Rawlins/Reuters)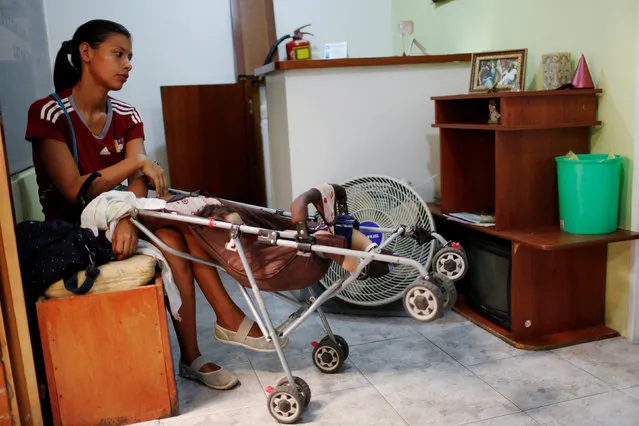 Geraldine Rocca, 29, waits for the results of a pregnancy test before her sterilization surgery in Caracas, Venezuela July 26, 2016. (Photo by Carlos Garcia Rawlins/Reuters)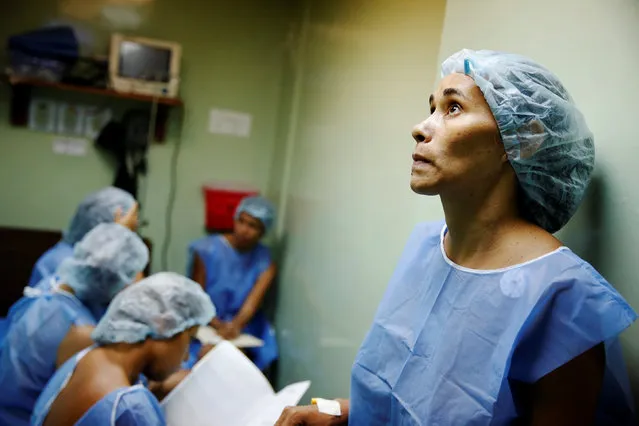 Women wait for sterilization surgery a hospital in Caracas, Venezuela July 27, 2016. (Photo by Carlos Garcia Rawlins/Reuters)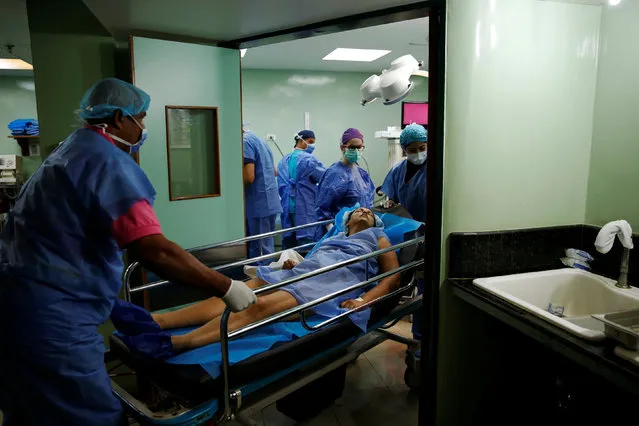 Medical personnel move a woman after her sterilization surgery in the operating room of a hospital in Caracas, Venezuela July 27, 2016. (Photo by Carlos Garcia Rawlins/Reuters)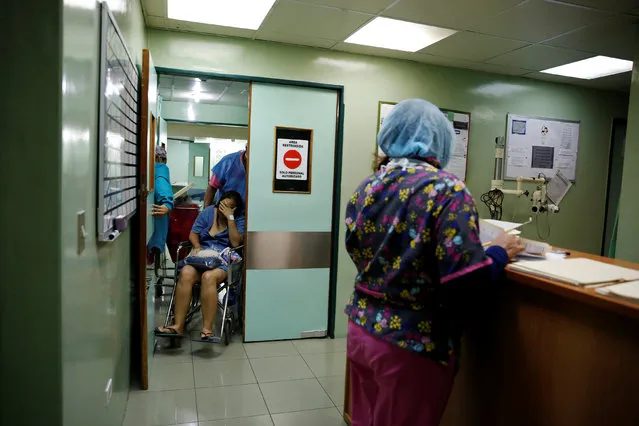 Medical personnel push Emileidy Ojeda, 26, in a wheelchair after a sterilization surgery in a hospital in Caracas, Venezuela July 27, 2016. (Photo by Carlos Garcia Rawlins/Reuters)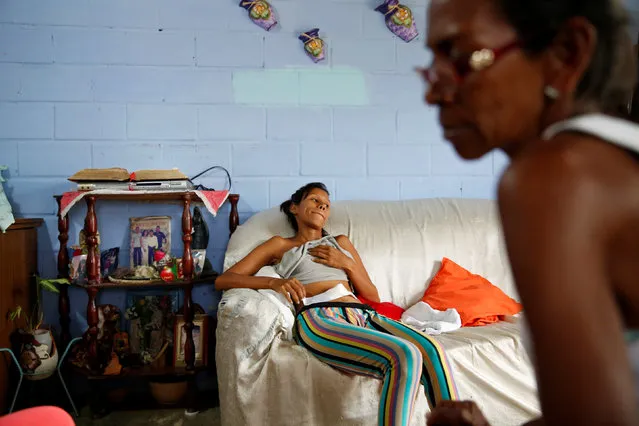 Alejandra Jordan (C), 30, rests on a couch while she recovers after sterilization surgery at her home in San Francisco de Yare, Venezuela July 28, 2016. (Photo by Carlos Garcia Rawlins/Reuters)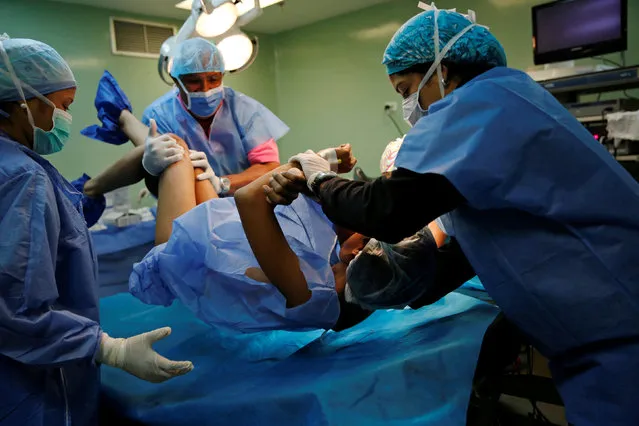 Medical personnel move a woman during her sterilization surgery in the operating room of a hospital in Caracas, Venezuela July 27, 2016. (Photo by Carlos Garcia Rawlins/Reuters)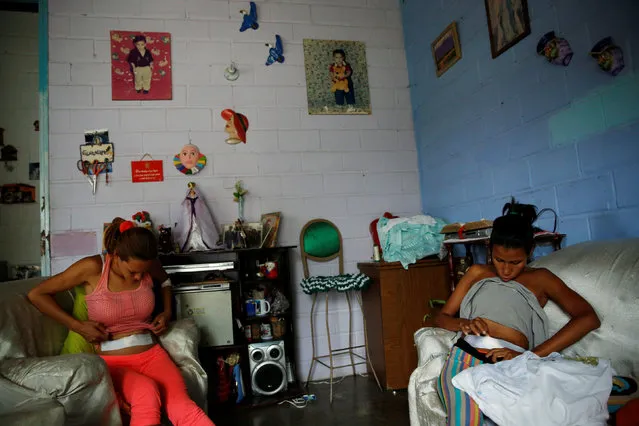 Alejandra Jordan (R), 30, and her sister Andreina Jordan, 34, recover after sterilization surgery at their home in San Francisco de Yare, Venezuela July 28, 2016. (Photo by Carlos Garcia Rawlins/Reuters)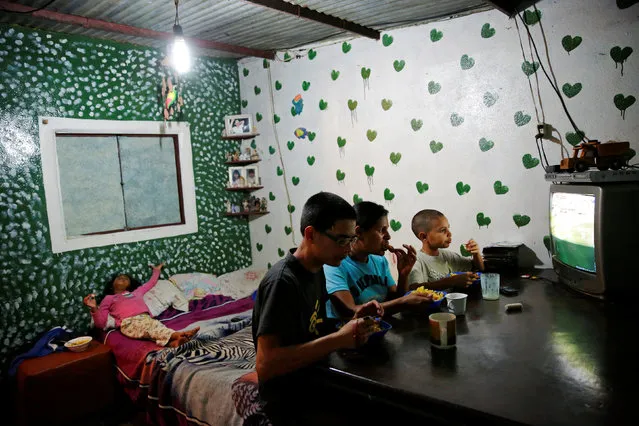 Doris Arocha (C), 30, who was sterilized two months ago, watches television with her children while they eat dinner at their home in San Diego, Venezuela July 19, 2016. (Photo by Carlos Garcia Rawlins/Reuters)