Dating back to the Dutch colonial days, Panjat Pinang is one of the oldest, most popular traditions in Indonesia. Panjat Pinang is a very unique way of celebrating Indonesia's Independence Day. Every year, in towns and villages around the country, tall nut-trees are chopped down and their trunks placed vertically, in the center of each settlement. A wheel full of prizes is placed on top, before the trunk is covered with oil or other lubricants, and young men are invited to try and reach the prizes.

This type of pole climbing was introduced to the Indonesians, by Dutch colonists, who came up with it as a form of entertainment. Every time an important event took place (like a wedding, or national holiday) they would install a Panjat Pinang pole and watch the natives attempt to reach the prizes. Since the nut-tree poles are fairly high and very slippery, a single climber would have almost no chance of reaching the top, so contestants usually work together and split the rewards, if they succeed.

There is some controversy surrounding Panjat Pinang. While most Indonesia believe it is an educational challenge that teaches people to work together and work hard in reaching their goals, there are those who say Panjat Pinang is a degrading display that sends the wrong kind of message to Indonesia's youth. There's also the environmental issue of cutting down a significant number of nut-trees for such a hedonistic celebration.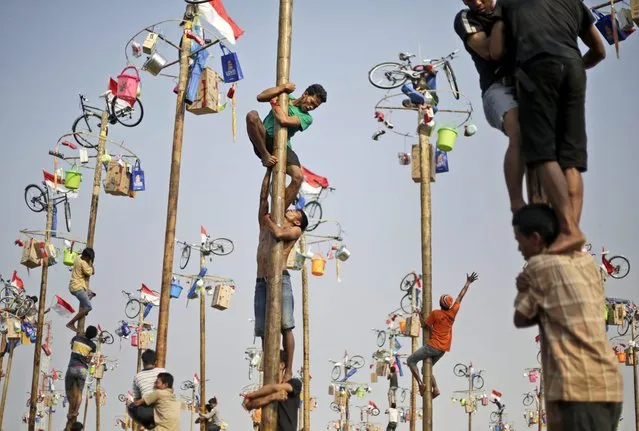 Participants struggle to reach the prizes during a greased-pole climbing competition held as a part of the independence day celebrations in Jakarta, Indonesia, Sunday, August 17, 2014. Indonesia is celebrating its 69th independence from the Dutch colonial rule. (Photo by Dita Alangkara/AP Photo)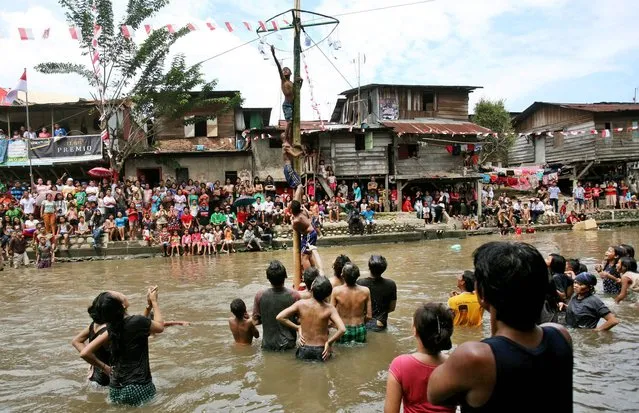 Indonesian youths struggle to reach the prizes hanging at the top of a greased-pole during a greased-pole climbing competition held in a river to celebrate the country's Independence Day in Medan, North Sumatra, Indonesia, Sunday, August 17, 2014. (Photo by Dita Alangkara/AP Photo)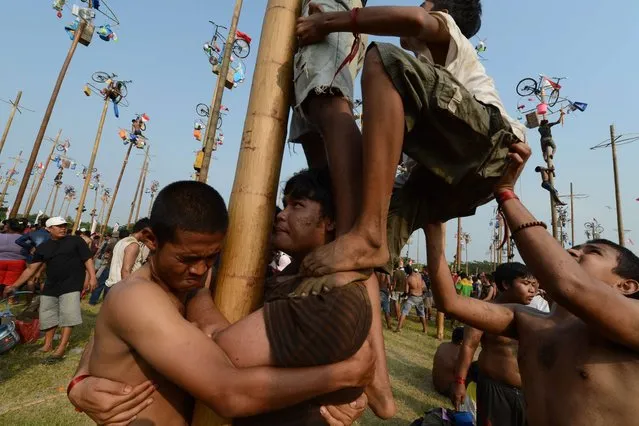 Indonesians participate in a local competition called "panjat pinang" in which people try to climb greased poles that have prizes and flags attached to the top, during an event to celebrate Indonesia's Independence Day in Jakarta on August 17, 2014. Indonesia marked the 69th anniversary of its independence from Dutch rule on August 17. (Photo by Romeo Gacad/AFP Photo)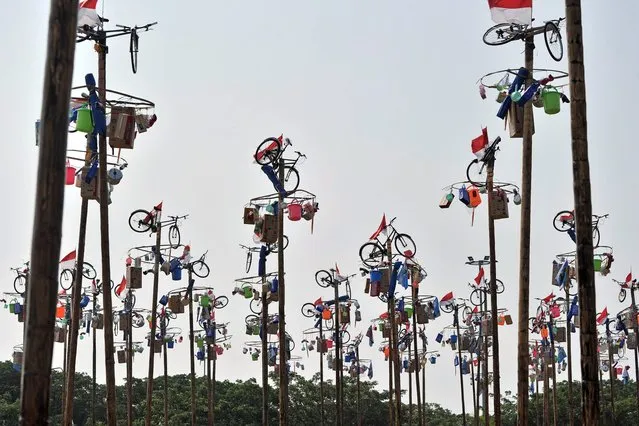 Flags and various prizes, including bicycles, sit at the top of poles before that start of a local competition called "panjat pinang" in which people try to climb greased poles to get the prizes, during an event to celebrate Indonesia's Independence Day in Jakarta on August 17, 2014. (Photo by Adek Berry/AFP Photo)
Indonesians participate in a local competition called "panjat pinang" in which people try to climb greased poles that have prizes and flags attached to the top, during an event to celebrate Indonesia's Independence Day in Jakarta on August 17, 2014. (Photo by Adek Berry/AFP Photo)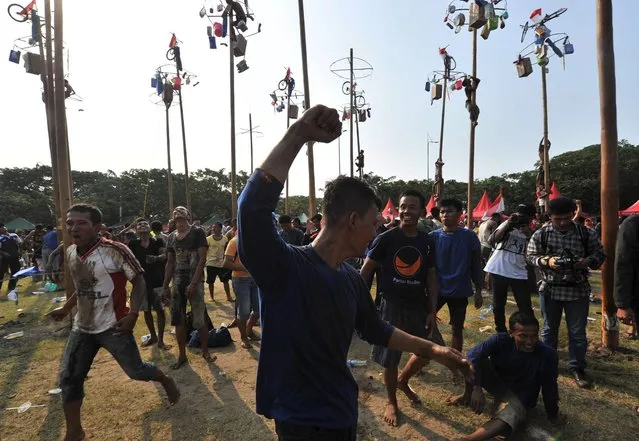 A team celebrates after claiming all the prizes in a local competition called "panjat pinang" in which they had to be the first to climb a greased pole and reach the top, during an event to celebrate Indonesia's Independence Day in Jakarta on August 17, 2014. (Photo by Adek Berry/AFP Photo)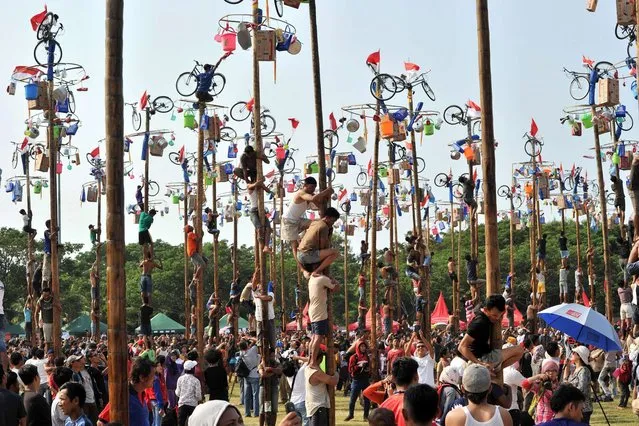 Indonesians participate in a local competition called "panjat pinang" in which people try to climb greased poles that have prizes and flags attached to the top, during an event to celebrate Indonesia's Independence Day in Jakarta on August 17, 2014. (Photo by Adek Berry/AFP Photo)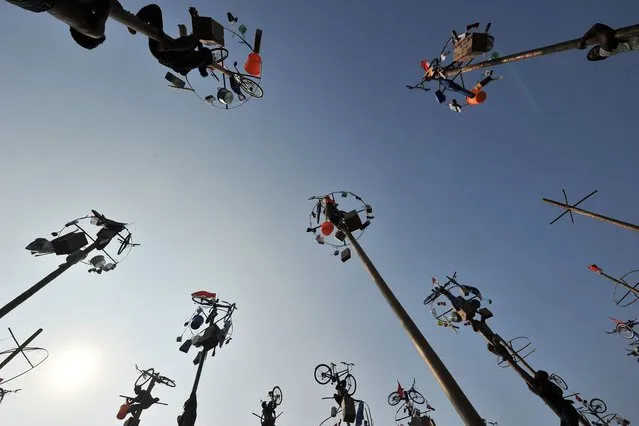 Flags and various prizes, including bicycles, sit at the top of poles before that start of a local competition called "panjat pinang" in which people try to climb greased poles to get the prizes, during an event to celebrate Indonesia's Independence Day in Jakarta on August 17, 2014. (Photo by Adek Berry/AFP Photo)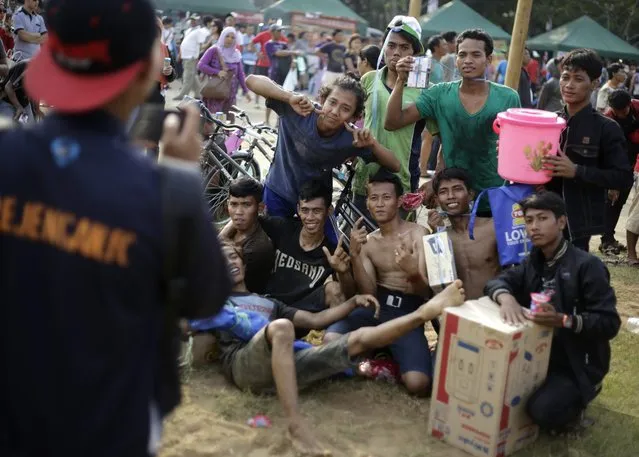 Indonesian men pose for a photo with the prizes they won in a greased-pole climbing competition at the end of the event held as a part of the Independence Day celebrations in Jakarta, Indonesia, Sunday, August 17, 2014. (Photo by Dita Alangkara/AP Photo)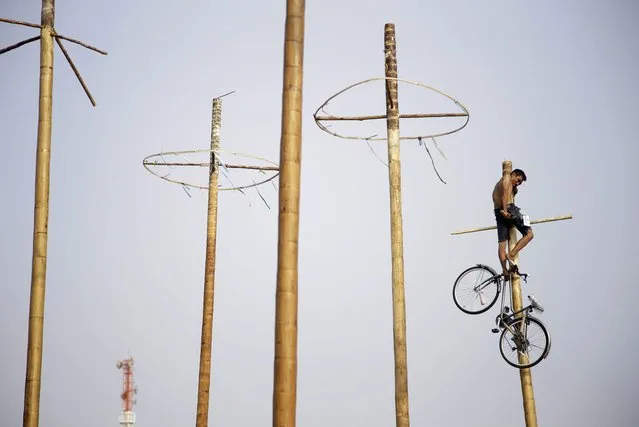 A participant uses his feet to lower a bicycle down from the top of a greased-pole during a greased-pole climbing competition held as a part of the Independence Day celebrations in Jakarta, Indonesia, Sunday, August 17, 2014. (Photo by Dita Alangkara/AP Photo)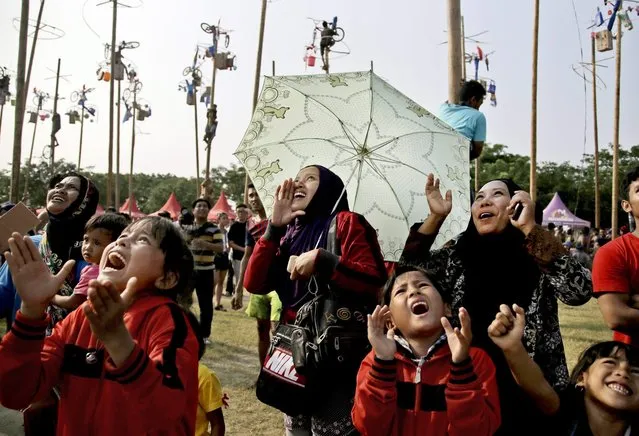 Indonesian women and children shout supports for family members who participate in a greased-pole climbing competition held as a part of the independence day celebrations in Jakarta, Indonesia, Sunday, August 17, 2014. (Photo by Dita Alangkara/AP Photo)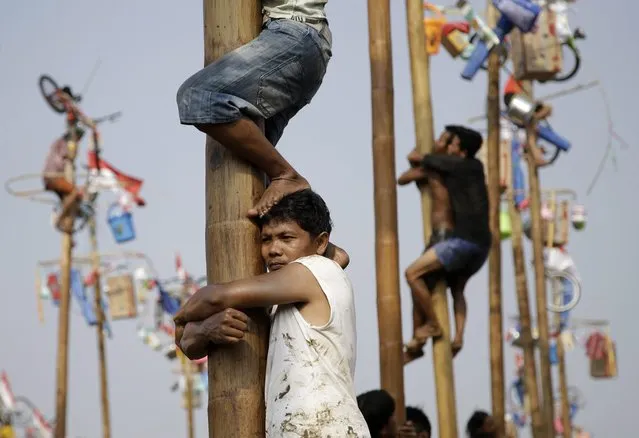 Participants struggle to reach the prizes during a greased-pole climbing competition held as a part of the independence day celebrations in Jakarta, Indonesia, Sunday, August 17, 2014. (Photo by Dita Alangkara/AP Photo)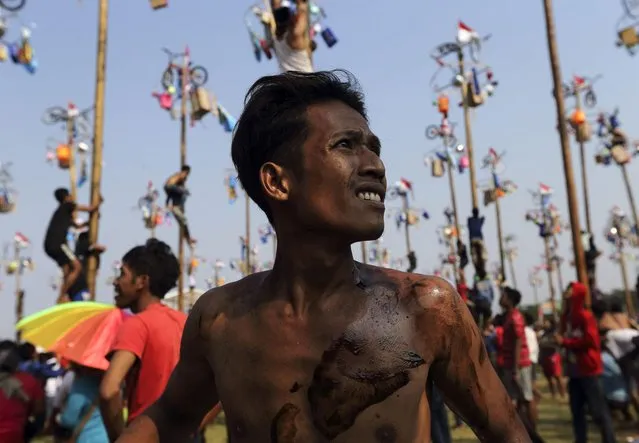 A man looks on during the "Panjat Pinang" event organised in celebration of Indonesia's 69th Independence Day at Ancol Dreamland Park in Jakarta August 17, 2014. The annual event sees participants working together to reach the top of slippery poles where prizes are hung. (Photo by Reuters/Beawiharta)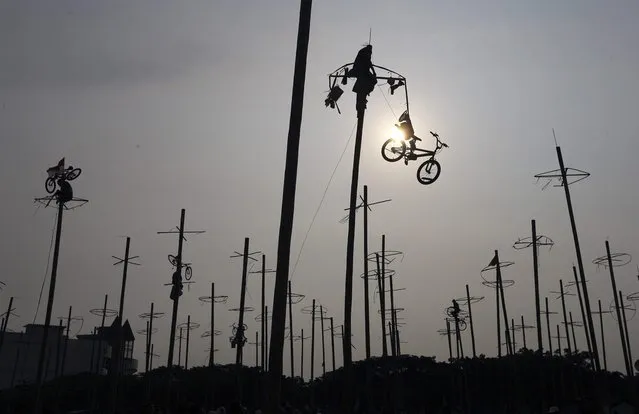 A participant pulls down a bicycle from the top of a greased pole during the "Panjat Pinang" event organised in celebration of Indonesia's 69th Independence Day at Ancol Dreamland Park in Jakarta August 17, 2014. (Photo by Reuters/Beawiharta)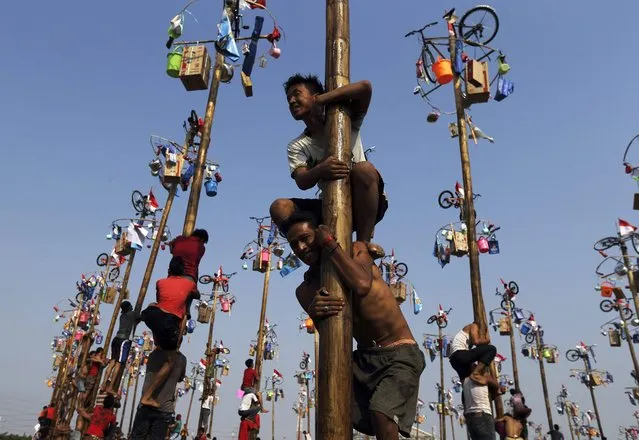 Participants react as they hold on to a greased pole during the "Panjat Pinang" event organised in celebration of Indonesia's 69th Independence Day at Ancol Dreamland Park in Jakarta August 17, 2014. (Photo by Reuters/Beawiharta)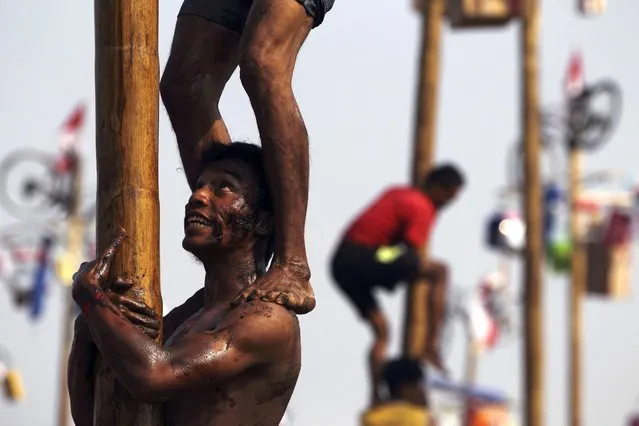 A man reacts as he holds on to a greased pole during the "Panjat Pinang" event organised in celebration of Indonesia's 69th Independence Day at Ancol Dreamland Park in Jakarta August 17, 2014. (Photo by Reuters/Beawiharta)